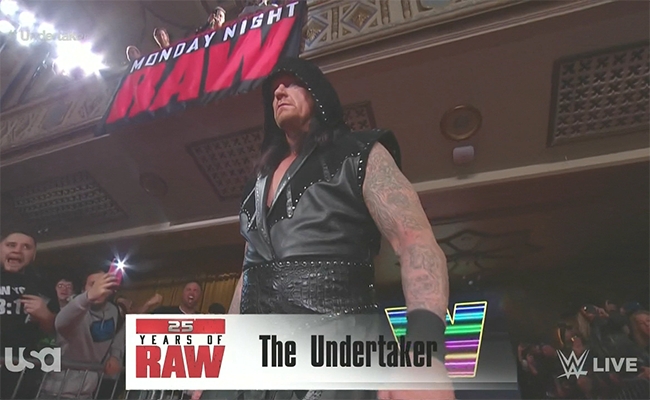 Heading into Monday night's star-studded Raw 25, pro wrestling fans were promised that the Undertaker would make his much-speculated-upon return for the first time since losing what was seemingly his retirement match to Roman Reigns at WrestleMania 33 last year. Rumors and innuendo swirled that he and John Cena might come face-to-face, perhaps to throw respective gauntlets for the last great WrestleMania dream match that has never happened, but still possibly could.
After all, pretty much everyone agrees that the Undertaker is in phenomenal shape, and even in our personal interviews that we've done here at With Spandex, Undertaker's peers believe he has at least one match left in him.
Raw 25 began with a nostalgic jolt and then tripled down on that nostalgia, as a whiplash-inducing (in a good way) double open from the tiny Manhattan Center where Raw began (complete with retro set) and the Barclays Center in Manhattan gave way to one last(?) confrontation between Steve Austin and Mr. McMahon.
Raw continued to tease that Undertaker would appear soon, and we assumed he would make his trademark grand entrance in Barclays. We were never more happy to be wrong.

Yes, after a spectacular recap package of the Undertaker's legendary career, he made perhaps the shortest entrance of his career, as his signature "DONG" made a surprise appearance in the Manhattan Center.
After making his entrance in the full light of … lights, Taker took the microphone and addressed the perfect-down-to-the-IcoPro-Banners recreated original Raw set and crowd, talking about his aforementioned legacy.
It wasn't quite the confrontation with John Cena that many were expecting. In fact, it wasn't much of anything. After mentioning that he's been kicking rears for 25 years, and specifically mentioning his victories over Steve Austin, Mick Foley, and Kane, Undertaker referenced the "sacred ground" of the Manhattan Center (or maybe Raw itself?) by saying, "And now, on this sacred ground, I declare for all of those who have fallen, it is truly time you rest in peace."
This could be construed as a warning, or as another oblique retirement, or … something! Not even Jerry Lawler and Jim Ross on commentary knew what to make of his comments. But despite the underwhelming actual content of what Undertaker said, and the lack of a John Cena face to face, it was undeniably cool to see Undertaker back in the Manhattan Center. Nostalgia forever.