In first place with a commanding lead is, "Eddie Guerrero and Dean Malenko had a very good but not especially exciting or otherwise memorable cruiserweight match build around limb work." You don't hear a lot about this one as a "great match," and a lot of online reviews describe it as "disappointing" or "underwhelming," but I very much disagree. For modern fans who maybe didn't have a perspective on 1997 WCW, Guerrero vs. Malenko at Starrcade is a lot like that Undisputed Era vs. Authors of Pain match from NXT TakeOver: Philadelphia. It's a fundamentally necessary type of wrestling match performed by people who are very good at their jobs built on linking the early work — the "feeling out process" that usually ends up being ignored for an unrelated spamming of signature moves — with the finish. The kind of match that makes jerks like me grumpy about how almost nearly all other matches work.
Here, Guerrero manages to injure Malenko's left knee. That's important because he needs it (1) for that big gutbuster off the ropes, which is his biggest move, (2) for stability in the Texas Cloverleaf, his finish, and (3) for most of the remainder of his moveset, from the powerbombs to the jumping leg lariat. Eddie's ruthlessly heel here, opportunistically clipping the knee whenever he can and going back to it when he's in trouble. Malenko looks like a tough mudder because he keeps trying to work through the pain, and early "adrenaline" rushes that allow him to do moves like he's fresh progressively get weaker and weaker as the match goes on. That sets up the finish, which once again illustrates that Eddie Guerrero was a beautiful scientist:
Guerrero finishes that combo with a frog splash (to the knee), and that's enough to (mostly fairly) put Malenko away. If this was crammed into the middle of better show it'd go from "very good for people with attention spans" to "great," but as is, it's sort of the Trojan Horse tricking wrestling fans into thinking Starrcade's gonna be good, and not full of badly booked soldiers who are going to break out under the cover of night and figuratively stab us to death.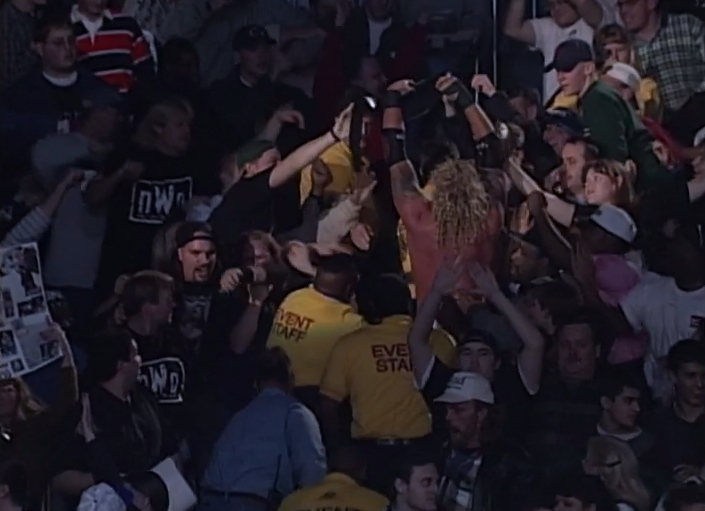 The other positive from the [checks notes] three hours of pay-per-view intended to be [incredulously checks notes again] WCW's WrestleMania? Seriously? Is that Diamond Dallas Page finally defeated Curt Hennig for the United States Championship. Why is this a positive? Because unbelievably this is the only time when a babyface actually wins on the entire show. Faces "win" the two matches after it, but not really, which we'll get to.
Late '90s WCW gets better when you realize it was a Where's Waldo? that gave you three hours to find the one thing you were looking for.
Mind-Boggling Worst: The First Few Rows Of Fans Are Just Wrestlers
No, this isn't the worst Christian rock album cover you've ever seen, WCW just spent a year and a half getting fans hype for Hollywood Hogan vs. Sting at Starrcade only to comp the first three rows of tickets for wrestlers who aren't booked to hang out and watch the show, and pushed the actual fans all the way to the back. Like, imagine if you couldn't get floor seats to WrestleMania this year because Curt Hawkins is gonna sit there.
But yeah, no, seriously, there are a few random fans in the front rows — probably friends and family — best the rest of the Free Real Estate is wrestlers. I bet Greg Valentine, Chris Adams and Ultimo Dragon had a thrilling conversation during the show. Eric Bischoff's got a semi main-event match against a color commentator but Rey Mysterio and members of Harlem Heat are stuck on the aisle. They didn't even get the GOOD comped seats. I think my favorite part is when they cut to Rey and Glacier's next to him smiling from ear to ear, then realizes he's on camera and does a serious face.