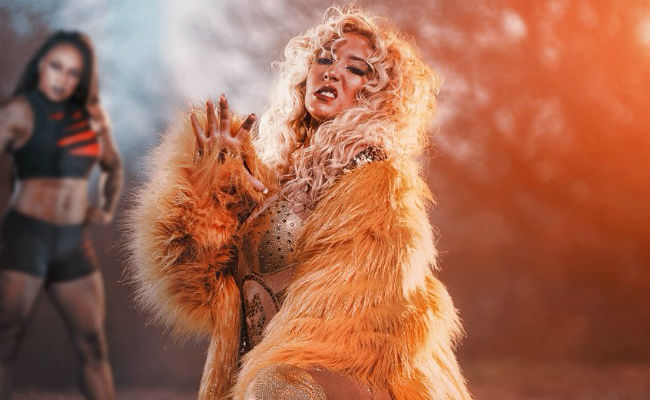 Anyone who's tuned into the new WOW Women of Wrestling show already knows that it features a cast of characters with big personalities, from the cocky "born legend" Tessa Blanchard to the imposing Beast to the adorable Eye Candy. When Faith the Lioness, a rookie wrestler with a background in music and MMA, makes her first appearance on WOW tonight, she promises to make an impression before she even gets in the ring.

When With Spandex spoke to the sunny multi-hyphenate at L.A. Comic Con in October, she described her unusual start in wrestling. The nineteen-year-old Lioness says she decided to audition for WOW when her mom saw an ad for the show "on Actors Access sites… and I love wrestling already, so I was like 'That sounds amazing.'"
Though Faith had only been wrestling for "four or five months… but almost every day" by the time of the WOW TV tapings, she's been a performer and athlete almost her entire life. "Basically, I'm an R&B-pop artist. I've been a dancer and performer since I was four, as well as MMA. I started MMA and Taekwondo when I was four years old as well because my mom was like, 'You need discipline!' She tried putting me in a dance class when I was two and I did a strip tease at my first recital…"
Faith brings her music and dance background to WOW in the form of an entrance song and dance routine she wrote herself and produced with her friend and collaborator Nazz Travagant. "My dad was in a hair '80s rock band, so I grew up with rock, but as a dancer, I have that urban, hip hop influence in me, so… for my entrance song I mixed rock and hip hop kind of together" to appeal to the "broad spectrum" of wrestling fans.
Wrestling isn't the most typical route for a young artist trying to make it in Los Angeles, but Faith sees that as a positive thing. "In L.A., just in entertainment in general, you have to think about what's going to make you different, you know, as a person. Everyone wants to be an actress. Everyone wants to be a singer, dancer, and it's like, a lot of people are like, 'So if you had to choose one, what would it be?'… Why not all of it?"

The character of Faith the Lioness ended up being, like many other WOW characters, heavily informed by the performer's background and personality. "First off, they wanted me to be a character called Cally Ray, which was more a California girl, surfer, kind of like a Valley Girl, and I'm not really like that. So over time they realized, 'You're not like that, so what would you like for your character?" and I'm a Leo, which is where the 'Lionness' comes from. Leos are very extra. No hiding that. We have no shame.
So the lion – my parents have raised me to have thick skin. Being in entertainment, there's so much rejection. You have to have that thick skin. People aren't always going to like you, but it's okay. It's not your problem, you know? You just gotta keep doing you. So the lioness is I'm a babyface but I'm an aggressive babyface because I am taller. And I love kids, so I want connect with the kids, so that's why I love being a babyface. Yeah, I just love being sparkly and extra and I love dancing and music, so it is very much a very exaggerated version of myself."
Though she's had a lot of input on her character and presentation, Faith also values what she's learned from more experienced wrestlers in the WOW cast and training school, and specifically names Tessa Blanchard as an in-ring inspiration. "It's amazing learned from wrestlers who are on the indies because they are so knowledgeable when it comes to the psychology of wrestling. That's the biggest thing, I feel, in wrestling, is if you connect with the people… And learning the different moves and different ways to work out of different holds is just so great."
Faith's first two matches in front of an audience were at the WOW tapings in October, and she doesn't rule out taking her wrestling career to the independent scene and beyond. "I love it. I want to see where the show goes and what comes out of it… and what comes after, what opportunities and possibilities… A few WWE recruiters have reached out to me, but… I'm a new wrestler. I want to experience and learn from as many other wrestlers as I can because I'm very green… but I am interested."

Faith is has released two singles under the name FaithyJ on iTunes and Spotify and keeps fans updated on her music and fitness endeavors @RealFaithMusic on YouTube, Soundcloud, Twitter, Instagram, and more. You can see one of her first matches in what could be a long wrestling career tonight on WOW's third episode at 8/7c on AXS TV.