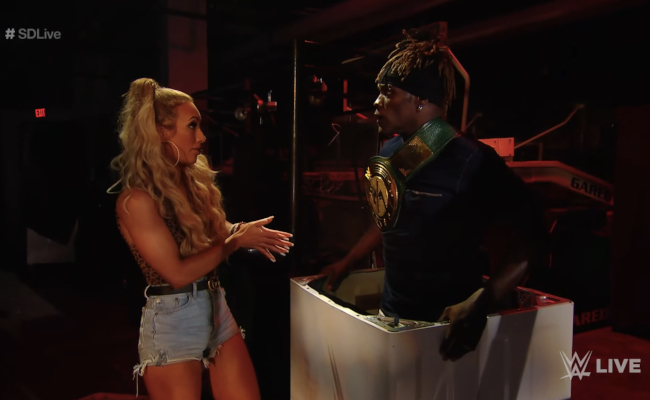 On Tuesday night's edition of Smackdown Live, R-Truth was hiding backstage, trying to hold on to his 24/7 Championship, when Carmella offered to help him find a better place to hide in plain sight, as long as he's willing to wear a costume (which, being R-Truth, he obviously is). Carmella then led him away, saying that they're going to Comic-Con. Since today is the first day of San Diego Comic-Con, the biggest comics convention of the year, it was pretty obvious where they're headed. Now further details have emerged about WWE's SDCC 24/7 Championship Plans.

According to PWInsider, WWE is shooting an angle at Comic-Con today, involving R-Truth and Drake Maverick fighting for the 24/7 belt. There's no definite word on specifically when and where it will occur, but it seems likely to happen at the WWE/Mattel panel, which takes place at 11:15 this morning. Doing it at a panel makes the most sense, because SDCC is so crowded that to do it out on the floor, you'd have to block off space for the performers in a way that would most likely look unnatural on camera.
The real question is, what costume will R-Truth be wearing? He'd make a great Lucio from Overwatch, but being 47 he probably doesn't know who that is (I'm 40 and I barely do). He'd also look amazing as Heimdall from Thor: Ragnarok, but I'm almost certainly aiming too high. This is R-Truth, so if he wears a cheap Spider-Man suit from a costume shop, it will be entirely in-character and he'll still make it funny.