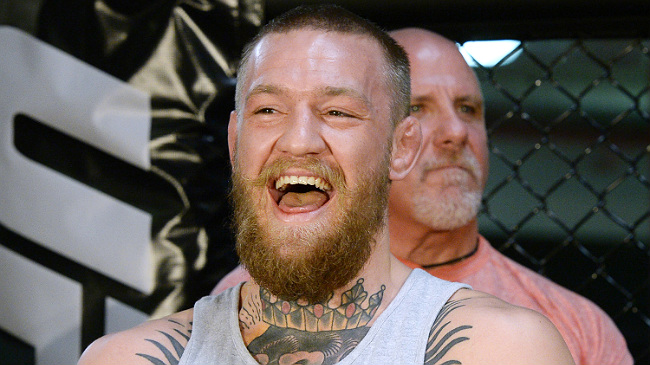 During Saturday night's UFC 205, Conor McGregor made MMA history by becoming the first fighter to ever hold belts in two different weight classes at the same time. You might remember that back in August, Conor insulted basically every pro wrestler, as well as pro wrestling fans. WWE Superstars were definitely not pleased, but now WWE is hoping to cash in on the overwhelming popularity of the double UFC champ.
On a weekend edition of Wrestling Observer Radio, Dave Meltzer reported that WWE would "very much" like to get Conor McGregor on television for a cross-promotional appearance, likely for a future episode of Raw.
Given how closely WWE has worked with UFC in the recent past — what with Ronda Rousey's well-received and viral appearance at WrestleMania 31, to say nothing of the give-and-take involved in getting Brock Lesnar out of MMA "retirement" to fight at UFC 200 — it seems likely that the two promotions would be able to work something out here. McGregor tends to move the needle no matter what he does and basically never stops running his mouth to anyone who points a microphone in his direction. So why wouldn't they want to put him on one of the consistently most-watched cable shows of the week?
Really, the only downside to this is that McGregor would be such an instant, perfect heel to WWE audiences (as he is to a whole lot of MMA fans), that there would really be no good way to pay it off, especially if they end up going the "fight for the guest by proxy" route that we've seen with people like Hugh Jackman. And you can bet your sweet buns UFC isn't going to let Conor McGregor get into a WWE match anytime soon.