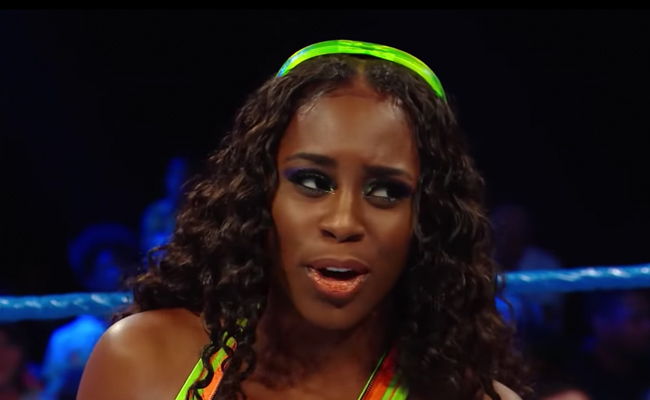 Last night on Raw, WWE announced that as expected there will be a big battle royal at WWE Evolution, the all-women PPV on October 28. They then tweeted all the currently-announced participants, which included the names of some women that a lot of us were still hoping would get matches of their own on the Evolution card, and twitter gave the impression that not all of them knew until this moment that this was the plan.
Almost immediately, many of the women listed pretty clearly expressed their feelings about the matter in gif form:
Naomi in particular does not appear to be pleased about the whole thing.

This morning, she tweeted more directly on the matter. This isn't the first time Naomi's had feelings to express about her booking, and it's certainly understandable that she'd be less than thrilled about another Battle Royal, after she won the WrestleMania Women's Battle Royal and it led nowhere.
Obviously some of the other women are reluctant to speak very directly about this, given that rocking the boat may not be great for their careers. But let's be real, this Battle Royal doesn't seem to be fantastic for anyone's career either. This match includes not just the winner of the first WrestleMania Women's Battle Royal, but also the winners of the much-hyped first ever Women's Money in the Bank and Women's Royal Rumble matches. There are three former main-roster champions, two of whom held their belts this very year, as well as two former NXT Women's Champions. One of those, Asuka, had an unmatched undefeated streak and was hyped as the next big thing in women's wrestling when she got called up.
For that matter, a lot of people had been expecting Asuka, Naomi, and the IIconics to be involved in some kind of buildup to the long-rumored introduction of women's tag team belts. Currently it looks like Sasha Banks, Bayley, and the Riott Squad might be free for something like that, but at this point I don't think anyone will be shocked if they're announced for the Battle Royal next Monday.
If WWE can't find space on their first ever all-women's PPV for all (or at least some!) of these talented women to have matches of their own, what does Evolution even mean?