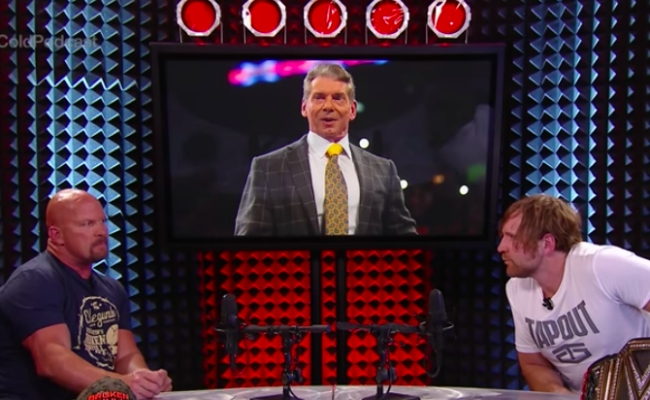 In a week when the wrestling internet is in turmoil about WWE's lucrative decision to make big changes to NXT and the podcast internet is mad about an article saying a rich and famous person is "driving the podcast revolution," here is the perfect storm of an announcement: WWE, as first reported by the Hollywood Reporter, is starting a podcast network.

WWE has already tried its hand at hosting podcasts on the Network it already has (see Bruce Pritchard's Something Else To Wrestle With and the filmed version of Steve Austin's Stone Cold Podcast), but this will be an entirely new endeavor with Endeavor Audio. Endeavor Streaming already provides the technology that brings you to the WWE Network and their audio platform already hosts one show by WWE talent, the Bella Twins' The Bellas Podcast. According to the Hollywood Reporter, this network "will feature several series focused on its superstar wrestlers. Additional details about the podcast lineup will be announced at a later date."
In addition to Austin and the Bellas, there are already several other WWE Superstars who have podcasts. Zack Ryder and Curt Hawkins have The Major Figure Podcast about wrestling toys, Edge and Christian have E&C's Pod of Awesomeness, Sean Waltman hosts X-Pac 12360, Renee Young cohosts Regular Girls with comedian Stacey McGunnigle, and NXT's Isaiah "Swerve" Scott has continued to host the Swerve City podcast since signing with WWE. It's possible we could see some of these shows move to the WWE podcast network, but it looks like the platform is meant to be more of a home for new programming.
Are there any WWE Superstars you would like to hear have a podcast? Is the fun sucked out of speculating about that by these future Endeavor's audio programs (I know, I know) being on such a corporate platform? Give us your take in the comments.