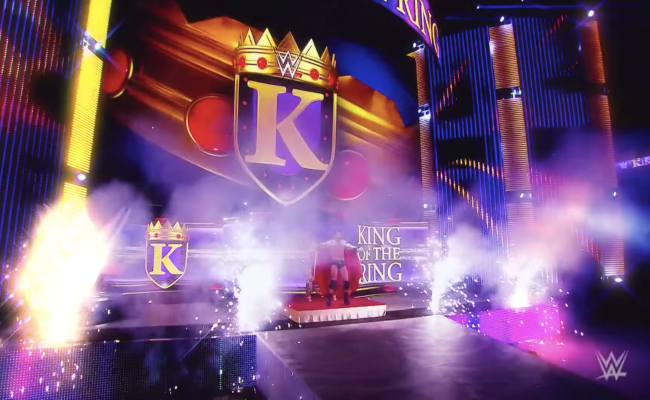 Next Monday on RAW, WWE is launching a King of the Ring tournament for the first time since 2015. You want see much of that year's winner, Wade Barrett, in the promos for the new tournament, but you will see plenty of Steve Austin, Booker T, Randy Savage, and of course the late Harley Race, along with other fondly remembered kings of the past. This seems to be a pretty last-minute endeavor, so as of last night when the announcement was made, we didn't know for sure who would be competing for the crown. Today, WWE released those names, eight from Raw and eight from Smackdown, so here they are:

Raw
The Miz
Ricochet
Cedric Alexander
Samoa Joe
Drew McIntyre
Baron Corbin
Sami Zayn
Cesaro
SmackDown
Kevin Owens
Ali
Apollo Crews
Chad Gable
Elias
Andrade
Buddy Murphy
Shelton Benjamin
As for who's likely to win, my money's on an up-and-coming heel like Andrade or Buddy Murphy. Guys like that could really make the most of calling themselves the King. Someone we've seen more of like Samoa Joe or Drew McIntyre is also a possibility. I think we're all hoping it's not Baron Corbin, but you never know how Vince might feel on the subject.
Sami Zayn winning and cutting a promo about how this is all bullshit doesn't seem fun for anybody, as much as I'd like to see Sami win more things. Speaking of guys I'd like to see win more things, Cesaro would be a great King, but he's been around so long, never quite getting his due, that I worry a win for him would feel to much like Barrett did, like okay you made him King of the Ring, but what now?
I suppose a babyface win is possible, but the whole "I'm the King" thing is so heelish by nature that it seems less likely. That said, Ricochet already calls himself king sometimes, so he could pull it off. Miz and KO certainly don't need it, and it would seem like a pretty big character tweak for somebody like Apollo Crews, Cedric Alexander, or Ali.
According to Dave Meltzer, the tournament that starts on next Monday's Raw will be concluded at Clash of Champions, so we'll know the winner before too terribly long. Let us know your picks in the comments.