Welcome back to the WWE Mixed Match Challenge Season 2, a half-hour show featuring a 10-team round robin mixed tag tournament between Raw and Smackdown. The episodes air live on Facebook Watch at 10 p.m. every Tuesday night, but you can watch the new episode any time you want. Each week, I'll be taking you through the ins and outs of this compact two-match card.
Last week was the Raw play-offs, in which Ember Moon saw her chances at the finals torpedoed when Braun Strowman was replaced by Curt Hawkins and they lost to Mahalicia, while Team B'N'B managed to defeat the previously dominant Country Dominance. Now, let's dive into this week's matches:
Smackdown Play-Off Match One: Fabulous Truth Versus Extreme Flair
Is it just me, or has this kind of become Carmella's show, at least on the Smackdown side? People like Charlotte and Jeff Hardy have their main storylines on Smackdown and just show up here for a little extra fun. Carmella, on the other hand, has been doing some of her best recent work here, and along with the occasional Miz TV appearance, this is where she's built her new more likable character. She shares that space with R-Truth, of course, but as the veteran he is I get the sense that he understands that the most important work he's doing right now is getting Carmella over as a babyface, and it's something he's succeeded at.
I've come to the conclusion that this Mixed Match Challenge is better on the whole than the first one, because while it's not any less affected by the booking of other shows, they've made space for teams that you want to win to have a chance of doing that, rather than building a narrative where the Miz literally can't lose because he's on a team with the Undefeated Asuka. Fabulous Truth, and Carmella in particular, are going to look great in the finals, and it seems likely they'll get there (more on that in a bit).
As for this match, Mella and Truth are definitely underdogs, but Charlotte and Jeff, as commentary points out, are more than a little shaken by the actions of Asuka and Samoa Joe on Smackdown, so it's easy to justify them being slightly off their game. It's still a little hard to see Carmella as a face and Charlotte as a heel when they're in the ring together, especially when Mella cowers away a bit from her stronger opponent. Of course, Charlotte doesn't show the same viciousness here that she usually has lately. I think she's softened a bit by the presence of Jeff Hardy.
There's still no chance of Carmella pinning Charlotte clean (she already spent her once-in-a-lifetime fluke win during their title feud), but she does stop Hardy from beating Truth, by literally laying across her teammate's body while Jeff is up on the rope, thus thwarting the Swanton Bomb. Good ol' boy Hardy would never let Carmella be caught in the crossfire, and the ref wouldn't let him anyway. That gives Truth the time he needs to recover and roll up Jeff for the win.
The thing that keeps this finish from being a surprise is that Charlotte has a huge TLC Triple Threat for the Title on the same show as the finals, so it never seemed likely that her team would go all the way. Nevertheless, I'd argue the storytelling still works, because it's become so easy to root for Carmella and Truth that you're excited when the obvious thing happens, instead of dismayed.
Smackdown Play-Off Match Two: Awe-ska Versus Day One Glow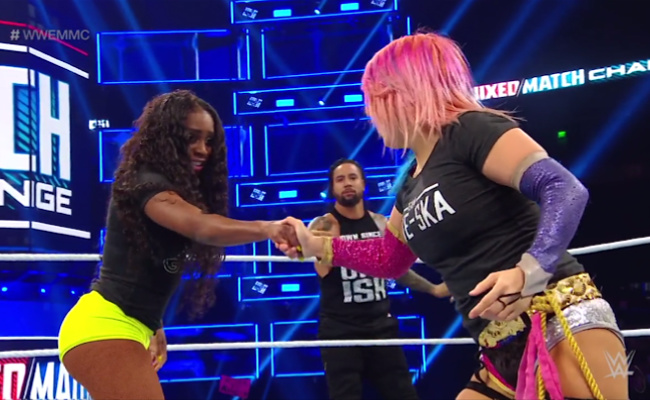 With all due respect to Naomi and Jimmy Uso, who are great, they're almost incidental to the narrative of this match, which is entirely about the dissolution of the Miz-Asuka team. Since she got pinned by Charlotte and ended the team's two-season undefeated streak, he now thinks she's a liability and doesn't want to tag her into the match. Of course that's ridiculous, because she's Asuka and she's way better than he is, but it's exactly the sort of thing the Miz would think. So there are moments when Miz is staying in the ring too long, and it seems like Jimmy might get the better of him, while Asuka is literally screaming for him to tag her, and he doesn't.
Fortunately for them both, the nature of WWE's mixed tag rules means he never has to tag her — she becomes legal when Jimmy tags Naomi. Plus, Naomi is Asuka's best friend, and their good sportsmanship freaks the Miz out even more. The women's portion of the match has some great back and forth, but it's no surprise when Naomi gets caught in the Asuka Lock and quickly taps.
Even after winning, Asuka never forgives the Miz. She won't even let him raise his arms with her in victory, which is a great touch. She pushes his down and raises her own, insisting that this win is entirely hers. Ever since their very first MMC match more than ten months ago, I've been openly rooting for Miz and Asuka's partnership to end with her kicking him in the face. If that's ever going to happen (and I think there's a strong chance it will), it's going to happen next week. In fact, that conflict will probably be what enables Carmella and R-Truth to win, putting the clear protagonist of this tournament in the finals and freeing up Asuka to focus on the aforementioned TLC Triple Threat.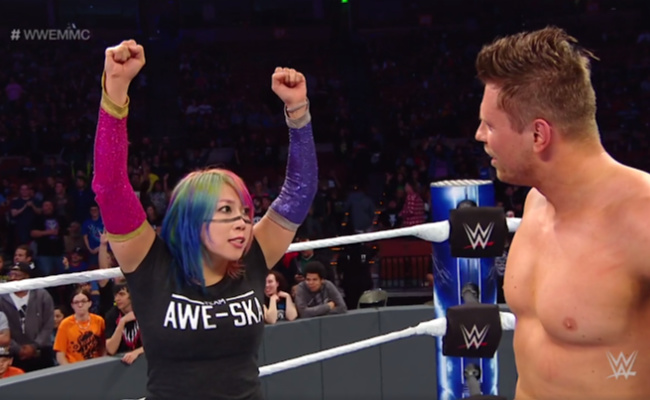 That's all for this week. Join us next time for the semifinals, when Team B'N'B (Bayley and Finn Bálor) go up against Mahalicia (Alicia Fox and Jinder Mahal), and Fabulous Truth (Carmella and R-Truth) face Extreme Flair (Charlotte Flair and Matt hardy), with the winners heading to TLC for the tournament finals.