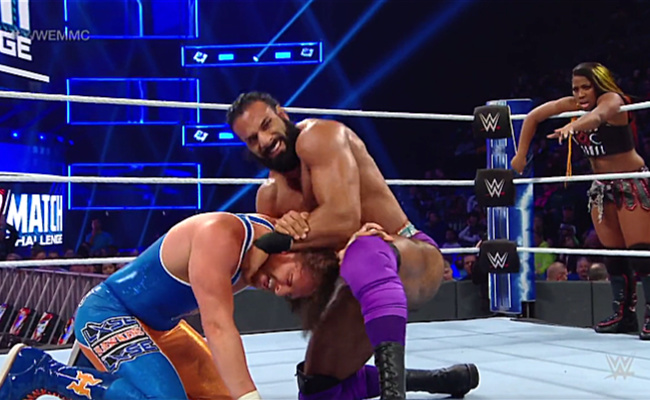 Welcome back to the WWE Mixed Match Challenge Season 2, a half-hour show featuring a 10-team round robin mixed tag tournament between Raw and Smackdown. The episodes air live on Facebook Watch at 10 p.m. every Tuesday night, but you can last week's episode and this week's episode any time you want. Each week, I'll be taking you through the ins and outs of this compact two-match card.
Two weeks ago, two teams saw their undefeated streaks come to an end, as Monster Eclipse (RIP) defeated Country Dominance, and Extreme Flair (who didn't have an official name yet) beat Awe-ska. Now, let's dive into last week's matches:
Match One (RAW): Team Pawz Versus Mahalicia
This is the first of two matches between teams who've lost every previous match in this tournament. Mahalicia has had a storyline and some chaotic charisma (thanks to the hard work of unsung hero Alicia Fox) since day one, while Team Pawz wasn't left with much when Cat Lover Kevin Owens was replaced by Dog Person Bobby Roode. For that matter, even on Raw all that's happened to Roode and Natalya lately has been their personal possessions being desecrated by heels. Nothing against Bobby and Nattie as people, obviously, but the point I'm getting to is that there are very few situations in 2018 WWE where you'd say that Alicia Fox and Jinder Mahal were the obvious choice to win something, but they clearly were in this case.
And of course, finally winning a match gives Alicia something new and different to fight with Jinder and the Singhs about. I don't like when she calls them the Singh Sisters (you may have noticed, but I'm not a big fan of gender-based insults in general), but overall Alicia has been the primary force that makes this team fun, and being fun seems like the main thing that's keeping them around. So in that sense, Alicia really is the captain that led Mahalicia to victory.
Match Two (Smackdown): Fabulous Truth Versus Ravishing Rusev Day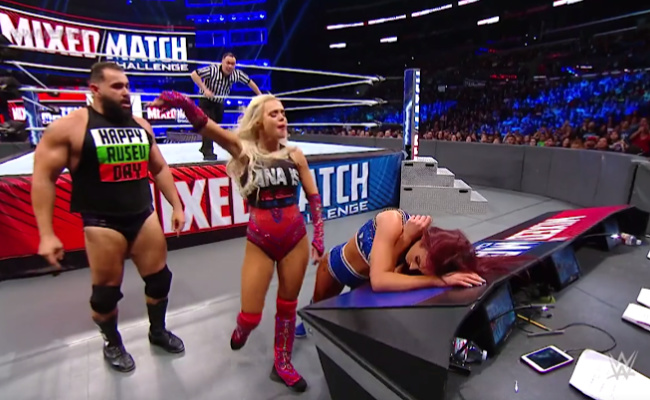 R-Truth's history is much longer and more complicated, but the other three people in this match were all heels not long ago, and none of them really had dramatic face turns. They just started being more likable, and people started liking them, and then they were faces, more or less. Not in this match, though. Rusev and Lana played the heels here, going so far as to interrupt a Dance Break (the main thing that's made people like Carmella again) by attacking their opponents when the lights were out.
Lana's still doing great stuff with her character's unhinged desperation and eagerness to impress her husband, which took her to a pretty dark place here, as she slammed Carmella's head against the announce table. Ultimately though, Carmella got the pin with a superkick, and achieved a deserved win for the most likable team in this all-losers episode.
While we're here, can I take a minute to say that Carmella looks great lately? The burgundy hair with the blue gear, or even the rainbow gear she wore at WWE Evolution, has really taken her aesthetic up a level, and I've always been impressed with her style. She's getting more fabulous every day, and I'm glad she seems to have won back most of the WWE Universe since the end of her ill-fated championship run.
And Now On To The Play-Offs
With the round robin tournament over, we now get three episodes of play-off matches before the tournament finals at the TLC PPV. This week there are two matches from Raw, next week there are two matches from Smackdown, and then each brand gets a semifinal match the week after that. I don't quite understand why this MMC season has so carefully avoided teams from different brands facing each other, considering that's what the first season was all about, but I'm glad to at least have a sense of how all this is going down, because a couple of weeks ago I was clueless. Now let's check out these Raw play-off matches:
Raw Play-Off Match One: Mahalicia Versus Loser Eclipse
I can't pretend not to be kind of mad about this situation, on Ember Moon's behalf. In case you didn't watch Raw this week (and you're better off, believe me), Baron Corbin replaced the injured Braun Strowman with Curt Hawkins, best known for his long-running losing streak. On the one hand, that makes storyline sense, because Corbin hates and wants to punish anyone who's friends with Braun. On the hand, though, it's hard not to see the insertion of Hawkins as a quick and believable method for getting Ember immediately eliminated from the tournament now that she's not partnered with somebody the Powers That Be care about enough to see in the finals.
It could be worse, of course. Putting Hawkins in there to eat the pin enabled Moon to look strong in defeat. That implies that they might be protecting her because they have plans for her, although with Ronda holding on to the Raw Women's Title for the foreseeable future, I can't imagine what those plans might be. Still, it was both rewarding and frustrating to see Ember drag Curt all the way to the precipice of victory by the skin of her teeth, only for him to stupidly snatch it away by tagging her as she was about to hit the Eclipse on Alicia Fox.
Ember deserved better than this, but the Mixed Match Challenge is a harsh mistress, especially now that we're down to the elimination rounds. At least she got to Eclipse the Singh brothers along the way, even if one of them didn't seem to notice what was happening at the time.
Raw Play-Off Match Two: Team B'N'B Versus Country Dominance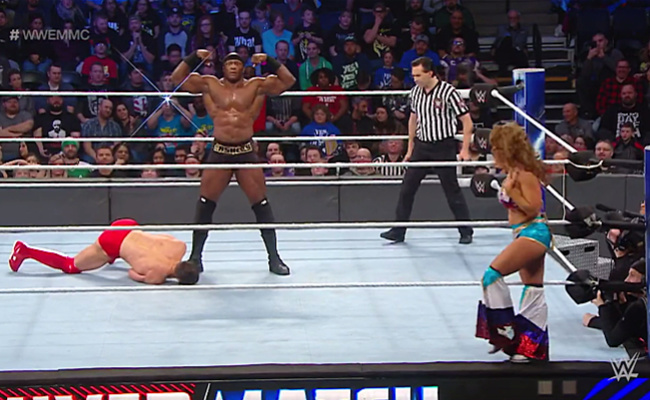 I've been talking all season about how great Finn Bálor and Bayley are as a team, but I'm pleasantly surprised to see them become top contenders in this tournament. Especially since the 11th-Hour-announced prize, a #30 entry into the Royal Rumble matches, could lead to good storylines for both of them. Of course, to make that happen they had to beat Bobby Lashley and Mickie James, which had to be particularly daunting for Finn, who's been beaten up by Lashley and his extra-large friends more than once lately.
That looked like it might happen again, and Mickie was holding her own against Bayley as well, but then there was a turn. It was Lio Rush's fault, really. He pulled Bayley's feet out from under her from outside the ring, which the ref didn't see, but Finn certainly did. That was all the motivation the Lego-loving Irish boy needed to unleash a bit of his demonic aggression. He took Lio and Bobby both down, which gave Bayley a chance to recover and hit the Bayley-to-Belly on Mickie for the pin.
Team B'N'B are shoe-ins for the finals at TLC now, since all they have to do to get there is beat Mahalicia in two weeks. With Asuka and Charlotte involved in the TLC Triple Threat for the Smackdown Women's Title, and thus unlikely to make it to the MMC finals, Finn and Bayley even look like strong picks to win the whole thing, with Naomi and Jimmy Uso (who are also great) being their strongest likely competition. I'm still made about Ember, but I'm happy about this.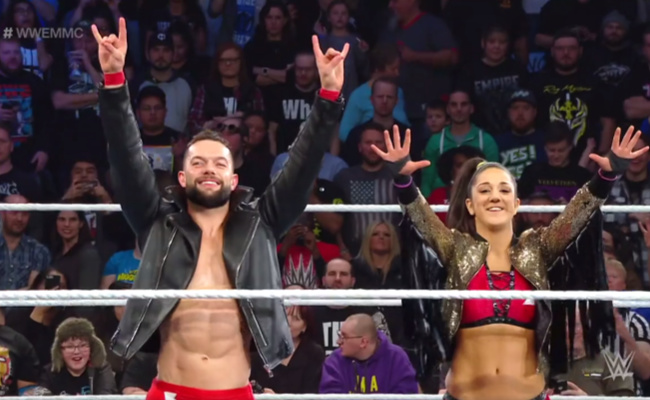 That's all for this week. Join us next time for the Smackdown Play-Offs, where Extreme Flair (Charlotte Flair and Jeff Hardy) go up against Fabulous Truth (Carmella and R-Truth), and Awe-Ska (Asuka and the Miz) face Day One Glow (Naomi and Jimmy Uso).