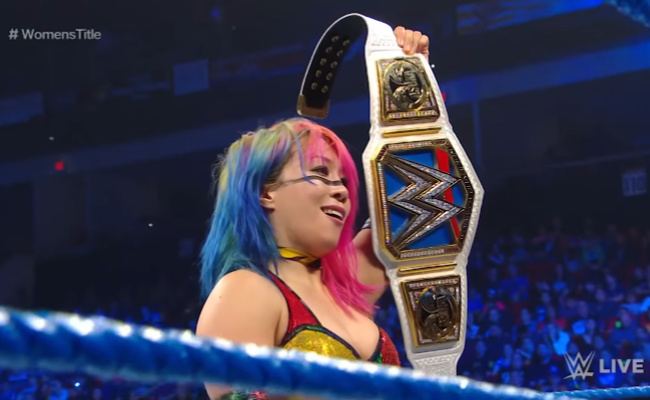 Welcome back to the WWE Mixed Match Challenge Season 2, a half-hour show featuring a 10-team round robin mixed tag tournament between Raw and Smackdown. The episodes air live on Facebook Watch at 10 p.m. every Tuesday night, but you can watch the new episode any time you want. Each week, I'll be taking you through the ins and outs of this compact two-match card.
Last week was the Smackdown play-offs, in which Carmella and R-Truth managed an upset against Charlotte Flair and Jeff Hardy, while Asuka managed to defeat Naomi and Jimmy Uso in spite of the Miz. Now, let's dive into this week's matches:

Raw Semi-Finals Match: Team B'N'C Versus Mahalicia
Alas, poor Bayley. Even knowing that Finn Bálor had another match at TLC, I was holding on hope that he would pull double duty so the MMC finals could be B'N'B versus Fabulous Truth, which would have been the perfect fun cap on a fun season, and his presence would have made the quick exit of everyone else on the TLC card from the tournament seem at least slightly less inevitable. Then, of course, Finn got sick in Chile, and the rules of this MMC season state that if you're replaced for one round (even the semi-finals) you're replaced for the rest of the tournament.
So Bayley's close friend who brings out the best in her as a performer, with whom she's been on a bit of a streak and looking the strongest she's looked in a long time, was replaced by Apollo Crews, a perfectly nice man who's good at jumping and stuff. This wasn't as damning as getting paired with Curtis Hawkins the way Ember Moon did, but it's still not a great sign for your team. Apollo's a fine performer, but he might as well wear a T-shirt that says "Vince Doesn't Know My Name," and he wouldn't even get in trouble if he did, because Vince wouldn't look at him long enough to notice.
Anyway, despite the fact that Alicia Fox and Jinder Mahal have spent this whole season in the role of annoying villains who hate each other, they've at least been around for this whole season, competing as a team with neither being replaced. If Bayley and Apollo Crews had made it to the finals, it would have seemed a little shady. At least Bayley got to hit her finisher on not just Alicia Fox, but both Singh Brothers as well. Never have two guys with so few matches taken so many finishers as the Singh Brothers. But ultimately, when the numbers game led to Bayley and Apollo's demise, it made sense.
I'd have liked to see Bayley get a spot on the TLC card, but I'll just go back to being annoyed that WWE still hasn't announced Women's Tag Team Championships, rather than blaming the Mixed Match Challenge.
Smackdown Semi-Finals Match: Awe-ska Versus Fabulous Truth
The number one thing I've been waiting for since the first season of Mixed Match Challenge began has been for Asuka to get fed up with the Miz and kick him in the face. So as far as I'm concerned, no matter who wins at TLC, and no matter how many more seasons of the MMC might still be on the way, we've finally closed the loop that's been open all year. In this match, building on last week's, Asuka finally realized just what a shifty, untrustworthy coward the Miz really is. And just as we always knew she would, she reacted a flurry of strikes to his face, followed by two solid kicks to the head.
Even better, Asuka didn't turn on the Miz because he lost them the match. She walked out on the match, ensuring his loss, because she'd already realized that he was just impeding her while trying to hog the glory for himself. She's been carrying him for two seasons, and he's incapable of showing gratitude. He doesn't even like it when she dances with their opponents, as if that's not half the fun of the Mixed Match Challenge. Asuka doesn't need this, as she clearly realized. She's got a Triple Threat TLC Match for the Women's Title to focus on.
As I said last week, the fact that Carmella has been built up as the hero of this tournament made the finish feel all the more satisfying. Even though it was all about Asuka and her anger at the Miz, she still handed the victory to somebody we'd like to see succeed. Plus, getting into the finals on such a fluke makes Fabulous Truth continue to seem like the underdog team, even though they're facing Alicia Fox and Jinder Mahal at TLC. Hopefully that match will maintain some of the unique tone of this show, despite being on a WWE PPV.
That's all for Season 2 of the Mixed Match Challenge. The finals, in which Fabulous Truth face Mahalicia, will be a part of TLC this Sunday. Then we'll find out if Facebook Watch wants to keep doing this in 2019! I'll most likely be here to talk about it if they do.