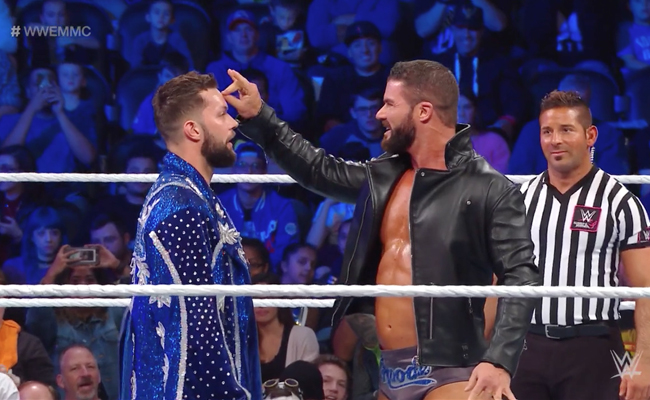 Welcome back to the WWE Mixed Match Challenge Season 2, a half-hour show featuring a 1o-team round robin mixed tag tournament between Raw and Smackdown. The episodes air live on Facebook Watch at 10 p.m. every Tuesday night, but you can watch the new episode any time you want. Each week, I'll be taking you through the ins and outs of this compact two-match card.
Last week, Country Dominance dominated Team Pawz, and Lana's twerking was no match for Asuka's wrestling, so Awe-Ska defeated Ravishing Rusev Day as well. Now, let's dive into this week's matches:
Match One: (Raw): Team B'N'B Versus Team Pawz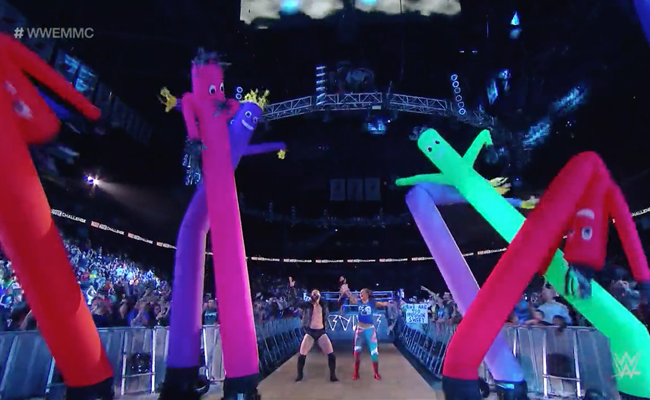 You know how you can tell that the Mixed Match Challenge takes place in a slightly different reality from the rest of WWE TV? Because the MMC did everything they could throughout this episode to push and promote WWE Evolution, this weekend's big event, as opposed to Smackdown where the main event was Orton versus Hardy again. Even if it's a frustratingly small part of the week of wrestling, it's nice to tune into this WWE show where the women really are equal to the men, and everything really is just about putting on a fun show for the audience. A show where Finn Bálor and Bayley are top babyfaces.
They've really got their entrance joint entrance down to a science at this point, as exemplified by the perfect moment where they both turned up the ramp raised their hands in the air Finn-style, and the tube-men came to life as if by their mystical command. Team Pawz 2.0 is a fine team, built on a shared love of basking in sunbeams, but B'N'B are truly meant for each other. No disrespect to Sasha, but I wish Bayley and Finn could be a full-time tag team in WWE. Let's be real, I wish a lot of things when it comes to these two.
Trading entrance gear is a fun gag, even if it's starting to feel like "do something quirky and non-wrestling because it's the Mixed Match Challenge" has fully become its own trope. Bobby looks like the roughest of trade in Finn's leather jacket, and when Finn puts on Bobby's Flair robe you can imagine an entire alternate timeline where that's the path that being a showmanship-obsessed wrestling nerd led Finn to pursue.
Technically this is a face versus face match, even though it's between a team of natural heels and a team whose heel turns everybody likes to fantasy book. Generally the former team, Nattie and Bobby, come off more like heels since Finn and Bayley are the world's nicest kids, but nobody gets particularly vicious, that too-sweet on Finn's forehead aside. At the end of the day, the Team Pawz losing streak is probably a more important story than B'N'B accumulating wins, but the result's the same either way.
I admit, we've reached the point in this Round Robin tournament where math is starting to get me down. Team B'N'B has only lost one match, but since two Raw teams haven't lost at all, that probably puts B'N'B out of the running. If they manage to beat Country Dominance, and Country Dominance beats Monster Eclipse (who will obviously beat Mahalicia), that would leave all three teams tied 3-1. Unfortunately, I'm pretty sure they didn't leave enough time in this worked tournament to break a three-way tie, so probably it all comes down to the two teams who haven't lost yet.
Match Two (Smackdown): Day One Glow Versus Awe-Ska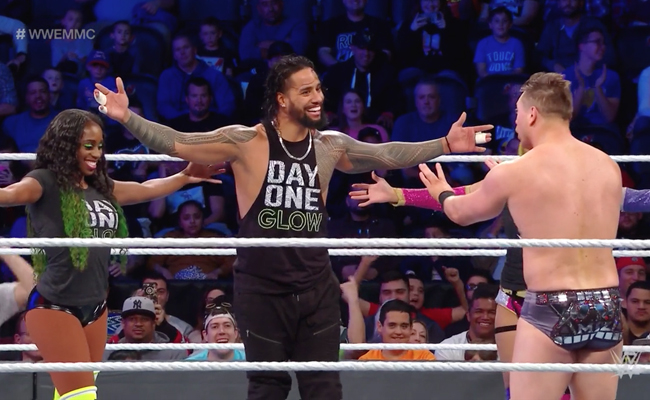 Speaking of teams who haven't lost yet, last year's winners Awe-Ska are still going strong on the Smackdown side. Although I would have thought it was cool if Day One Glow had beaten them here, I did like that Miz managed to pin Jimmy Uso, rather than the Asuka Lock saving the day for them once again. Particularly since Asuka and Naomi are best friends, switching it up this time was the right move.
But I'm not only getting ahead of myself, I'm acting against the spirt of the Mixed Match Challenge by talking about the finish of the match first, instead of focusing on the bit where they all gave each other hugs. The Miz yelling "There's no hugging in wrestling!" was next-level Miz because it works as both heel hypocrisy and a movie reference, which compromises his whole brand. Jimmy's "come on man, let's hug" grin was also pitch-perfect.
Day One Glow is the closest the Smackdown side of the tournament has had to a B'N'B-esque midcard underdog team, but this was their second loss, so that's pretty much it for them (although we still get to see them dance with Fabulous Truth and kick their butts on the way out). Fenomenal Flair is the only real competition Awe-Ska has at this point, and yes I'm definitely rooting for Awe-Ska (a team I love) to lose that match. Wrestling's complicated, what can I say? I just really need the payoff of the Miz getting kicked in the face by his teammate, and I was already denied for one whole season.
That's all for this week. Join us next time, when Monster Eclipse (Ember Moon and Braun Strowman) go up against Mahalicia (Alicia Fox and Jinder Mahal), and Fenomenal Flair (Charlotte Flair and A.J. Styles) face Ravishing Rusev Day (Rusev and Lana).