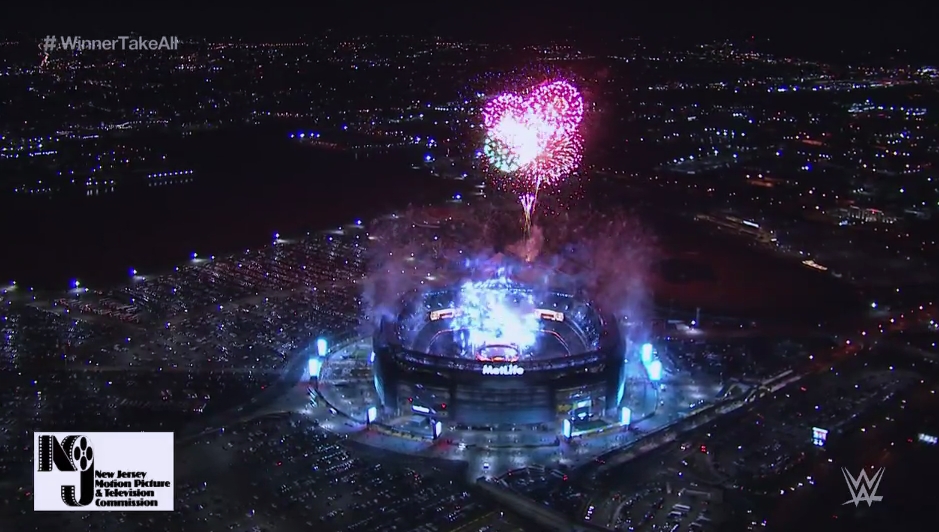 WrestleMania 35 went off the air with Becky Lynch holding two championship belts over her head while fireworks exploded, but the night ended much differently for fans in attendance at MetLife Stadium.
Due to the show ending on Monday morning at 12:30 AM instead of the normal WWE PPV ending around 11 PM on the day they air — you know how it goes — a large portion of an 80,000-strong group of fans were left looking for a way home. Public transit shut down at 1 AM, so if you weren't lucky enough to get on a bus out of there, you were stuck dealing with Uber and Lyft drivers charging anywhere from $100 to even $200 for rides home. Personally I managed to get out fairly quickly, but still paid 80 bucks to get from MetLife to Manhattan. The less fortunate ended up in the parking lot until 3 AM, in a downpour.
If you're looking to know who's to blame here, the fingers are pointing in every direction. New Jersey Transit issued a statement on Monday saying the lack of transportation was due to WWE not telling them the show was going to run so much later than advertised, and that they'd done the best they could.
"The primary factor contributing to the post-event delays was the WWE's decision to extend the event to 12:30 a.m., which had significant operational impacts on the evening. NJ Transit was not informed of this decision until late last night. The decision to extend this event resulted in our inability to operate some of those trains due to federal requirements limiting train crew hours. Last-minute adjustments, such as holding the final trains of the night and adding several additional trips between Secaucus and Penn Station New York by utilizing crews and trains from throughout the system were made."
WWE's own statement on the situation was much more succinct, and seemed to blame NJ Transit.
"We regret any inconveniences fans may have experienced with mass transportation after the event."
Meanwhile Governor of New Jersey Phil Murphy is taking the blame himself. Speaking in a morning press conference (with a h/t to PWInsider), he said the following:
"At the end of the day, if folks are frustrated, they ought to be. I would have been crazed. It's completely and utterly 'dog-ate-my-homework' unacceptable. We're fixing it. We're gonna learn from this. I'll be damned if it happens again."
No matter what happened, we hope everyone got home safe and got some sleep. This is another great reason for WWE to consider either splitting the annual WrestleMania event into two much shorter nights, or cutting the card so they aren't running 16-match shows plus comedy bits plus musical performances and running past midnight on Sundays. And/or maybe stop running shows in an outdoor stadium in New Jersey in April without more reliable public transportation.