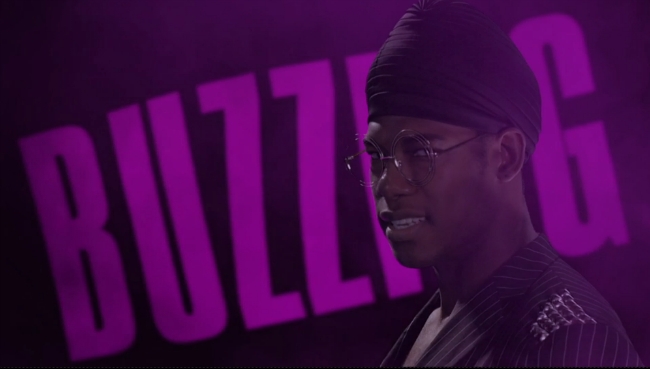 Previously on the Best and Worst of WWE NXT: We were treated to two Undisputed Era matches that could've made up a really good first hour of a TakeOver. Also, Kairi Sane can't stop dropping bows on ladies and tapping them out with a back bridge.
If you missed this episode, you can watch it here. If you'd like to read previous installments of the Best and Worst of NXT, click right here. Follow With Spandex on Twitter and Facebook. You can also follow me on Twitter, where everything and everyone is terrible.
And now, the Best and Worst of WWE NXT for July 18, 2018.
Best: Lacey Evans Joins The Ministry of Silly Walks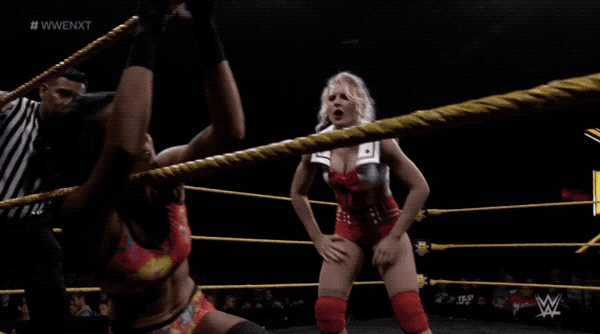 Lacey Evans has a new t-shirt because she's good at sports, so she gets to sit up front this week. Ersatz Liberty Belle opens the show with a victory over Dakota Kai, which is great because (1) they're roughly at the same power level, so it can be believably competitive but still go either way, and because (2) Evans gets a little better in the ring every time we see her.
There's a moment early on that really encapsulates current Lacey Evans, though, and not in a good way. She gets Kai upside down in the corner and, in a moment of awesome heeling, starts tying her to the corner with the tag rope. It's one step away from being Fit Finlay trapping people in the apron skirt and kicking their ass. But then once the cool thing has happened, Evans follows it up with a Bronco Buster. And not even a repeated one, just one elaborate crotch-thrust to the stomach. That's Lacey Evans right now. She knows what she's doing, and she's almost got it, she just needs to replace some of that Young Boy Diva offense. It's a lot like what was going on with NXT Alexa Bliss when she had the glitter sneeze and a bunch of roll-ups, but nothing in her offensive repertoire that even pretend looked like it could hurt anybody.
I'm still not in love with the punch as a finish, either. I like the "Women's Right" conceit, but that feels more like a signature move to end a sequence and create a mildly believable near-fall. A good punch connecting out of nowhere is a fun stun move in pro wrestling, but if it's your finisher, you live with the question, "why don't you just start punching at the beginning of the match and keep punching until she's knocked out?" Especially if one punch at any time can do it.
Small creative/structural problems I'm nitpicking in my brain, though. I do think Evans is gonna rule when she gets a sense of purpose behind her character beyond the aesthetic. She kinda rules already.
Worst: Kassius Ohno Knocks Out A Bad Create-A-Wrestler Of Randy Orton In 40 Seconds
"Rick Ramirez" is New York area wrestler Chris Payne, in case you're wondering. Shout-out to the announce team's "Kassius Ohno is literally one of the all-time greats" talking point when this can is the first guy he's beaten on NXT TV since April, and the only people he's beaten on NXT TV in the past 10 months have been Rick, Raul Mendoza, Cesar Bononi, and Fabian Aichner. Not exactly a murderer's row there. Last person he beat worth mentioning (on television) is Hideo Itami back in September of 2017.
Can we give Rick Ramirez a gimmick where he goes on outer space adventures with his nephew?
Best: The Dream Has No Memory Of Making Me Cackle
I'm all the way the hell in on Velveteen Dream's new gimmick of CGI set manipulation and turning to the camera to dramatically whisper-repeat the last word in his sentence. [turns to camera] Sentence.
LOL: EC3 Meets A Fan Cosplaying As Ric Flair
Pairing up EC3 with 'The Finest' Kona Reeves is like going to Rome and eating at the Olive Garden.
Best: War, What Is It Good For?
With this one five minute video package, the War Raiders already have more character and character development than The Ascension, the Authors of Pain and the non-Bray Wyatt members of the Wyatt Family ever got in NXT. Getting to know these guys, seeing where they came from, learning a bunch of extra shit about Vikings and sharing the pictures and story of Ray Rowe's motorcycle accident managed to humanize and contextualize them without making them seem vulnerable or weak. Rowe's point of "If death couldn't stop me, how are you supposed to win a wrestling match against me" is pretty dope. Rowe's just generally the shit anyway.
I still think we should put Paul Ellering with them to compete the motif, but I like what they're doing. More vignettes and origin stories!
Best: Sane Anything
Finally we have a triple threat match to name a new number one contender to Shayna Baszler's NXT Women's Championship, which I hope makes Raw's writers go, "shit, did we already do that this cycle," and avoid turning Lashley vs. Reigns into Lashley vs. Reigns vs. Lesnar at SummerSlam. If Gargano and Ciampa had to change Last Man Standing to a "street fight" to suit AJ Styles and Shinsuke Nakamura, we can return the favor here, right? Right guys?
This match is a hell of a lot of fun and saves an otherwise uneventful episode, as all three women get a chance to shine without a lot of the expected stuff you get in WWE triple threat matches. They keep up the pace, and they tie their offensive moves together in ways that make sense; for example, Candice thinks she has the match won with a Lionsault, but Kairi Sane elbow drops her between the damn shoulders from out of nowhere, so much so that 2 of 3 camera angles missed the entire thing. Having Baszler sit in on commentary without a clear-cut rival was a good idea, too, because it allowed us to believe that any of the three could win and move on to face her. LeRae and Baszler got into each other's faces backstage, Cross and Baszler have issues from their recent feud and the most recent TakeOver event, and Sane and Baszler go all the way back to the Mae Young Classic finals.
Sane vs. Baszler is a really good call, by the way, because Sane's the only person who's proven she can beat Baszler at her own game, but they're 1-1 in head-to-head competition. Now you get a big marquee rubber match at the TakeOver location where women's wrestling in WWE truly, finally bloomed, for the NXT Women's Championship, tying in to the big inaugural women's tournament you held and are about to do again. Aces.
That's this week's show. Drop a comment if you can, share the column if you're nice, and join us next week for [spoilers] [gasp] a truly exciting and important episode of NXT TV.