It starts off simple, with Kane striking one of the set cameras with lightning and scaring a cameraman. He escalates that to scaring Michael Cole — God, I wish this episode had featured Michael Cole being struck by lightning and disappearing into the sky like Powder — before his big set piece: setting a camera man on fire with multiple lightning strikes.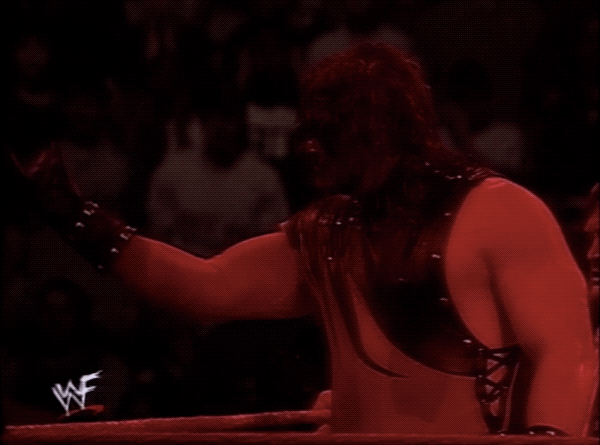 It's good to see the guy from the Wax video getting work in the World Wrestling Federation. Dude ends up running up the ramp on fire and collapses on the stage, where he's put out by a bunch of crew members with hardcore match-ready fire extinguishers, but it's too late … the crew member DIES from supernatural lightning strike. He's dead. Look, here's a shot from the followup segment where they carry him out of the arena with a sheet over his dead body.
I'd make more of a deal out of that if Kane hadn't ended up committing several other murders in his WWE career, from losing his wrestling school sweetheart in a 1950s teenage tragedy song because he couldn't drive stick to throwing his own father to his death in response to a comedic kidnapping goof. Kane was Lucha Underground before Lucha Underground.
What's Undertaker's response, you might ask?
Why, visiting his parents in the cemetery and telling them he hopes they can all Rest in Peace, of course. Because the Undertaker only has three speeds — unstoppable occult wizard, American patriot (for some reason), and FULL BLOWN EMO — and is the kind of character whose girlfriend could say, "we're so perfect for each other, we finish each other's …" and he'd interrupt with, "rest in peace."
Worst: The New Age Outlaws And The Most Try-Hard Run-In Ever
Over the past month we've seen the New Age Outlaws try to murder Cactus Jack and Chainsaw Charlie with improper trash pick-up, and Jack and Charlie retaliate with cartoon booby traps. Last week they strung up the Road Dogg by his feet, so you figure this week the Outlaws are going to do something absolutely INSANE to send us into the most hardcore match of WrestleMania 14.
Their plan is to … uh …
You know, instead of trying to write jokes about this, I'm just going to tell you what happened. Cactus Jack and Chainsaw Charlie are wrestling Jacques Rougeau and his partner, Pierre Carl Oullet, better known to modern fans as Pissed-Off Future Glacier. During the match, the Outlaws are supposed to cause a distraction … but instead of them like, causing a distraction, they spend several minutes setting up a fake dining room, with a card table and tuxedos and blow-up doll dates. Here's Billy Gunn feeding wine to one of them. We have to watch them actually set it up, and it feels a lot like when you're at a bad local comedy show and you've gotta watch improv students set up stools in the dark. The people in the ring kind of half react to it, but nobody's sure what to do, so it's just for guys kinda wandering around waiting for a cue and lightly punching.
When it's all set up, nothing happens. So the Outlaws wait until Cactus Jack's back is turned or something, run all the way down to the ring, and start attacking them with weapons. So … so why did we have a blow-up doll dinner? So they could get the visual of a card table being broken over Terry Funk's head? Couldn't they have just run to the ring with weapons and saved us five minutes of awkward, live-TV set and bit construction? It's UNBELIEVABLY terrible, and I feel like maybe they did a bunch of sex toy fine dining angles on Livewire or something and I just missed them.