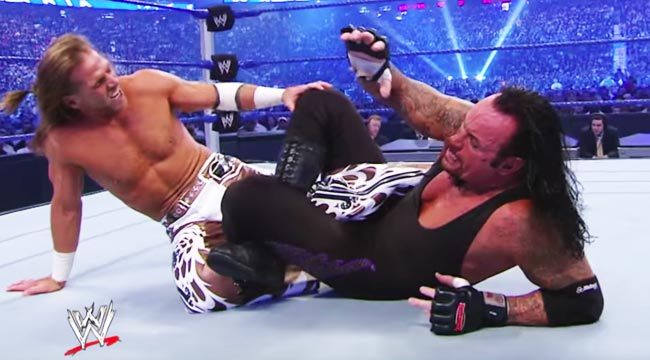 Internet rumor mills have been calling for the in-ring return of Shawn Michaels since he lost a career-threatening match to The Undertaker way back at WrestleMania 26, but finally, in the dying days of 2018, things are actually happening. We've already been made aware of plans to have D-Generation X reunite and take on The Brothers of Destruction, Kane and The Undertaker, at WWE Crown Jewel in Saudi Arabia in November — as a follow-up to Kane and Michaels being in their respective partners' corners at WWE Super Show-Down in Australia in October — but now rumors are swirling that Michaels will step into the ring again later that month in a return singles match, this time on American soil.
The current report is that Michaels will once again face The Undertaker in a singles match at Survivor Series in Los Angeles. This comes from the Twitter account @WrestleVotes, who has broken a number of recent stories (including Neville's abandonment of the company in 2017, among others), with a note that if the match doesn't come together in time for Survivor Series, it could happen in Arizona at the Royal Rumble.
While it'd be great to see Michaels in the ring again — he certainly looked ring ready back at WrestleMania 32 — and while pretty much everyone would like to see him face The Undertaker again, we've got to wonder why they'd go that route in 2018 when there are so many other Shawn Michaels dream match options still on the table. Wouldn't you love to see Shawn Michaels vs. Daniel Bryan, to pay off that hint of a feud from years ago? Or Shawn Michaels vs. AJ Styles, which was at one point rumored for WrestleMania 33? Those Michaels/Undertaker matches were true classics, but can they be improved upon when the story has already been told to its completion, and both men are years removed from anything that could be considered their primes?
Keeping our fingers crossed and someone realizes how great Shawn Michaels vs. Seth Rollins would be. Until then, let's enjoy WWE's latest swim in the still waters of nostalgia.