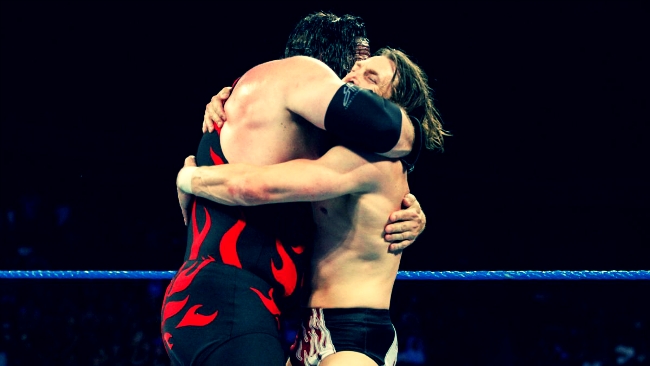 Previously on the Best and Worst of WWE Smackdown Live: Rusev won a 40-minute gauntlet match for the right to challenge AJ Styles for the WWE Championship at Extreme Rules. There was also an hour-long Smackdown pre-show from 8 to 9 everyone could've just skipped.
Remember to follow With Spandex on Twitter and like us on Facebook if you haven't already. You can also follow me on Twitter @mrbrandonstroud for pretty much just wrestling stuff. And remember to check out our With Spandex podcast, McMahonsplaining.
Hit those share buttons! Please spread the word about the column on Facebook, Twitter, and whatever other social media outlets you use. Be sure to leave a comment in the comment section below as well. Your help and participation means a lot. We're on the Road To Extreme Rules, the only night each year when WWE takes things … to the extreme! Please hire me, WWE.
And now, the Best and Worst of WWE Smackdown Live for June 26, 2018.
Best: Ravishing Russians
The first thing we need to talk about from this week's episode of Smackdown Live is the cameo from the cast of Netflix's Glow, and how a backstage segment where Lana meets Zoya the Destroyer is straight out of the "first things Brandon would do if he got put in charge of Smackdown" playbook. Although I probably would've had the cast show up in old lady makeup, because they're supposed to have been TV wrestling stars in the mid-1980s.
The segment is one of those harmless, "we are celebrities with a project coming out soon, and we have heard of WWE before" bits, but I'm glad it happened. Alison Brie doing a freeze-frame gag by herself at the end of the segment really makes it. That woman is Annie Edison, Trudy Campbell, Diane Nguyen and Zoya. That is a Relevant To My Interests filmography, man.
Things I'd wish it'd included:
Betty Gilpin. No Liberty Belle, no buys.
Kate Nash doing literally anything
WWE acknowledging that one of the stars of this show they're helping promote was in a goddamn Royal Rumble and has unfinished business with the Bella Twins
Worst: What's Super Eric Doing In The Smackdown Zone?
I don't think WWE television's ever felt more like Impact than this Eric Young vs. Jeff Hardy match, which is only happening because the guy who was originally scheduled to compete was bitten by a police dog, ends in a disqualification, and features a bunch of run-ins that immediately lead to a six-man tag. And then the more or less "debuting" team, the only team in the match that is actually a cohesive three-man unit, loses. Their debut. Technically twice. BECAUSE REASONS.
I think Jeff Hardy could really use some extended time off, or maybe a slight character tweak that'd let him be on the shows without having to be 25-year old Jeff Hardy for the rest of his life. He's doing the Greatest Hits and moving a little slower every time out, and pretty soon he's gonna just snap in half and that'll be it. Let's preserve our Hardy Boyz, please and thank you. The match with Young is HORRIBLE, frankly, and while it gets better with the addition of Uce Y Uce, it's still not anything to write home about. It's like the worst stuff about Impact from 10 years ago plus the worst stuff about Smackdown from 10 years ago had a nostalgia baby.
Worst: Y'all Want To Do Something With Andrade Almas Or What
Here's a brief promo video from Andrade 'Cien' Almas, one of the best and most exciting workers in the company right now who as Luchablog points out has only had two televised jobber squashes and that's it since being "drafted" back in April. It's almost July, you guys. Dude hasn't had a match on Smackdown since May 22. What are you doing? "Tranquilo" isn't supposed to describe your desire to make yours shows good.
Best: Poor, Poor Xavier Woods
On the positive side of things, Rusev is still the number one contender to AJ Styles' WWE Championship, and that means he gets to actually win some singles matches between now and Extreme Rules. His first victim: Xavier Woods, a guy who has been eating Machka Kicks and suffering Accolades longer than anybody. It's also an interesting throwback to Classic Rusev, who they'd always put into matches against black guys at such an alarming rate we thought Latent Racism was supposed to be part of the gimmick.
Rusev With A Push (like Dog With A Blog) is delightful, as is Big E going full Bart Simpson with a comical, physical speech bubble:
Three of my favorite things: good pro wrestling, Rusev winning matches, and the New Day doing something funny that doesn't involve pancakes. A phooey to their pancakes.
Best: Becky's Still Winning
Real quick, did Peyton Royce get bitten by that same police dog? Because she was supposed to wrestle Becky Lynch last night, but it ended up being Sonay Deville instead.
It doesn't really matter, I suppose, because this match only happened for the very strong reasons of (1) giving Becky Lynch another singles win, which she desperately needs and will continue to need, and (2) making the Artists Formerly Known As Absolution look like goobers. They are more goober than the IIconics right now, which is saying something, because the Iconic Duo is designed to be kind of lame and up their own asses. Absolution can't even win 2-on-1 matches against people who lose 1-on-1 matches on the reg. Paige should trade them back to Raw for a Riott Squad member to be named later.
Becky winning is a good call, though. I wasn't particularly enthralled by this Smackdown (or even very interested in it at all, if we're being honest), but it's the best kind of boring show: one that has a lot of wrestling on it, is light on the extraneous bullshit, and uses the "calm before the storm" filler weeks to remind us that some of these wrestlers we love can actually win matches sometimes. Crazy how important that is.
Worst: Ell To Pay
Less constructive is the continuation of the Carmella vs. Asuka angle, which I'll remind you began at Money in the Bank when a woman who was once undefeated for over 900 days got so distracted by a stranger putting on her clothes that she lost to an in-universe, in-canon former hair dresser whose kicks miss by about a foot and a half. Now we're moving right into Asuka vs. James Ellsworth, which should be fun, sure, but also feels like … the end of the story? The last time Ellsworth found his way into an intergender match on Smackdown, he lost and was off the show for months. Are we doing that again? Feeding him to Asuka so the runway's clear for Asuka to just truck Carmella at Extreme Rules and win? Or are we doing a bit where James Ellsworth pins the best female wrestler in the company as a funny joke to "build momentum?" I don't even know what they consider momentum these days.
Without being the younger, less jaded, more prone-to-preachiness version of myself before the Internet made me an emotional monster, you aren't really gonna get intergender wrestling over by only feeling like you can pair up the very best female wrestlers against the very worst male wrestlers for it to work. It feels a lot like when WCW would let Scott Steiner not only squash a cruiserweight champion, but like 3-5 cruiserweights at once. You can tell realistic physical stories with physically different people without having to have goddamn KANA sell for Jimmy fucking Dream. That match better be bell, kick, kick kick kick Asuka Lock, done. Out.
Worst: Tye Dillinger's Hair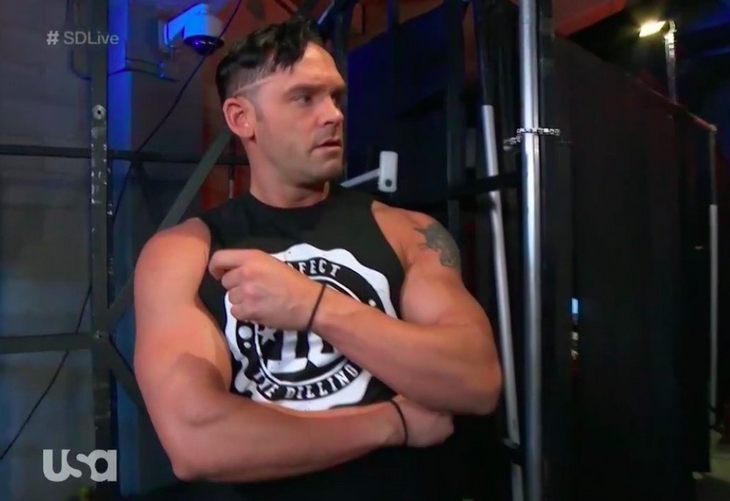 When did Morrissey get traded to Smackdown?
Best: Daniel Bryan Accepts A Bludgeoning
There's something fantastic and very classic Ric Flair about The Miz understanding how to avoid Daniel Bryan. You don't just say you won't wrestle him … you say you will wrestle him, then lean on the decade or so of character interactions he's experienced to find everyone who might have a problem with him, then lead them directly into his path so he has to deal with them first. You get lots of time to prepare, and by the time the match actually comes around, your opponent's been beaten within an inch of his life for months. Miz fed Big Cass to Bryan for a couple of cycles, and now he's got the Bludgeon Brothers involved.
This sets up Bryan vs. Luke Harper in a very Chikara-friendly Smackdown main event, which is the much better version of Eric Young vs. Jeff Hardy bleeding into a six-man. Harper gets to be an actual wrestler again this week instead of doing his Bludgeon Brothers thing, which is welcome, and Daniel Bryan deserves some kind of lifetime achievement award in the field of Big Man vs. Little Man matches.
All of this is to set up a double-team for the Bludgies, and a surprise save from KANE of all people. I can say that one of the most unexpected things about pro wrestling in 2018 is that it started with a bunch of Kane matches, he went away again, and how he's back … and it's … it's exciting? A Kane angle? Am I … am I into a Kane angle? Is the magic of Daniel Bryan that strong?
Brother, you'd have to be pretty cold in your heart to not be excited for Daniel Bryan hugging it out in the ring in 2018 to set up a championship match at a pay-per-view. I just hope it's not an excuse for Kane to turn on him and set up another big man feud. Or I am, I guess, as long as it's The Miz being Machiavellian. Miziavellian.
Bring on Dr. Shelby to help Bayley this Monday and have Daniel and Kane cameo in it. Gimme that extended universe, and gimme a Hell Yes.
Best: Top 10 Comments Of The Week
troi
Its the Crimson lovers!
AddMayne
TEAM FUCK YES
IC Champion PdragolphZiggler
Bryan started squeezing Harper's head like a grape and Rowan was quick to stomp out any business competition
Ironically 1 is also the setting on Ellsworth's chin slider when God made his character model.
The Iron Yuppie
Nice of Paige to give Ellsworth a week to get his affairs in order.
LUNI_TUNZ
James Ellsworth: "And when you mess with the Bull… YOU GET THE BUCHANAN!"
Endy_Mion
That is big of Jeff Hardy, voluntarily doing time in a penitentiary for once.
JonSte13
For once a police dog was on Jeff Hardy's side.
blacksnakemoan
Alison Brie is more Russian than Lana now.
The Real Birdman
BRIIEEEE MOOOOOOOOOOODE
*sniff*
That's it for this week. Drop a comment, share the column, and be back next week for Jim Ross smashing a candy glass on Eric Young's face and making everyone in Sanity cry.