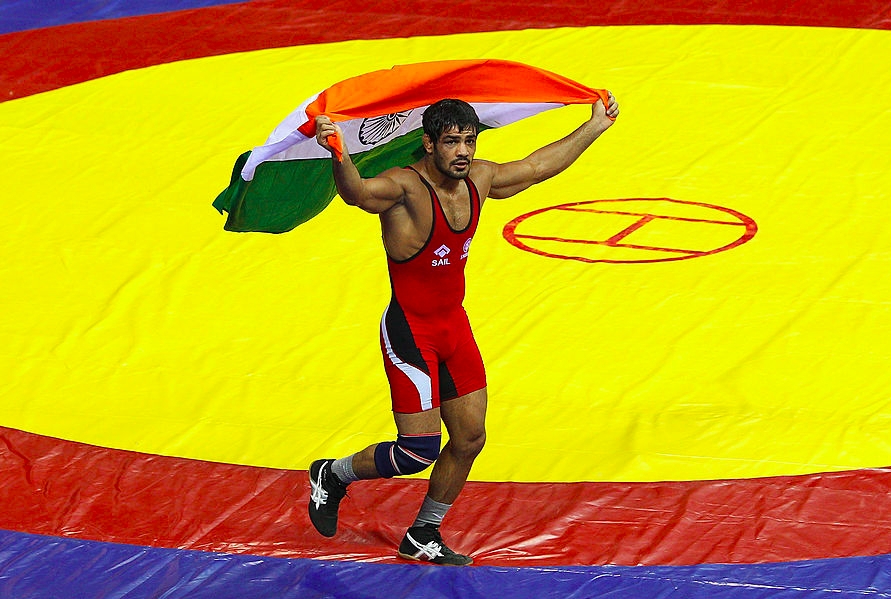 The WWE Performance Center — where new signees go before they advance to NXT and then on to the main roster — is currently jam-packed with talent. There are between 60 and 80 contracted wrestlers based at the Performance Center at any given time, and WWE routinely holds tryout camps of up to 40 invitees at a time. In short, it's a veritable pro wrestling factory. And while not everyone makes it through, the Performance Center has produced main roster standouts like Braun Strowman, Nia Jax, Enzo Amore and Colin Cassady.
While WWE has put an emphasis of late on snatching up big name independent wrestling talents like Austin Aries, Roderick Strong and TM-61 to bolster their NXT roster, they've never stopped courting "legitimate" athletes and potential international stars that would be extremely appealing to breaking into foreign markets. In particular, we've seen WWE's focus on the Chinese market in recent months, and Chinese signee Tian Bin is about to make his onscreen debut.
Another market that WWE is hitting hard is the audience in India, and to that end they're currently heavily courting two-time Olympic wrestling medalist Sushil Kumar. According to The Deccan Herald, WWE's head of talent development, Canyon Ceman, flew to India last week to have a personal meeting with Kumar. While Kumar said he was not signing with WWE immediately, he is keeping all of his options open.
"I had a very good meeting with the head of the WWE talent development and I am exploring a lot of options as I just want to continue wrestling.

"I would not say that I am leaving the amateur arena. I am just keen to explore other avenues[.]"
Kumar's agent went on record as saying talks with WWE have been ongoing for the past four months and that "something is going to materialize soon."

India Today caught up with former WWE World Heavyweight Champion and fellow countryman The Great Khali to get his take on Kumar signing with the company and while Khali likes the idea, he believes that the 33-year-old Kumar might be getting far too late a start in pro wrestling to be able to make a significant impact.
"It will be good if Sushil goes to WWE. It is my thought nothing personal about it but I think it will be late for Sushil to join WWE. One has to join at an early age and the chances of success increase. WWE is very difficult so I still feel it is a bit late for Sushil to join WWE. I would personally like to see someone in WWE after me."
While it's true that most pro wrestlers (particularly those that WWE signs) are well younger than 33 when they start out, few of them are world-class Olympic athletes when they make that transition. If WWE wants to get an Indian national hero on board to help break into that market, they'll likely get their man.
Of course, that's what we thought about Kota Ibushi, too. We'll have to wait and see whether Kumar's pro wrestling career ever materializes.
(h/t Wrestling Inc.)