Last month, USA Network presented its annual WWE Week, which included Tribute to the Troops and the channel's First Time Ever airing of NXT. Last week, Nickelodeon obstacle course game show Paradise Run had its very own WWE Week, which included Jimmy Uso suplexing a crash test dummy, Kalisto frustrating children, and a lot of extremely forced wordplay. In this article, With Spandex brings you the highlights of a week of pro wrestlers doing wacky challenges for charity.
But First: Context
The premise of Paradise Run is that teams of kids race to complete a series of challenges at the Hilton Waikoloa Village in Hawaii. It's like a version of The Challenge combined with Wipeout that's appropriate for child competitors, set at a ritzy resort. The premise of their WWE Week is that the "Superstars of the WWE team up with their biggest super-fans," but these kids clearly have no idea who these athletic adults are.
Bayley, the Usos, Apollo Crews, Naomi (who I expected to clean up, given her previous game show obstacle course experience), and Kalisto compete to win donations to the Boys and Girls Club of America. The children on the winning team get a four-day tropical vacation, and the second and third place kids get prizes too, because Nickelodeon supports the participation trophy snowflakization of the next generation. [Programming note required for jokes on the internet: that was intense sarcasm.]

Host Daniella Monet Looks Like The Lost Third Member Of The Iconic Duo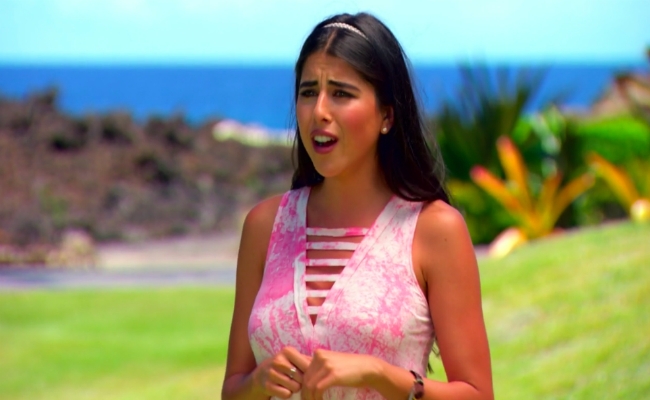 The fact that none of the kids pointed this out clearly proves none of them were really "WWE super-fans."
At Least Kids Like The "Lucha" Chant
In his four appearances (the most of any wrestler) on Paradise Run, our former Cruiserweight Champion
Tries to put safety goggles over his mask, breaks them (pictured above), declares "I am too lucha strong for this mask!," and has to hold the safety goggles in front of his eyes during the ensuing challenge to avoid getting mud in his eyes. His team finishes last.
Gets a lobster costume he's wearing hopelessly stuck in a net, causing his team to finish last.
Takes so long to learn dance moves for a bird-themed dance challenge that his partner looks like she might cry. And then they finish last.
There are multiple cuts to commercial that use Kalisto botches as cliffhangers. Tragic. The Sin Cara curse has Final Destination-ed to Kalisto at long last, it seems.

The Return Of Pure Babyface Bayley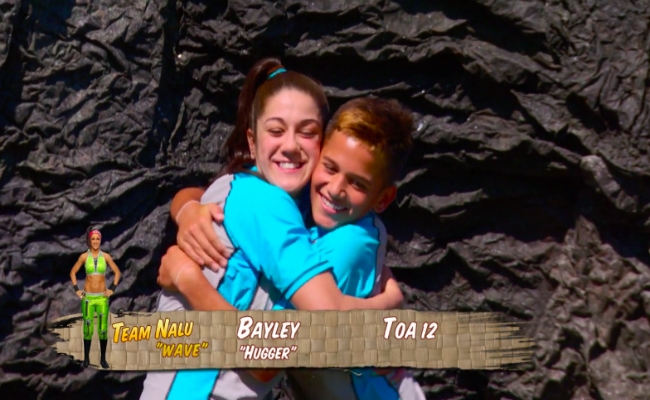 WWE, don't you dare give up on this wonderful woman! Bayley is NXT-era delightful for the entirety of her Paradise Run episode. Right after she and her partner Toa introduce themselves, he says "I think I need a hug!" and she gives him the most beautiful hug I've ever seen. I could feel the warmth of it through my screen. We should replace fossil fuels with Bayley hugs.
Toa looks like he has the most fun of any kid on any of these episodes. When they win, Bayley says, "He's the best; he led me through it!" and he sincerely insists, "She's the best!" You're goddamn right, Toa. She looks genuinely thrilled for him to win a vacation, too. I miss the old Bayley.
The Return Of The Babyface Usos
Jimmy and Jey Uso have to be extremely family friendly on this show, so they can't do any of the things that have made people love them for the past year or so. They can't scream about imprisoning children, so the only catchphrase they have left is the "OOOO-SOOOOS!" chant. They don't work out before their first appearance how they would each use the chant, so they both use it the exact same way: introducing themselves as "[first name] OOOO-SOOOO!" and then doing the chant again with their teammate, who leaves way too long of a gap between "uce" and "oh." Each twin appears on three episodes, and neither figures out how make this not awkward. Jimmy's partner Giullia on Wednesday's episode, doesn't even say the "s" sound. Come on, Giullia.
But as hard as they try to repress their true jerk jock/Uso Penitentiary selves, their heel trash talk tendencies creep in as the week goes on. Friday's episode features Jey yelling, "It's over! It's over!" at the other teams after finishing first in a challenge, and going on to win the whole episode.

Fatu Family Feud
As you know if you've watching certain episodes of Up Up Down Down, the Usos and Naomi can get extremely competitive with each other. All three were on the first episode of Paradise Run's WWE Week, and Naomi and Jey sabotage each other right off the bat. The contrast of shoot-dads Jimmy and Jey being super nice and helpful to the kids they're teamed up with, then yelling trash talk at each other in their talking head segments is pretty wonderful.
"All Of Our Wrestlers Are Related"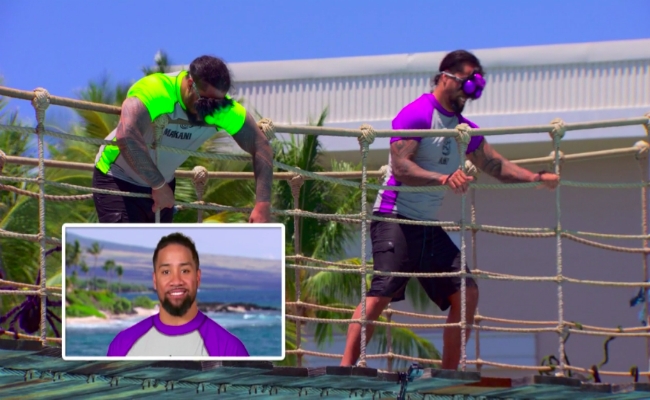 At the beginning of that first episode, our iconic host has to quickly explain that, yes, these two men are in fact identical twins, and also Jimmy and Naomi are married. It's the super-abridged version of that one subcategory of conversation you sometimes have when you watch wrestling with people who don't keep up with it, and also five minutes out of every interview ever with any of the Samoans from the WWE ( including Samoa Joe, because he has to explain how he's not a part of it, and also including Tamina.)
The relationship dynamics are fun and easy to pick up on in that first episode, but don't really get explained when these three show up in different combinations later in the week. The weirdest bit of exposition is when Jey, on Friday's episode, says, "Naomi, I know you're my sister-in-law, but today my family is Team Makani!" which presumes that kids either 1) faithfully watch every episode of Paradise Run, which is not a serialized show, and remember the previous contestants, 2) watch WWE and know about wrestler's personal lives, or 3) watch Total Divas. If this is the first episode of this show a kid has watched this week, this sentence comes out of nowhere. If a kid only watched the previous night's episode, which was Naomi vs. Jimmy vs. Kalisto, this informs them that Jimmy has an identical twin. It's a weird vibe.

Daniella Said The Contestants Would Meet Their Parents At The Finish Line And For A Second I Thought Rikishi Was Going To Be On This Show, But Then They Cut To The Parents And It Was Obviously Just The Parents Of The Child Contestants
I felt very dumb.
Bella Is The Titus Worldwide Of Apollo Crews' Paradise Run Career
In most of these teams' talking head interviews, the kids do some exposition, and the wrestlers talk G-rated smack. With Apollo Crews' team, the dynamic is reversed. He smiles, and his partner Bella, 12, spits hot fire. If the Titus Worldwide thing doesn't work out, they should bring Bella in as Apollo's manager.
Every Parent's Mind Goes Somewhere Sexual During The Punchline Challenge
A section of the race called the Punchline Challenge includes each team telling jokes to a captive audience of mostly grown-ups at the hotel pool. The wrestler delivers the set-up, the kid the punchline. Jey Uso gets the first half of this joke:
Which gets this reaction from the adults, who clearly think it must be something sexual, but that can't be right, because this is a Nickelodeon obstacle course game show:
The punchline:
Ohhhhhhh.

Lowlight: That's The Best Joke Of The Week By Far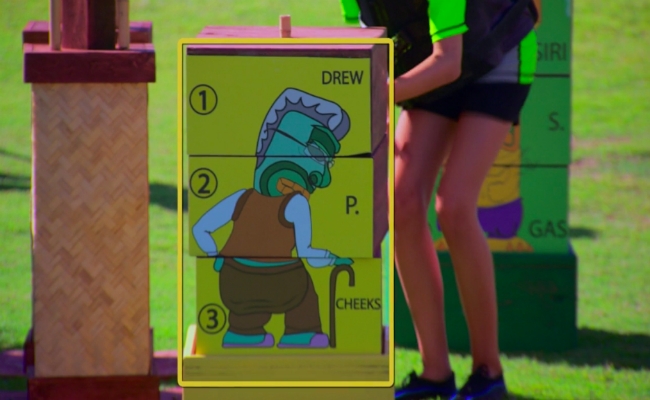 Vince would think this show is hilarious.
And Finally: Nobody Was Ready For Jimmy Uso
So it turns out in addition to being WWE's current iron man, Jimmy Uso is amazing at Hawaii/vacation-themed challenge courses. He appears on three episodes of Paradise Run, and his team wins each time. You can tell he's trying to bat 1.000 during the third one, too. He has to stop for a second after leaving his kid in the dust as he runs at full adult speed to the finish line. He also takes a crash test dummy to Suplex City, if we assume Suplex City is the lost city of Atlantis.