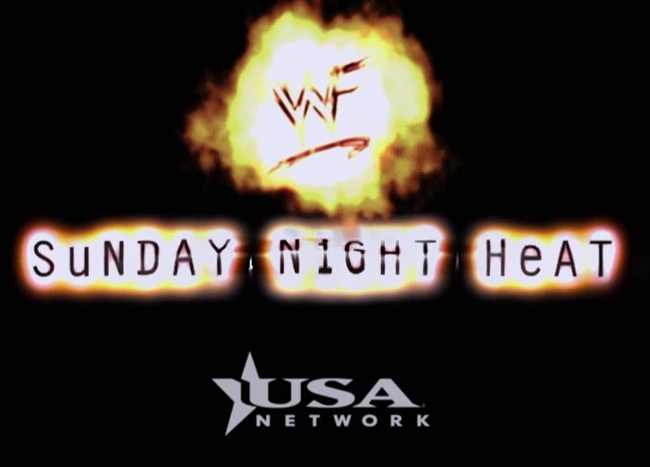 Welcome to the first edition of Heat of the Moment, aka the UPROXX Sunday Night Heat recap.
In case you aren't aware and/or weren't watching at the time, Sunday Night Heat (or eventually just "WWE Heat") was the World Wrestling Federation's Sunday evening show on the USA Network, meant to tide folks over until Raw Became War on Mondays and occasionally serve as a "kickoff show" for pay-per-view events. WWE Network recently uploaded the first year of the show, and since our vintage Best and Worst of Raw has reached Heat's first episode, we figured we'd add it to the rotation.
You can watch the first episode on WWE Network here. If you like these, and our break from the normal Best and Worst format, make sure to share it around so it gets read and drop us a comment below.
Here's what you missed 21 years ago on WWF Sunday Night Heat, episode one, originally aired on August 2, 1998.
HeAT 1NDEX GuIDE
Every segment featured in our Sunday Night Heat recap will be graded on a "heat index" scale from cold to hot, as illustrated by the following symbols.
? = hot
❄️ = cold
Creative, right? Our scale will run from a maximum of five snowflakes (the coldest, aka the worst) to a maximum of five flames (the hottest, aka the best). It's completely different from Best and Worst grading, and also totally not a Dave Meltzer adjacent star system.
ALSo, A WoRD ABoUT ALTeRNATING CaPS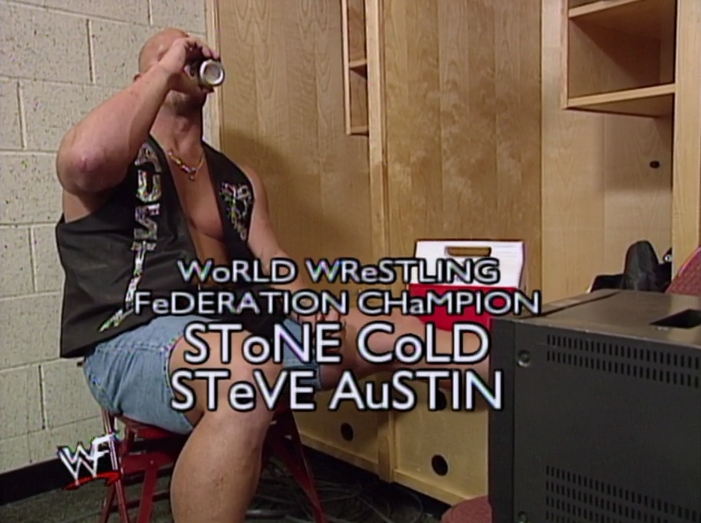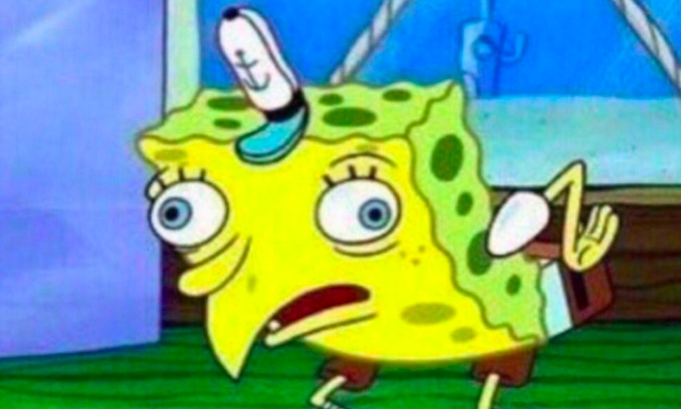 For whatever reason, Sunday Night Heat's initial aesthetic involved tons of "alternating caps," meaning all the graphics had the words tYpEd LiKe tHiS. Well, not exactly like that; Heat chose to simply make the first vowel in each word lowercase for effect, so instead of Owen Hart, you'd get "OWeN HaRT." If the vowel was the letter "i," they'd use a number "1." If a vowel starts a word, it's still capitalized, and the second vowel becomes lowercase. I would be a much smarter man and a much better writer if I could articulate why things like this seemed cool in 1998, but to do that I'd first have to tackle frosted tips, tribal tattoos, and jeans that worked like bell-bottoms but from the hips down with shit like Peace Frogs on the ass pocket.
Regardless, this is the year and aesthetic we're living in as Sunday Night Heat is born, so crack open a Surge, crank up the 'Follow the Leader' KoЯn CD in your Sony Discman, and head back to a time and year when Blade was the only good Marvel movie in existence.
LaDIES & GeNTLEMEN, SHaNE McMaHON
Making his formal debut as a World Wrestling Federation character on Sunday Night Heat is none other than Shane McMahon. If you were a fan back in the day, you knew him best as Vince McMahon's annoying and excitable spoiled brat son who hung with a posse of dudes in sweater vests and occasionally rose above his station to wrestle a surprisingly great match, jump off something high, or get suplexed through something dangerous. Modern fans know him as the extremely sweaty guy in baseball jerseys, windbreaker pants, and Jordans who is somehow the "best wrestler in the world" despite throwing punches that couldn't wake a newborn baby up from a nap and constantly looking like he's about to have a heart attack and die.
Shane debuts as a color commentator for Heat alongside Jim Ross and Jerry Lawler, although he's got no idea how to do this, so he ends up randomly doing color and play-by-play. To say Shane wasn't a gifted commentator is … generous. Imagine if the NBA Jam announcer did a ton of cocaine and never stopped talking. That was original flavor Shane McMahon. Jeff Jarrett is in the ring trying to hold a hammerlock on Edge or whatever and Shane's at the announce table yelling, "OH YEAH OH YEAH LOOK AT THAT JEFF JARRETT GRABBING THE ARM OOOH THAT'S GOTTA HURT OH YEAH CINCH IT IN BABY THERE YOU GO YEAH YEAH GET IT GET IT THERE WE GO, FROM DOWNTOWN, CAN'T BUY A BUCKET, OH YEAH!" It's the color commentary equivalent of a car alarm going on outside with nobody showing up to switch it off.
Shane's also working a "ladies man" gimmick where he comes to the table with beautiful women and spends the whole show complimenting them and talking about how they're gonna all go out and party after the hour-long pre-taped Sunday wrestling show. I don't know who the blonde is, but I definitely know the brunette: that's Alley Baggett, neck-and-neck with Stacy Sanchez as the finest of the 1990s Playboy Playmates. If you didn't go through puberty in the '90s, maybe you know her as … one of the girls in the Third Eye Blind 'Never Let You Go' video? I was trying not to get too 1990s after that intro, but we're already talking about Alley Baggett and Third Eye Blind.
Anyway, the best part of the entire episode is when Shane brings up the fact that Alley was in Playboy, and Jim Ross is meekly like, "you mean were naked?" It's probably the most awkward interview she has until a few years later when a sexually aggressive sock puppet interviews her on the video game channel.
HeAT 1NDEX
1998 Shane McMahon – ❄️❄️
1998 Alley Baggett – ?????
THe STRoKE, SLaPNUTS
In case there's ever a WWE version of Trivial Pursuit that asks the question, "which two future WWE Hall of Famers wrestled in the first match in Sunday Night History," here you go: it's Edge, still awkwardly trying to find his footing after nearly ending a guy's career in his debut match, and Jeff Jarrett, still awkwardly trying to figure out what comes next when his big WWF return has been "a bad NWA angle" and "stooging with Colonel Parker."
The highlight of the affair is the debut of The Stroke, the move that would finally put Jarrett over the mid-carder hump and make him a main eventer in WCW and, eventually, TNA.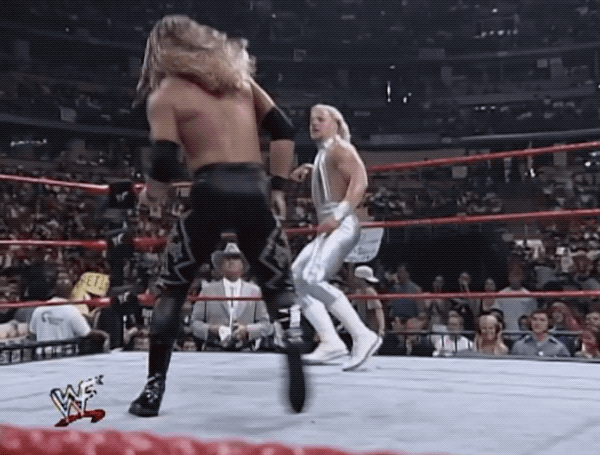 The call:
Shane: "sent to the far side now, Double J, underhook, HERE WE GO RUSSIAN LEG SWEEP OH WE GO DOWNTOWN! THAT COULD BE IT, JR."
JR: "A reverse Russian leg sweep there, a new move by Double J."
Shane: "reverse … russian … leg sweep … that's what you call that maneuver?"
JR: "….?"
Shane: "Very effective."
King: "New move. New move."
Shane: "NEW MOVE! DOUBLE J GOING UP TOP, CHECK HIM OUT HE'S GOING UP TOP WILL HE BE ABLE TO HIT IT, GOES FOR THE CROSSBODY, REVERSAL! ONE, TWO COUNT AND no" etc.
Edge ultimately picks up the victory with his finisher, "waiting for his opponent to fall down." Tennessee Lee tries to trip Edge but gets mixed up and trips Jarrett, and apparently knocks him out completely? I don't know, but Jarrett's only a few more bad decisions from cutting his hair, investing in a company that makes sunglasses with colored lenses, and writing DON'T PISS ME OFF on everything he owns.
HeAT 1NDEX
Jeff Jarrett – ❄️
Edge – ?
The match – ⛅️
Shane Bot trying to learn about wrestling in real time while talking over the announce team and being hugged by two underwear models – ❄️❄️
The Stroke – ??
WWe VS. PaCIFIC BLuE
Long before characters were welcome and USA Network devoted their entire budget to giving America's most unbearable rich white families comedy reality shows, they were almost entire about procedurals with Sexy '90s Consequences. Basically anything that looked like Baywatch but had the vibe of Law & Order was their jam. Silk Stalkings is the most famous of these for kids who grew up watching wrestling in the '90s, but there was also Pacific Blue. Do you wish Baywatch had bike cops instead of lifeguards? No? Well, here's this anyway.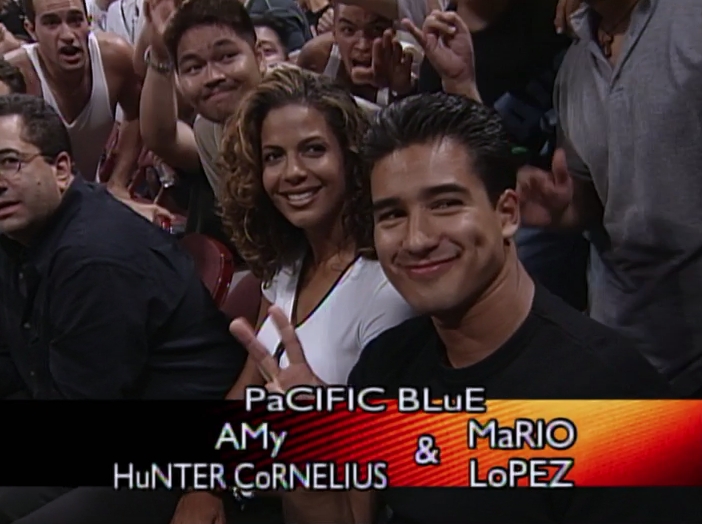 The debut edition of Sunday Night Heat features three stars from the new season of Pac Blue — that's what us diehard Pac-ifiers call it — most notably Mario Lopez, aka AC Slater from Saved By The Bell. He's in the front row alongside co-star Amy Hunter Cornelius, then daughter-in-law of Soul Train's Don Cornelius. Before Pac Blue she had a remarkable run in the '90s as "hot girl who shows up in one episode of a sitcom to catch the main character's eye." Seriously, Amy Hunter Cornelius wields the Infinity Gauntlet of '90s black sitcoms.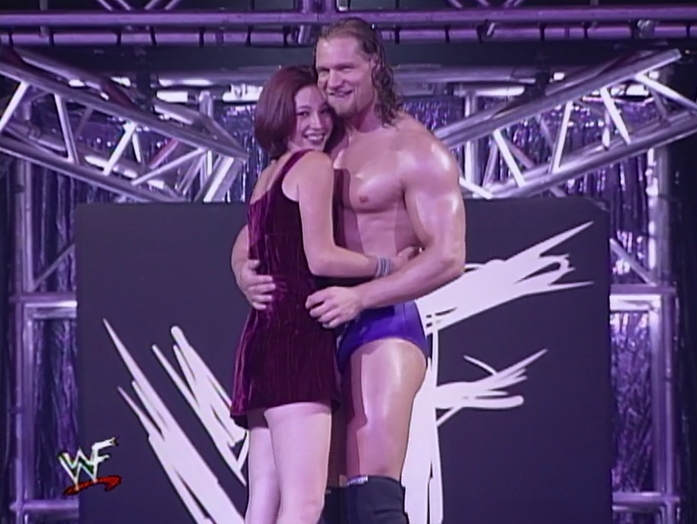 The second match of the show is The Head Bangers and Darren Drozdov vs. Kaientai, so of course porn star Val Venis and James Deen dot com guest star Mrs. Yamaguchi-san show up and cause a distraction by standing at the top of the ramp and sexy dancing. "Sexy" dancing in quotes, I guess, because it looks more like the first five minutes of a Dancing Bear video, when the male stripper's still trying to convince the porn lady pretending to be a bachelorette party guest to loosen up and have fun.
After the distraction is successful and Kaientai loses, Val sends Mrs. Yamaguchi-san to the back and wanders down to ringside to flirt with Amy Hunter Cornelius. Mario Lopez tries to shake Val's hand and gets ignored, and Val PIE-FACES him for trying to put himself between his co-star and elevated Canadian porno sexual harrassment. Venis doesn't remember that Lopez once turned down a wrestling scholarship to the University of Iowa to go to California University with his friends, and catches a spear for his ignorance.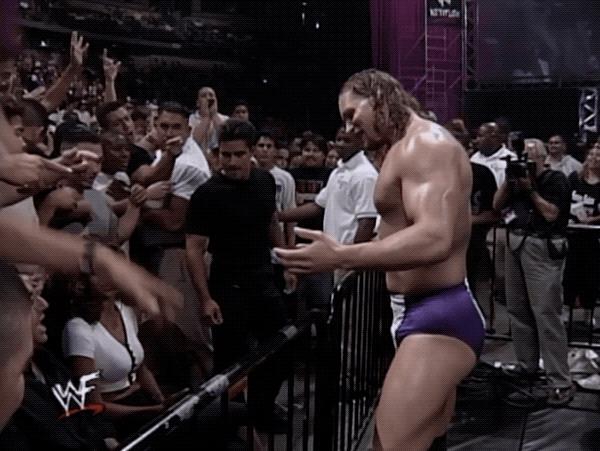 You don't get to be a sexy beach bike cop by letting people swivel their hips at your co-workers. Now I'm retroactively upset that this didn't lead to Val Venis vs. Mario Lopez at SummerSlam, with Dustin Diamond and Mark-Paul Gosselaar in his corner. Mark-Paul could've been a mark Paul E. and hit someone with his big Zack Morris phone. It could've ended with Val hooking up with Elizabeth Berkley and spiriting her away to Las Vegas to become a showgirl.
HeAT 1NDEX
Amy Hunter Cornelius – ?
Mario Lopez – ??
Mario Lopez's spear – ??
Mrs. Yamaguchi-San: ???
Mrs. Yamaguchi-San dancing – ❄️
An All New Episode Of Pacific Blue, Coming Up Next – ❄️?❄️
A QuICK NoTE ABoUT DRoZ
There's not really a place for it in the recap, but the Heat edition of "Droz's World" features both a story about how he once threw up all over Mark Henry during training, and how he's got a tattoo on his ass of … [squints] Odie from Garfield committing suicide? How did this guy not get over?
Also guest starring from an all-new episode of Pacific Blue is Shanna Moakler, presumably the only woman to ever date Billy Idol, Oscar De La Hoya, Travis Barker, and Dennis Quaid. Talk about casting a wide net. They misspell her name on the Alternating Caps graphic, because the graphics team has already spent too much time putting over the sexy bicycle show.
Per Wikipedia:
In seasons four and five Moakler played Officer Monica Harper, described as the trouble-maker rookie. Moakler has admitted that, even equipped with a $5,000 Trek bike, she was somewhat accident-prone on the set, saying that when the cast had to "ride really close together for the camera" they would often "crash into each other like idiots and end up in a big ball of arms and legs."
Shanna interviews "Lefty," previously known as Bart Gunn. Bart is being called Lefty because he knocked out Dr. Death Steve Williams with a big left hand in the Brawl for All tournament on this same set of tapings. Shanna asks Lefty if he can "show her some of his moves," and you haven't lived until you've seen an accident-prone pageant contestant interview the less impressive half of a wrestling cowboy team about being a boxing scientist.
HeAT 1NDEX
Shanna Moakler, – ???
Bart Gunn – ❄️
"Lefty" – ❄️❄️❄️❄️
HoES IN S1MILaR AReA CoDES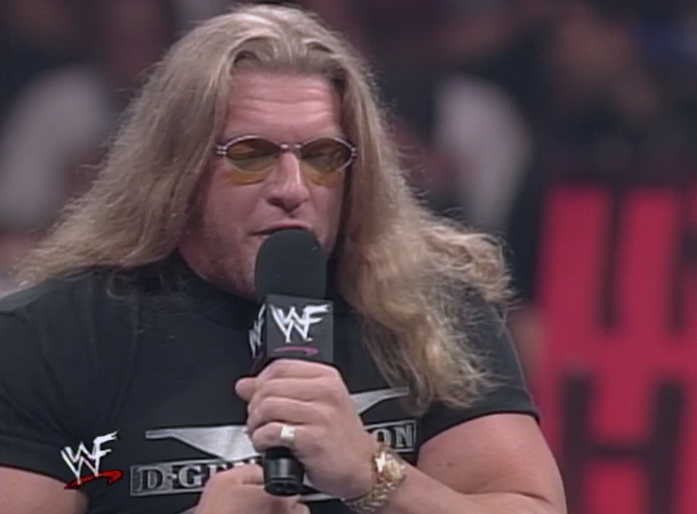 The first episode of Sunday Night Heat needs a little star power, so they have Stone Cold Steve Austin end the show with a nothing interview, and have D-Generation X spend like 10 minutes in the ring putting themselves over. The major thing you need to notice here is that this might be the worst Triple H has ever looked on television. Brother's out here looking like Janis Joplin got caught in an electrical storm. He and X-Pac are going to have a one-on-one match on Raw "tomorrow night" to see who will face The Rock at SummerSlam — quick, guess who wins — and both promise to suck it right down the middle.
The bigger reason they're out here is to get women in the crowd to flash them, and … hey, wait a minute …
… haven't I seen these women before?
Son of a … you just repurposed the leftmost hoes! The Godfather should've ran out and kicked Triple H's ass for getting a free look.
HeAT 1NDEX
Brunette Ho – ?
Redhead Ho – ❄️
Hungover Triple H – ❄️❄️
WWF Not Casting Different Extras – ❄️❄️❄️
D'Lo BRoWN OuTSMARTS SoME ToUGH GuYS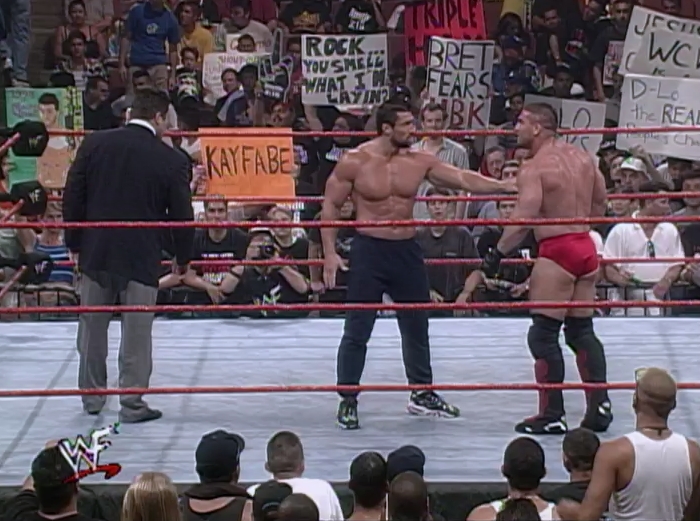 D'Lo Brown is a smart guy. You don't get to be Champion of Europe by making bad decisions. I mean … you do, I guess, given the entirety of human history, but you get what I'm trying to say.
D'Lo has a European Championship match against The World's Most Dangerous Man, Ken Shamrock. D'Lo knows he can't throw hands with Shamrock, who is so easily agitated that you could bump into him at the mall and he'd throw you through the glass elevator. He also knows that Shamrock's been having issues with similarly on-edge Dan Severn, and that they both interact with CONSTANTLY on-edge Steve Blackman … so as the match is down he just shoves Severn and slides into the ring. Severn, because he's physically a marvel but intellectually a goober, immediately slides in and attacks D'Lo, giving him the win by disqualification. That causes a big fight between Severn and Shamrock, and Steve Blackman has to leathally weaponize his ass to the ring and get between them. D'Lo escapes unharmed, still the European Champion. This is how we do it.
HeAT 1NDEX
D'Lo Brown – ??
Crazy MMA Guys Who Can't Concentrate On Anything – ❄️
Whatever's Going On With The Back Of Ken Shamrock's Head – ❄️❄️❄️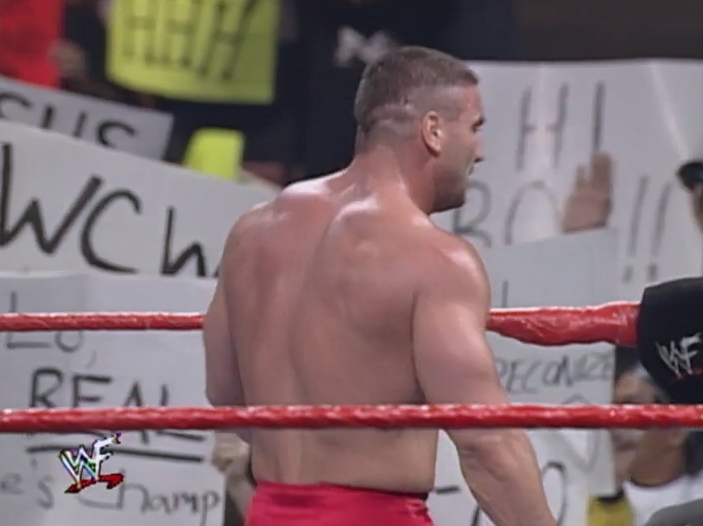 "What do you want?"
"Can you make it look like Forrest Gump's got a vagina on the back of his head?"
"Say no more, fam."
THe MaIN EVeNT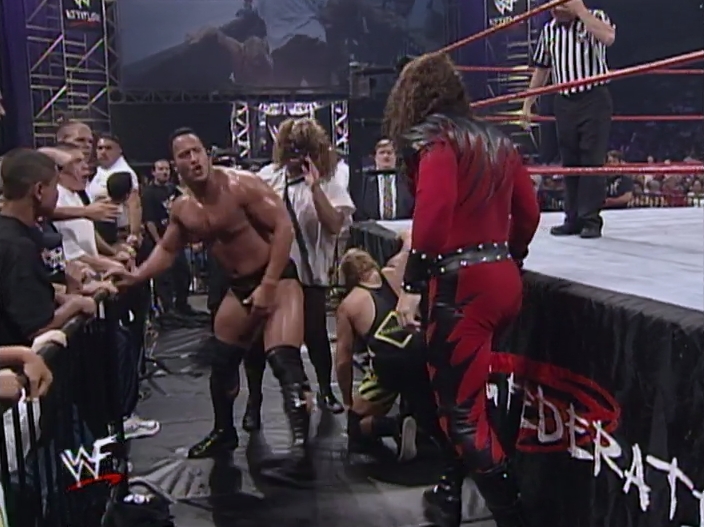 If the first episode of Sunday Night Heat began with a guy losing because his manager barely touched his leg, how should it end? If you answered, "with a long tag team main event that doesn't really go anywhere or accomplish anything and ends via count-out," congratulations, you're good enough to book the World Wrestling Federation during its best years!
Former Tag Team Champions Kane and Mankind — identified as the "mayor of Parts Unknown" by Jim Ross, who had the mayorship thing right but gave it to the wrong member of the team — go two-on-two with Nation reps The Rock and Owen Hart. It's wonderfully pointless and a time-filler, which makes Shane McMahon's endless stream of HO YEAH HO YEAH KICK HIM LOOK AT HIM KICK KICK HIM HARDER, DON'T STOP GET IT GET IT, HE'S HEATING UP shit even funnier. They brawl on the outside, and Owen rolls back in to break the count because he's the only one of the four characters that resembles how a real human being might think or act.
HeAT 1NDEX
The booking – ❄️
The Rock – ?
Owen Hart – ?
Mankind – ?
Kane – ?‍♂️⬇️????
NeXT WeEK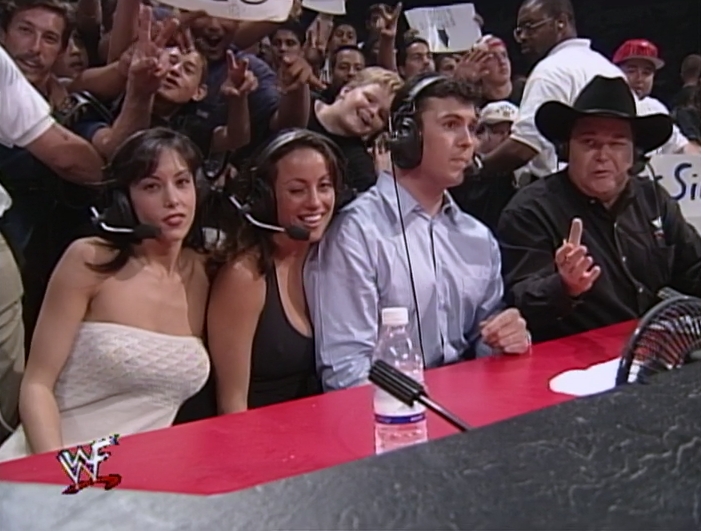 Taka Michinoku faces X-Pac in the semi-finals of the WWF Best of the Super Juniors '98, Mr. Yamaguchi-san faces off against an opponent whose pee-pee he can't just choppy choppy, and Jeff Jarrett finally gets tired of losing. All this, plus: can Shane McMahon call another hour-long episode without his heart exploding? It's Sunday Night Heat!