Previously on Jesus Christ, Superstars: Macho Man Randy Savage vs. The Ultimate Warrior was announced as the main event for SummerSlam '92, leaving Ric Flair and Mr. Perfect out in the cold. Plus, Hacksaw Jim Duggan led a team of body builders in a Saturday morning tug-of-war with a bunch of pro wrestlers.
If you'd like to watch this week's episode, you can do that here, and you can support the column (so we're allowed to keep writing it) by reading previous installments on our Jesus Christ, Superstars tag page.
If you like these, and our break from the normal Best and Worst format, make sure to share it around so it gets read and drop us a comment below.
Here's what you missed 27 years ago on WWF Superstars for July 25, 1992.
Jobbers Of The Week
Up first this week is Cleveland native Peter Motts, a Killer Kowalski student and U.S. Army Ranger School graduate with about a year and a half in the business. He started off as "The Gargoyle," because he's ugly, but eventually was given the gimmick of "The Iron Horseman," a leather-clad biker cowboy who I guess hangs out with a Native American construction worker at the YMCA. After doing some job work for the fed, he goes to Japan and bounces around on the indies until ending up in Paul Heyman's gritty re-imaginging of Eastern Championship Wrestling, Extreme Championship Wrestling. There, he becomes a star.
Yes, this jobber with a name that sounds like you put your dick in the applesauce is none other than future WWE European and Hardcore Champion Perry Saturn, of The Eliminators, The Flock, and The Radicalz fame. Here he's on the losing end of a one-on-one match with Tatanka, which is … still probably preferable to choosing to hang around with an anthropomorphized mop instead of hooking up with Terri Runnels. It's a shame he didn't stick around, as he only missed the debut of Johnny Polo by about six months.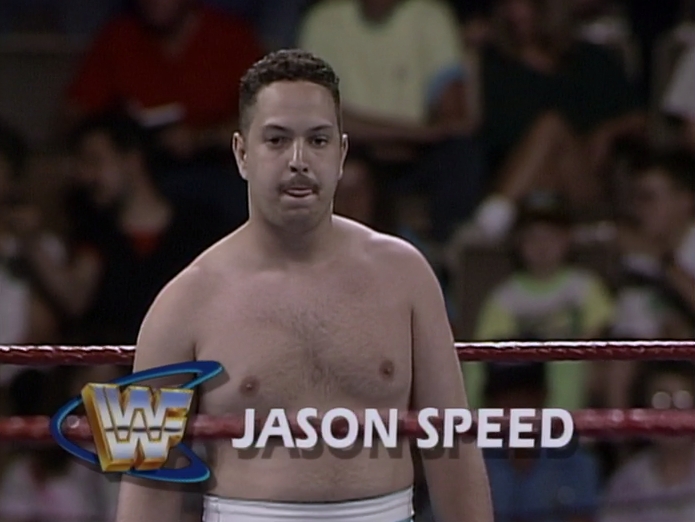 Going up against Best Bout Machine Nailz is Jason Speed, who looks like Kate Beaton's fat pony in man form. Jason has the high-waisted, powder blue tights of a winner and the future of a customs wrestler, as he gets paid to let a company film him being choked for a minute. Get that paper, Jason. If your career momentum slows down below 50 matches per year, you'll explode!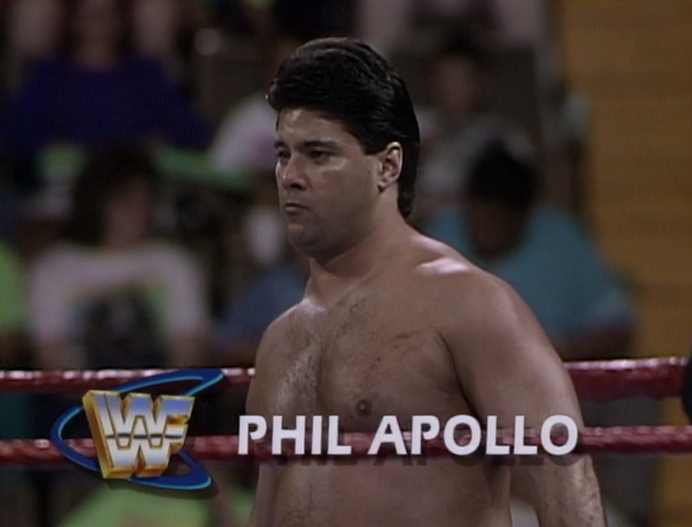 The homie Phil Apollo is back this week for a much cleaner-than-usual loss to Shawn Michaels. His only previous appearance in the column was as part of a tag team, so I wanted to give him and his weird 1960s James Brown hair a solo shout.
If you'd like to learn more about Phil Apollo's career, here's a clip of him teaming up with [checks notes] Vanilla Ice against the 1986 version of the Dungeon of Doom.
Finally there's Chris Duffy, who looks like Lex Luger if he hadn't made any money.
Duffy, who may or may not be Vigo the Carpathian in his post Ghostbusters 2 career, teams up with returning jobber favorite (?) Red Tyler to take on the Beverly Brothers in the episode's main event. The late Duffy (who passed away from a brain aneurysm in 2000) is historically notable for a couple of reasons; he's the only guy to ever wrestle Friar Ferguson before they abandoned the gimmick, and he's the guy in the Santa suit catching a Stone Cold Stunner from Steve Austin on Raw in '97. Funny enough, that makes him the only jobber to appear in this column whose likeness you can still buy on a t-shirt on WWE Shop.
After the match, the Beverly Brothers find out what makes the red man red by smearing paint all over Tyler's face.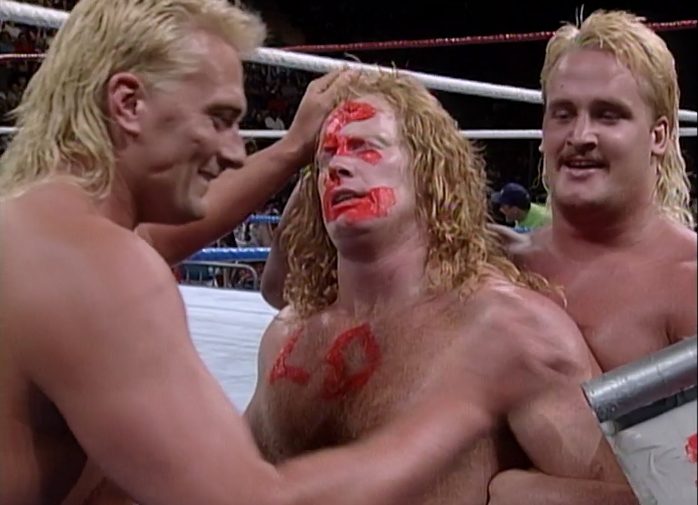 Confusing Argument Of The Week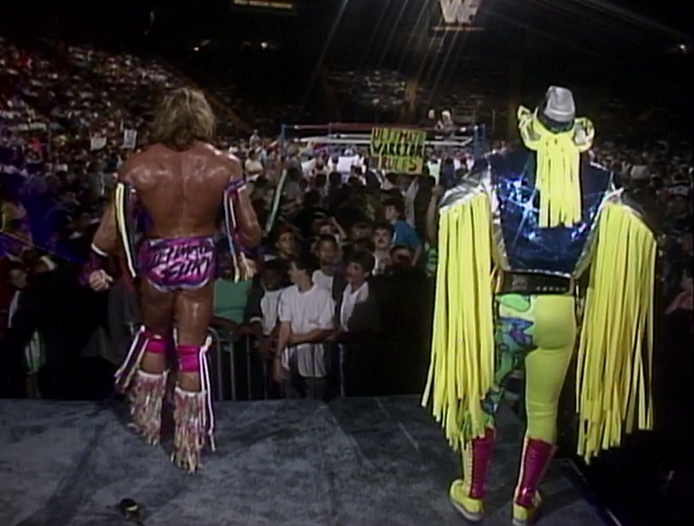 Macho Man Randy Savage vs. The Ultimate Warrior was announced as the "main event" of SummerSlam '92 — despite the past several months of WWF television building toward obvious showdowns between Savage and former champion Ric Flair, as well as the Warrior and big bad voodoo daddy Papa Shango — so now they've got to just kinda point two crazy guys in the direction of each other and hope for the best.
I was going to recap how this affected the entire landscape of the show creatively, but UPROXX reader jetspete hit the nail on the head as well as I ever could in a comment on last week's column.
I mentioned this a few weeks ago, but i'm fascinated by how quickly WWE abandoned four months worth of storylines and just write the SummerSlam build on the fly. The build seemingly had been to not just Savage/Flair and Warrior/Shango, but also Hart/HBK, Bulldog/Repo, 'Taker/Berzerker, Mountie/Slaughter, LOD/Beverly, Disasters/Money Inc, Tatanka/Martel and Bossman/Nailz. At least the last 2 get a blow off at Survivor series. In reality, the only SummerSlam match which received a build prior to this point occurred when Virgil name dropped Nailz in a promo.

This is even more mind boggling when you consider the WWE title changes hands twice at house shows in the 6 weeks after SummerSlam.
Warrior drops some choice dialogue like …
"LET ME BE THE VISION YOU HAVE IN YOUR PSYCHEDELIC MIND, BUT, MACHO MAN, I RISE IN THE MORNING WITH A VISION, THE SAME VISION THAT I LAY TO SLEEP WITH AT NIGHT. AND THAT VISION IS TO ONCE AGAIN BECOME THE WORLD WRESTLING FEDERATION CHAMPION, AND IN FRONT OF 80,000 PEOPLE, WOYERS, AND MACHO MANIACS, I, WILL, REALIZE, THIS, DREAM."
… until Ric Flair and Mr. Perfect interrupt the face-to-face festivities by taunting both men from inside the ring. Savage charges in like a fool and gets beaten down 2-on-1 until Warrior makes the save. Warrior picks up the title belt and hands it back to Savage, but not before being weird about it, and a pie-face pissing contest erupts. Will these two completely insane bundles of emotional energy that barely resemble human beings be able to co-exist between now and SummerSlam?
Be A Star Of The Week
The fabric wars are popping off as pastel neon and checkers feel socially superior to puff paint and have resorted to name-calling. I'm genuinely disappointed that a Nasty Boys vs. Koko B. Ware feud never involved Brian Knobbs using his inner-city street vigor to attack Koko with a murder of pigeons.
Wish Fulfillment Of The Week
Finally this week we've got the latest Razor Ramon vignette, which you can watch in its entirety above. You should, as it involves Razor claiming he can make wishes come true by shoving a random dude into a fountain, because, and I quote, "HE DREAMING OF A SWIM!"
It'd take a few years, but eventually karma would pay Razor back for that.
Next Week Of The Week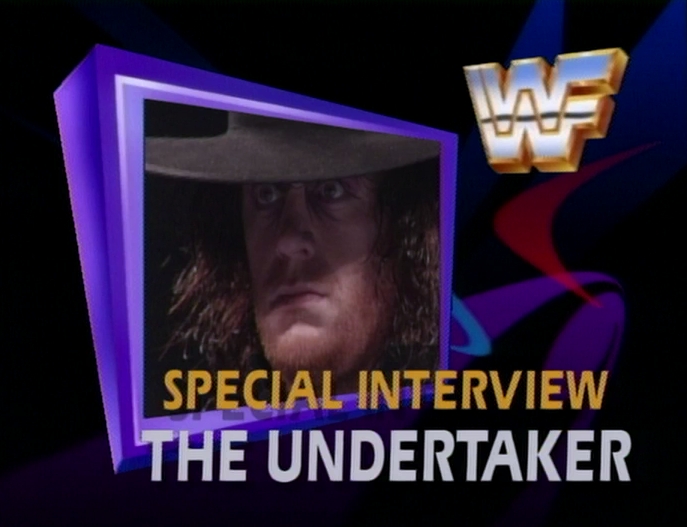 We get a special interview with The Undertaker (I hope he tells somebody to rest in peace), the return of living nightmare Rocco the Emotional Support Manager, and the Legion of Doom takes on Macaulay Culkin. Kind of. See you next week!