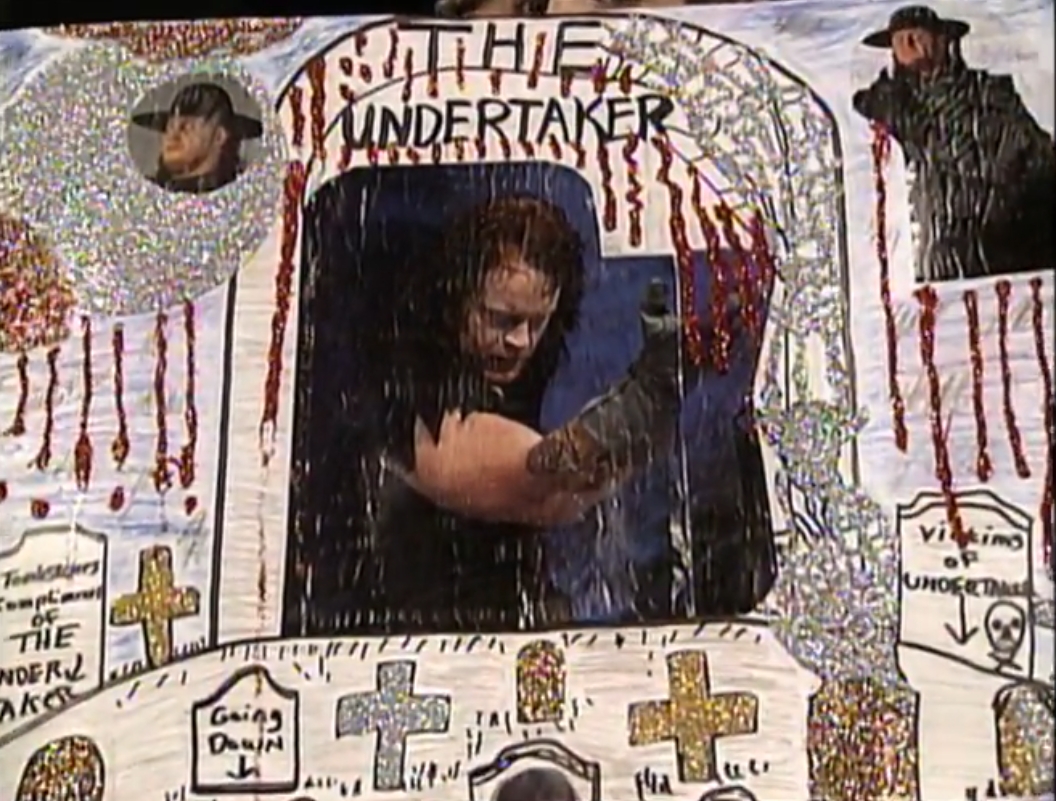 Previously on Jesus Christ, Superstars: Max "The Komet Kid" Moon debuted and used a comically fake jetpack to hop up the ring steps. Also, Ric Flair did an impersonation of The Ultimate Warrior that's still cracking me up a week (and 20 years) later.
If you'd like to watch this week's episode, you can do that here, and you can support the column (so we're allowed to keep writing it) by reading previous installments on our Jesus Christ, Superstars tag page.
If you like these, and our break from the normal Best and Worst format, make sure to share it around so it gets read and drop us a comment below.
Here's what you missed 27 years ago on WWF Superstars for October 3, 1992.
Jobbers Of The Week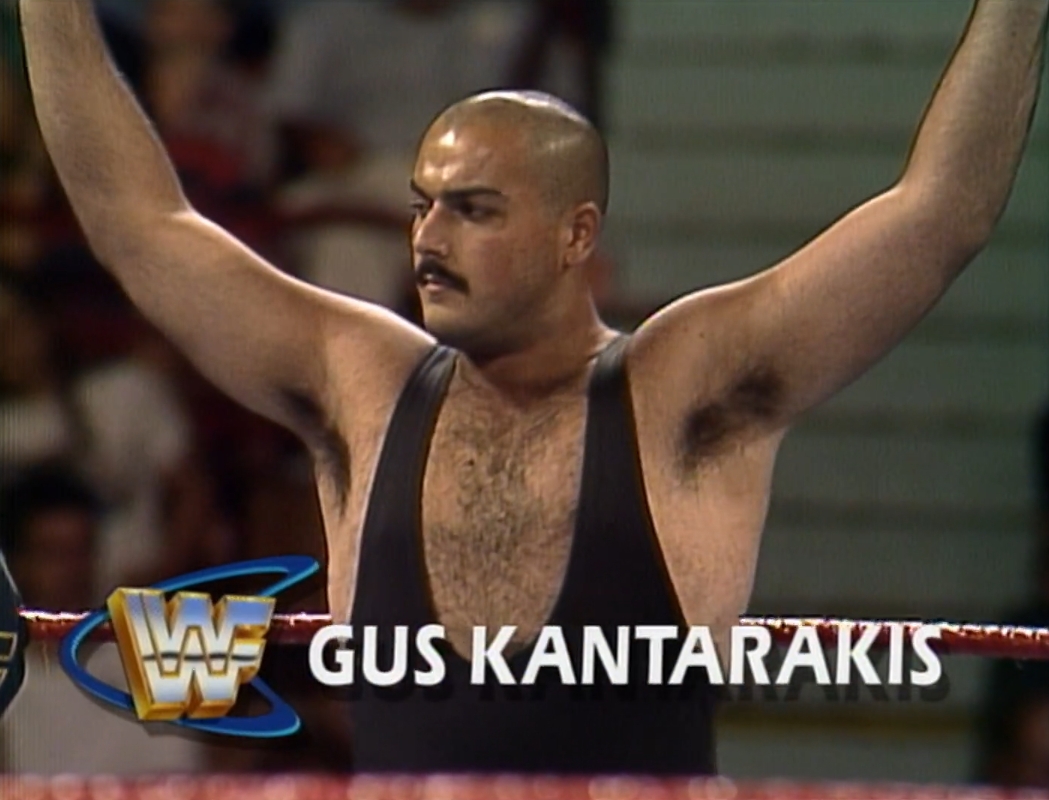 Gus Kantarakis is on "get choked by Nailz" duty this week. I originally read his name as, "Gus Cantankerous," which would've been 100% a better wrestler name. He sticks around on jobber duty until 1995, and even gets to wrestle Shawn Michaels on a random, "oh no we might be going out of business soon" high school gym episode of Raw. Shawn feared Gus and his stank-ass looking armpits about as much as you'd expect.
Also making his Superstars debut this week with almost no information about his career online is Laverne McGill. Like you, I'm angry he didn't have a big cursive "L" sewn into the front of his trunks. Surely that would've made him more successful. Here, Laverne gets sauced like some kind of big Ragu by the Repo Man.
Laverne's big Raw moment comes in 1993, when he gets squiggy with Bam Bam Bigelow and debuts his signature move: the Laverne McGill Not Too Awesome Dropkick. The eternal question: is it better to go low and connect, or go high and miss? Regardless, I'm sure Laverne has fonz memories of his time in the World Wrestling Federation.
We've got a few returning favorites competing this week as well, including future Battlekat Bob Bradley teaming up with Barry Horowitz, seen here looking like a Wallmaster from The Legend Of Zelda cosplayed Michael Jackson. They team up to take on WWF Tag Team Champions The Natural Disasters, and defeat them in a competitive 18 minutes when Horowitz hits a big lariat on Typhoon and dives through the ropes to the floor to catch Earthquake, allowing Bradly to come off the ropes with a 630 for the win. Just kidding, they lose in like two minutes because the other guys are fired up and extremely fat.
Also notable this week is the homie Ross Greenberg, who spends a few minutes trying to make The Model Rick Martel look good while Mr. Perfect gives Vince McMahon the dysmorphic disorder you always wondered about. Perfect says that if you have a body like Martel you should show it off, unlike McMahon, who should, "keep that body covered." McMahon responds with, "hey …" and then hits the bench press for 30 straight years.
Spooky Child Of The Week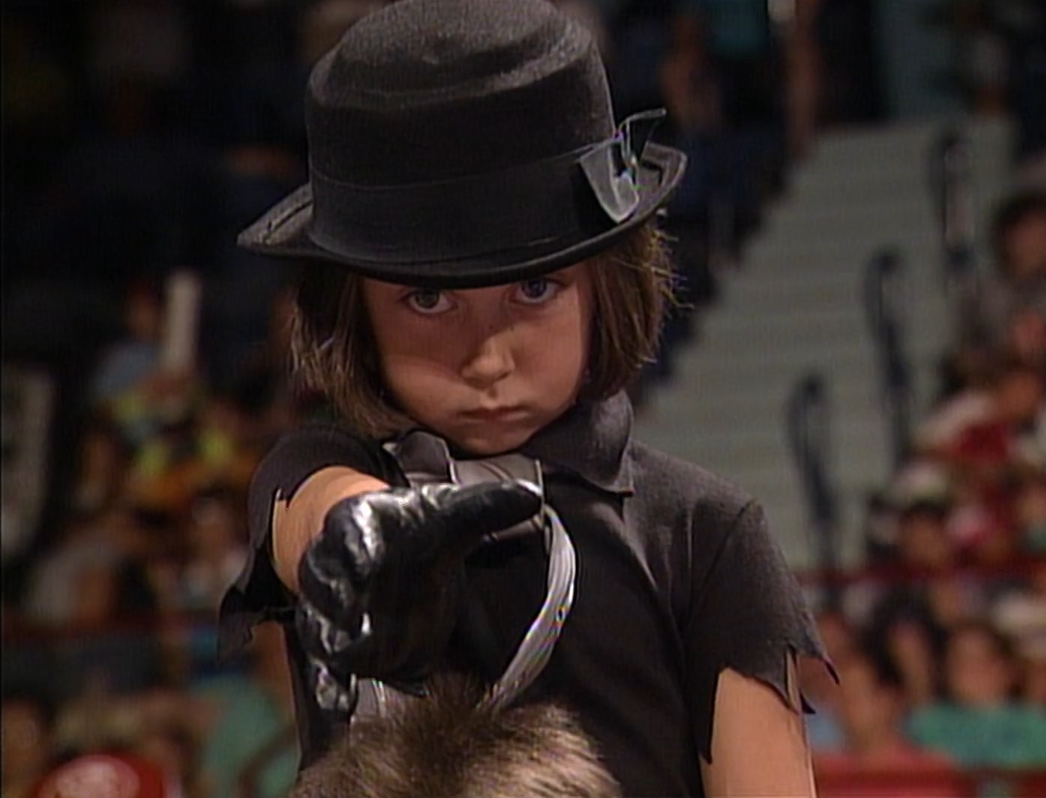 If you thought President Ramu was the pioneer of little girls being possessed by the demonic spirit of The Undertaker in professional wrestling, think again. Here's a "cute little Undertaker … Undertaker-ESS, I guess!" (™ Vince McMahon) being held up after Taker's easy duke over Von Krus.
It looks a little more like Tim Burton's Willy Wonka than The Undertaker, but I applaud the effort, and it's infinitely cooler and less retroactively embarrassing than that poor kid whose dad dressed him up as Stone Cold in his underpants and held him up on Raw. Pro-tip for any parents who are into pro wrestling cosplay for their children: it can be cute, but pick a wrestler that wears clothes. Baby Bray Wyatt? Cute. Baby Randy Orton? Deeply concerning.
Crush Fans Of The Week
I guess somebody came down to the ring and said, "anybody who makes this CRUSHING gesture with their hands [does the gesture] will get on TV," because Crush vs. Duane Gill is nothing but people Crushing in the stands. You'd think it was the Yes chants, it's so popular. I could only capture a moment of it, so I hope you enjoy my choice to share Maya Rudolph playing an awesomely trashy 80s mom and her new wave son, who has asked at least once why Papa Shango doesn't come out to 'Fear (Of The Unknown)' by Siouxsie And The Banshees.
Wrestling Journalism Of The Week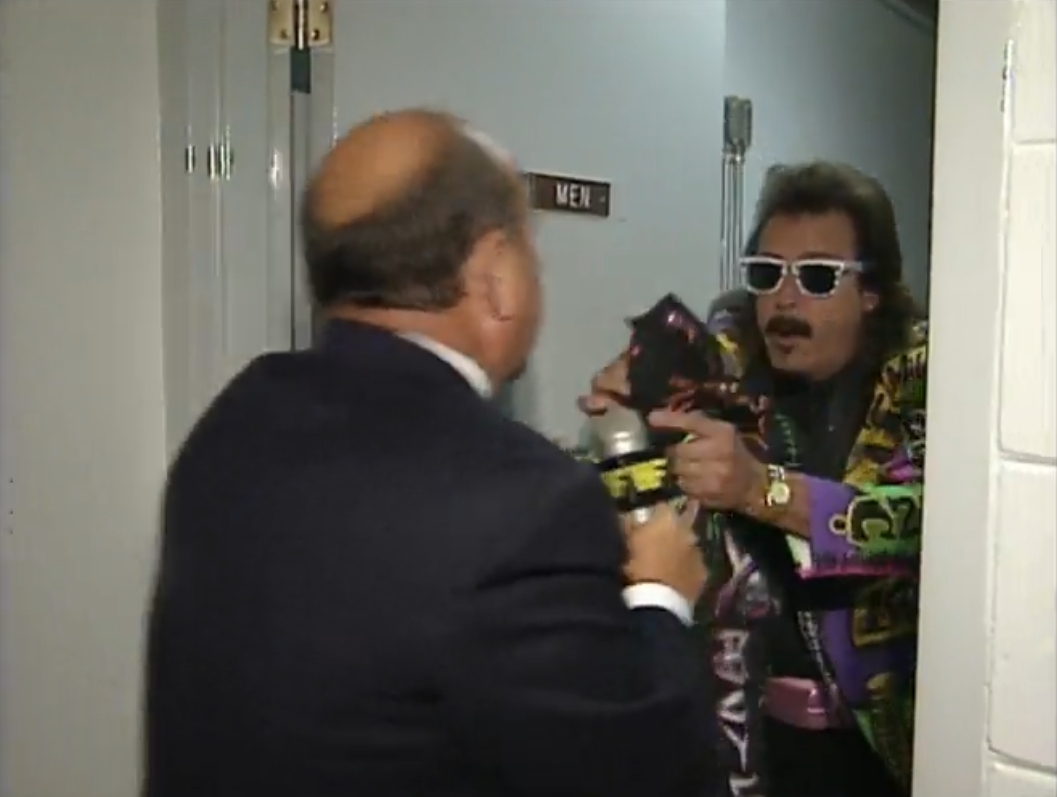 Mean Gene Okerlund has done the math in his head and realizes that two of Jimmy Hart's tag teams — Money Inc. and The Nasty Boys — are claiming to be number one contenders to the Tag Team Championship, meaning one of them is going to, "get the shaft." To investigate said shaft, Gene confronts Jimmy Hart after he's done taking a shit and then chases him back into the men's room. It's weird, but one of those things that is magically funny and okay because it's Gene Okerlund. Gene could set a baby on fire on The Wrestling Challenge and we'd be like, "what a likable guy."
Don't Exacerbate Me Of The Week
This week's best news is that 43-year old former WWF Champion Bob Backlund is returning to the World Wrestling Federation with the dream of once again becoming champ. Between the haircut and the butterfly collar, he's doing his best to gaslight us into thinking it's still 1978. I'll guarantee you two things:
Bob Backlund will DEFINITELY not be WWF Champion again, and
the pursuit of the championship will not turn him into a crazy intellectual choke-murderer for the next 30 years
Next Week Of The Week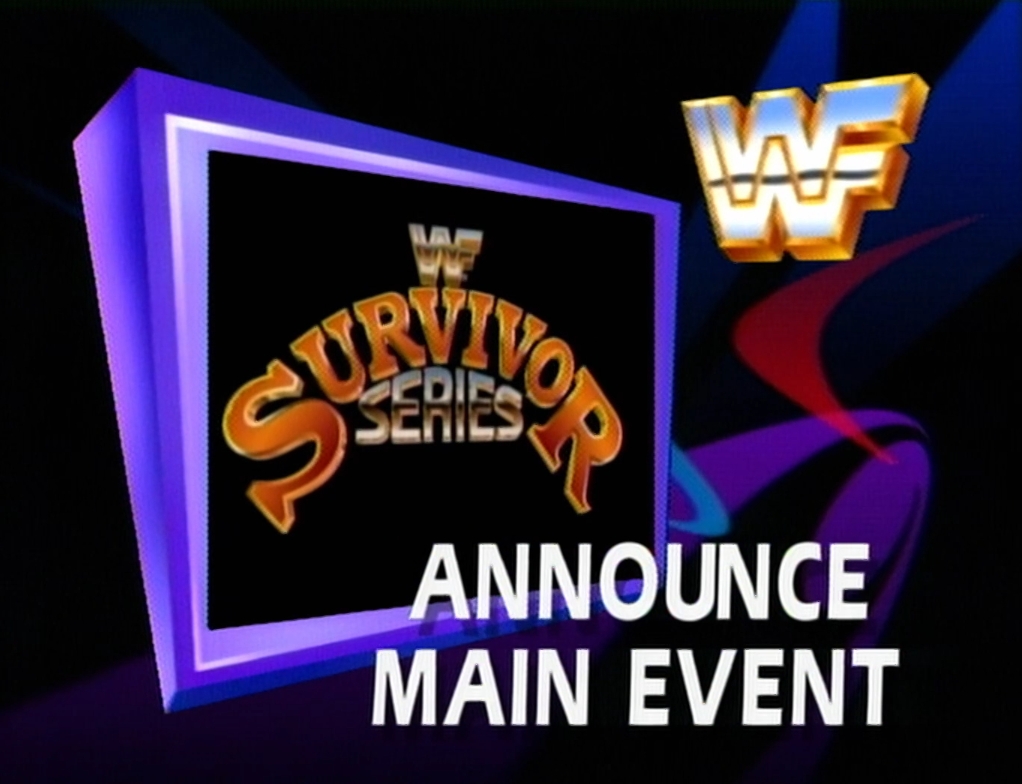 Survivor Series ANNOUNCE MAIN EVENT!
Plus High Energy is in action, Rick Martel channels Gene Kelly for some reason, The Komet Kid loses his name, and so much more. See you next week!