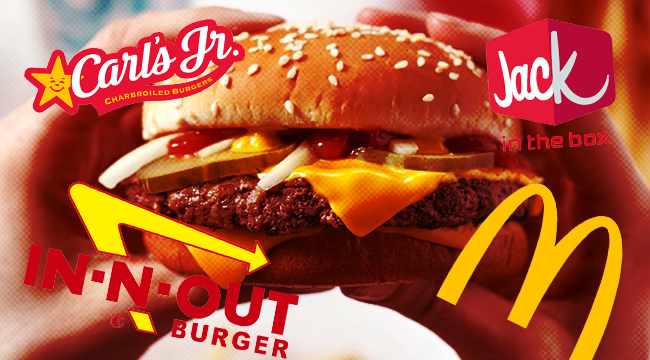 The burger is ubiquitous across America. Every highway stop offers up patties of meat on a bun with a multitude of toppings, from a multitude of restaurants. But, in a nation dotted with burger joints, which has the best app? In a special Five Apps, we're tackling a double-stack of burger joint apps to see which deserves space on your phone when you want some hot beef on a bun, and ranking them from worst to best.
10. Jack In The Box
Granted, Jack fans will argue bitterly whether it's a taco joint or a burger joint, but Jack has a perhaps admirable stance of staying analog. They don't have an app. That said, though, they are available on DoorDash, so at least you can get it via delivery. But this is an app ranking, and since there's no app, to the bottom Jack goes.
9. Dairy Queen
DQ had an app, "had" being the operative word. Their previous app was good, if basic, and it looks like Dairy Queen has something more ambitious in the works. But for now you'll need to get your burgers and Blizzards in person.
8. Carl's Jr. And Hardee's
Unsurprisingly for the chain that's mostly known for Freudian ads about its food, their app is fairly bare bones. All you get is a store locator and a check-in tool where, the more often you check in, the more points you rack up for free food or other prizes. Unless you're driving to the store every day, though, it's probably not worth it. (If you are driving to the store every day, we understand. The CrissCut fries are like manna from heaven.)
7. In-N-Out
For a burger place known for packing in flavor, In-N-Out's app is as bare bones as it gets. The company's app is little more than a menu and a locator, although being able to check the balance of your (physical) gift card is a nice touch.
6. McDonald's
For the biggest burger chain in the land, Mickey D's really needs to get it together. While you get a store locator and menu, you're not able to use mobile ordering at all locations. Admittedly, that feature would Herculean feat considering how many locations there are, but even so, it's a bit disappointing. It's a solid app, but there's a lot of room for improvement. Fortunately, if you're really hankering for a Big Mac with extra special sauce, UberEats has you covered.

5. Five Guys
Five Guys is a bit stripped down, but it's got the basics covered: Find your restaurant, order your food, pay for it, pick it up, and leave. That said, it'd be nice if the app didn't reflect the bare bones nature of the franchise. Come on guys, not even a coupon?
4. Wendy's
Despite the chain's blockbuster social media presence, Wendy's is playing catchup in the app department. Mobile ordering and paying online is currently only available in a handful of cities. But it does have an option to customize your burger, which most apps lack, and you can also donate to a good cause: The app includes a feature that lets you donate to the Dave Thomas Foundation, which is the only charity working to help orphans find adoptive families.
3. Burger King
BK probably has what should be the baseline of all burger apps to aspire to. There's mobile ordering and payment, a locator, a menu, and, most handily, coupons for food that are exclusive to the app, meaning that if you're looking for a cheap(er) Whopper, the app's worth opening to see if there's a deal waiting. That said, BK had better get moving with more, since Wendy's and Mickey D's are right behind it.
2. Shake Shack
Just launched last week, Shake Shack lacks delivery, but it deserves props for everything else. There's a locator, and your standard order-ahead functions, but, in a nice touch, there's also an allergy tab, so you can inform your burger spot of your allergies more easily and visibly. While it's probably a good idea to double check your order anyway, it's a nice touch that helps people with allergies order with confidence. That said, it only works for "most" of its locations, making it nice, but not complete.
1. Sonic Drive-In
Sonic has an excellent app that takes more than a few cues from the true king of fast food ordering through an app — Starbucks. First of all, you get a free slush for downloading it, which is hard to beat. Secondly, you can order and pay from the app so you can just show up, grab your food, and leave. And of course, you can find your nearest location in the app. That said, since it's a drive-in, sorry, but no delivery option.