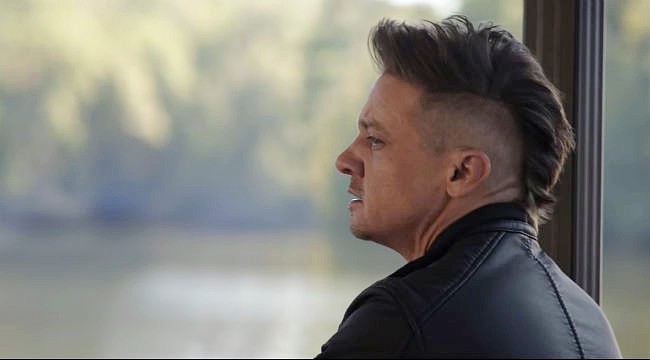 Jeremy Renner used to be the only member of Marvel's Avengers with an app. That changed Wednesday. Fans of the actor, musician, and noted house flipper — specifically of his social media service entitled Jeremy Renner Official — were shocked when they logged on only to find a despairing message: The app was about to shut down. And of course it's all because of trolls.
"This app has jumped the shark. Literally," read the latest post from its owner. (Well, not literally, but still.) "Due to clever individuals that were able to manipulate ways to impersonate me and others within the app I have asked ESCAPEX, the company that runs this app to shut it down immediately." He added that anyone who purchased "stars" over the last 90 days would be refunded.
"What was supposed to be a place for fans to connect with each other has turned into a place that is everything I detest and can't or won't condone," Renner continued. He bid everyone — though presumably not the people who made his app unbearable — farewell, concluding that he hoped "to see you on Instagram, Twitter, youtube and facebook [sic]."
As per The Hollywood Reporter, Renner's app — which also allowed one to listen to his band — first launched in 2017 but it didn't get nearly the attention it received until the last few months. It became a mild figure of fun among certain subsections of social media, which means it wasn't long before people who ruin the internet seized upon it like rats invading a ship of rotting meat.
As the longtime Hawkeye stated, the app began attracting people who impersonated him and its users. Indeed, it was a mere one day before Renner shuttered his online project that Deadspin writer Stefan Heck reported on inadvertently causing the app to apocalyptically malfunction — including locking him out of multiple accounts that were then taken over by usurpers — with a post that contained the word "porno."
On other, non-Renner-run social media sites, there was a mix of sadness and bemusement about the singular online failure of the guy who, it should be pointed out, is a terrific and exciting actor who's been stellar in Dahmer, The Assassination of Jesse James by the Coward Robert Ford, and, of course, The Hurt Locker.
https://twitter.com/search?q=renner&src=typed_query
Others lamented the hellscape Renner's app had become.
Amused that it's been around for a while
Of course, some people tried to put things in perspective re: Wednesday's far more ridiculous news.
https://twitter.com/theangrymick/status/1169383546601033728
Anyway, this leaves Renner with more time to pursue other interests. Perhaps he can top the newly freed Robert Downey Jr. in throwing his unimaginable riches at scientists so they can save the planet?
(Via THR)