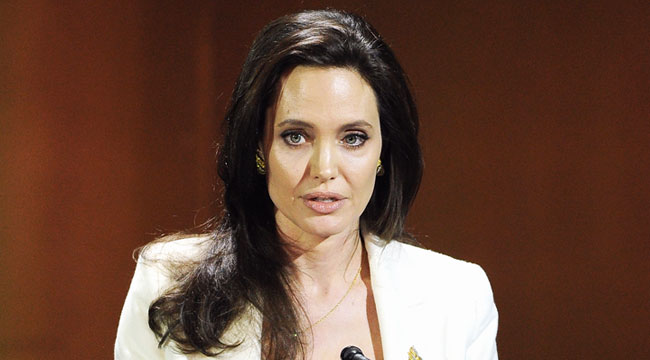 The drip-drip of shocking Harvey Weinstein stories has suddenly become a deluge following his firing from The Weinstein Company. After a bombshell New Yorker investigation was published that included allegations from Mira Sorvino and Rosanna Arquette (who both said Weinstein hurt their careers after refusing his advances) and accusations of sexual assault from Asia Argento and numerous other women, two more actresses came forward.
Angelina Jolie and Gwyneth Paltrow have shared their stories with the New York Times. Paltrow says that when she was 22, Weinstein hired her to star in Emma, and the producer suggested the two massage each other:
She refused his advances, she said, and confided in Brad Pitt, her boyfriend at the time. Mr. Pitt confronted Mr. Weinstein, and soon after, the producer threatened her not to tell anyone else about his come-on. "I thought he was going to fire me," she said.
"I thought you were my Uncle Harvey," she recalled thinking, explaining that she had seen him as a mentor.
Whereas Jolie told the NY Times that she rejected "unwanted advances" by Weinstein in her hotel room in the late 1990s:
"I had a bad experience with Harvey Weinstein in my youth, and as a result, chose never to work with him again and warn others when they did," Ms. Jolie said in an email. "This behavior towards women in any field, any country is unacceptable."
In addition, Katherine Kendall, an actress who appeared in Swingers, recalls Weinstein undressing and chasing her around a living room. Tellingly, she thought it wouldn't help to tell anyone about Weinstein's action because then she'd "never work again and no one is going to care or believe me." And as some on Twitter have pointed out, even those actresses with Hollywood name-recognition didn't speak out, possibly for the same reason.
It's clear that while further reports of Weinstein's crimes will likely continue, we might never know how many women he targeted.
(Via New York Times)