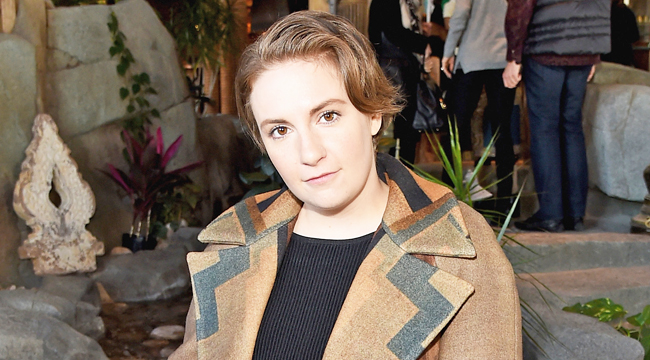 Lena Dunham has penned a new column in the Hollywood Reporter's Women In Entertainment issue, in which she's attempting to make amends for a controversial statement from a year ago. She became the subject of criticism after she stridently defended a Girls writer (and executive producer), Murray Miller, against sexual assault allegations from actress Aurora Perrineau, who accused Miller of raping her at age 17 in 2012. Miller denied the allegations, which arrived in the wake of spiraling claims against Harvey Weinstein, and Dunham went on record in a joint statement with Girls co-showrunner Jenni Konner to state that while "our first instinct is to listen to every woman's story," they had "insider knowledge" that led them to believe that Perrineu's accusation was "one of the 3 percent of assault cases that are misreported every year."
At the time, Dunham and Konner — who possessed no firsthand knowledge of the alleged incident — stressed that they wouldn't further comment on these accusations, but Dunham has apparently been thinking the matter through and now admits that she "did something inexcusable" by defending Murray:
I made a terrible mistake. When someone I knew, someone I had loved as a brother, was accused, I did something inexcusable: I publicly spoke up in his defense. There are few acts I could ever regret more in this life. I didn't have the "insider information" I claimed but rather blind faith in a story that kept slipping and changing and revealed itself to mean nothing at all. I wanted to feel my workplace and my world were safe, untouched by the outside world (a privilege in and of itself, the privilege of ignoring what hasn't hurt you) and I claimed that safety at cost to someone else, someone very special.
Dunham continues while addressing Perrineau directly with "love" and pledging to make things right. She also reveals that this situation has made her "a better feminist," and Dunham regrets adding to anyone's trauma and hopes that both she and Perrineau can move forward. The Camping co-executive producer then stresses that she should have recognized, "as a chronic oversharer," that she could also be capable of increasing the burden upon a traumatized victim after often "feeling like such a victim" herself. From there, Dunham alludes to her own date rape while explaining that she's struggled with realizing that her privilege may have "shaded" her viewpoint, and she's determined to listen to her fellow female voices while admitting that this has been a learning experience.
You can read Dunham's full essay here.
(Via Hollywood Reporter)