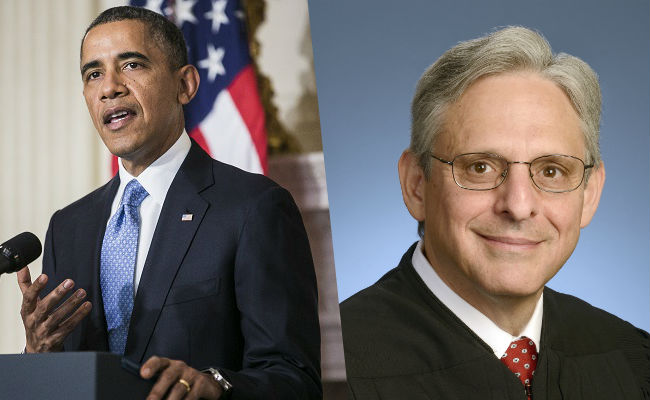 During a Wednesday morning press conference in the Rose Garden, President Barack Obama will announce Merrick Garland as his nomination for the Supreme Court seat left vacant by the death of Justice Antonin Scalia. Despite the Republican Party's stern opposition to any nominee ahead of the 2016 presidential election, the president said he will move forward with his nomination after informing supporters of his decision to end the vetting process and the impending announcement in a morning email blast.
According to CNN, several congressional sources pinpointed Garland, the 63-year-old chief judge for the U.S. Court of Appeals for the District of Columbia Circuit. A graduate of Harvard Law School, he was appointed to the position by former President Bill Clinton. Before the appointment, he served as a lawyer with the Justice Department, during which time he supervised the widely publicized investigations of the Oklahoma City Bombing and the Unabomber case. Garland was on a short list of potential nominees that included Sri Srinivasan and Paul Watford, two other federal appellate court judges.
In a Wednesday morning email obtained by The New York Times, Obama said, "As president, it is both my constitutional duty to nominate a justice and one of the most important decisions that I — or any president — will make. In putting forward a nominee today, I am fulfilling my constitutional duty. I'm doing my job. I hope that our senators will do their jobs, and move quickly to consider my nominee."
When Obama appointed Justice Elena Kagan back in 2010, Garland was also on the president's shortlist of potential Supreme Court nominees. As the NYT recalls, Senator Orrin G. Hatch (R-Utah) advised the president to appoint Garland instead, as he would make for a great "consensus nominee" due to his "centrist" judiciary and political leanings. Then again, much of this had to do with the judge's work ethic and professional decorum when he spearheaded the Oklahoma City Bombing investigation, too.
The president will officially announce Garland's nomination to the vacant Supreme Court seat during a press conference from the Rose Garden at 11 a.m. ET.
(Via CNN and The New York Times)