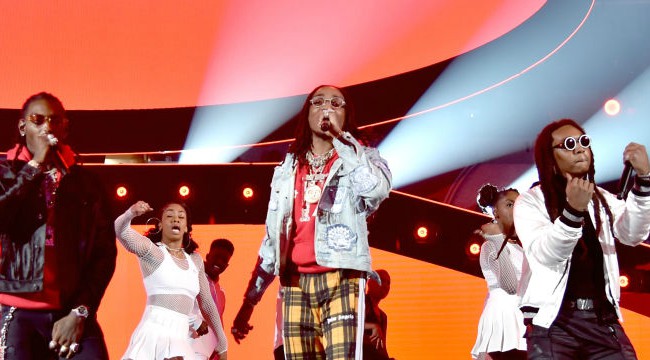 The reality of being signed to a label has seen some diminishing returns within the new era of music — with artists sometimes turning their backs on the opportunity outright. Atlanta based record label Quality Control Music knows this all too well, and they have managed to strike gold not once but twice with flagship artists Migos and Lil Yachty on their own terms. However, in a new cover story published by Complex, head honchos Kevin "Coach K" Lee and Pierre "Pee" Thomas recall the headaches of being signed to 300 Entertainment.
Formed as a black-owned independent label in 2013, QC was the first to catch on to Migos and subsequently signed them on to 300 Entertainment — which at the time was run by Lyor Cohen, Todd Moscowitz, and Kevin Liles. The label had a firm stance on digital only/streaming, which fit the Migos organic fanbase. However, problems quickly arose. When asked about their biggest hurdle as emerging, Offset didn't mince words when calling out their former label, saying that 300 held the Migos "against their will." Pee followed up with an anecdote the label stopping them from selling their music, especially their hit song "Look At My Dab":
"It was one of the biggest songs of that year. We had the athletes doing it. You had the kids, everybody was doing it. But you ain't see it on iTunes, you see what I'm saying?" We couldn't sell it. We couldn't stream it, because we was in a battle." "We got a company saying, "Y'all can't put no music out. We ain't letting y'all sell nothing."
The article also reveals that Coach K and Pee paid half a million dollars to get Migos off of 300 Entertainment, but not before releasing their standout album Culture. QC eventually signed the Migos on to Capitol Records, where they recently released Culture II to great success. QC's issues with 300 Entertainment don't seem to be an isolated issue within the music industry when you think of how cutthroat the business side has become–but their cautionary tale should hip a lot of upcoming artists to the downsides of being signed to a label.