Ja Morant is currently not with the Grizzlies after an Instagram Live video from late Friday night/early Saturday morning in Denver showed him holding a gun in a nightclub following Memphis' loss to the Nuggets.
The Grizzlies announced Morant would miss at least their next two games in L.A., but head coach Taylor Jenkins provided the update on Sunday that there is no timetable for Morant's return. While the Grizzlies are working with Morant to lay out a path for what he must do to return to the team, there is the lingering question of the NBA's own investigation, as well as Colorado police. From a legal perspective, it is illegal in Colorado to be in possession of a firearm while under the influence of alcohol, which is what Colorado police are apparently investigating.
From an NBA perspective, the fact that Morant had the gun on a road trip raises questions about whose gun it was, how he got it to Denver, and more. As Marc Stein laid out on the latest episode of This League Uncut, if the league determines that Morant brought the gun on the team plane, it could lead to a lengthy suspension.
"The CBA element is something that we do know because that's happened before with the Gilbert Arenas-Jarvaris Crittenton thing in Washington," Stein said. "Basically the CBA says if there is a firearm on team premises or on a team plane or anything like that, that's an automatic 50-game suspension. So that's why I think, as you alluded to, the league is trying to ascertain where was the gun before the Instagram video and all other manner of questions tied to that."
UPDATE: Stein corrected himself on Twitter afterwards, saying it would violate the bylaws but would not automatically lead to a 50-game suspension, that is just the number Gilbert Arenas got in his incident with Crittenton, and the suspension length would be at Adam Silver's discretion.
I stated something incorrectly on today's podcast.

A firearm on team premises is indeed a violation of NBA rules and subjects the player to discipline … but there is NO specific suspension length in league bylaws.

Suspension length is imposed at the commissioner's discretion. https://t.co/ebfG1hlcQS

— Marc Stein (@TheSteinLine) March 7, 2023
While the team plane isn't explicitly listed as a team or NBA facility, the CBA does state that "whenever a player is traveling on any NBA-related business…such player shall not possess a firearm of any kind or any other deadly weapon."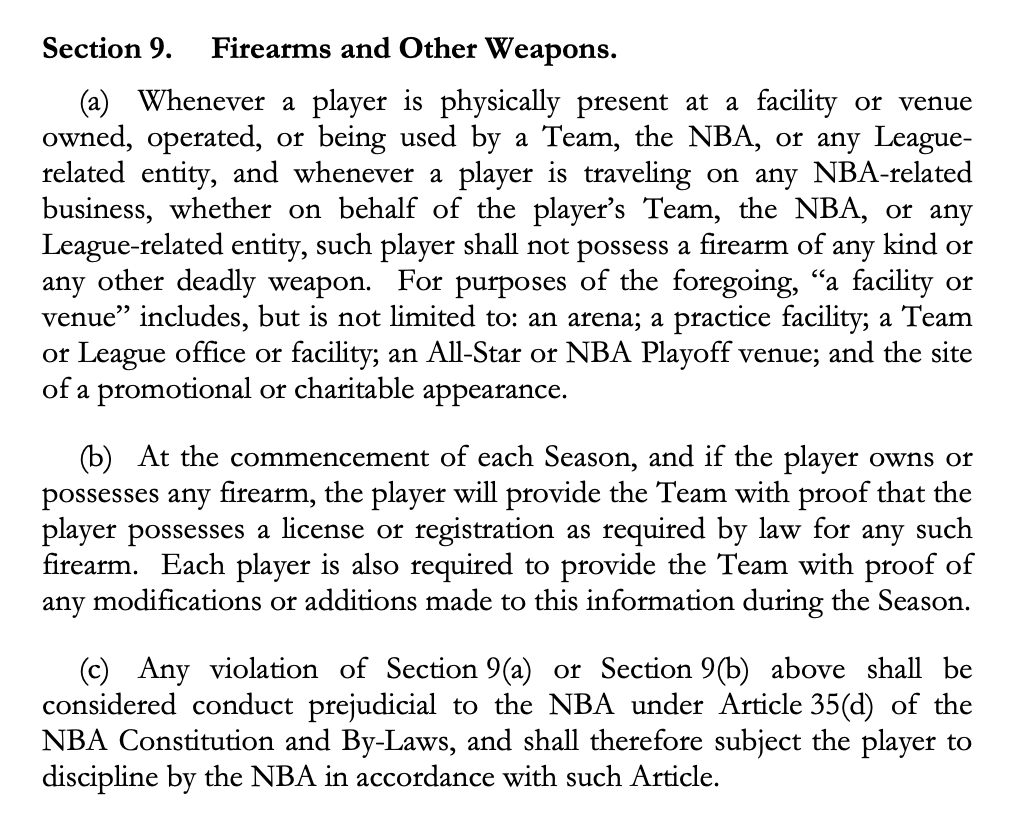 For now, Morant's absence is indefinite as the league investigates the situation, but it could be a very lengthy absence for the young star guard should it be determined the gun was his and he brought it with him to Denver.