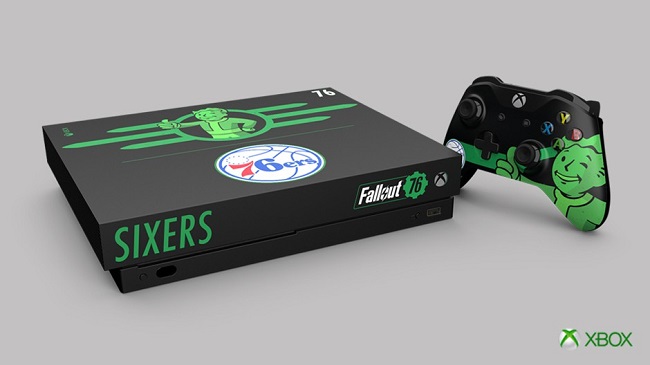 For Philadelphia 76ers fans excited about the upcoming Fallout game, they have a chance to get a really cool Xbox One. Bethesda, Microsoft, and the 76ers are partnering up to create a crossover console that will have Sixers fans salivating at the chance to own an Xbox One if they don't have one already.
The Fallout 76 themed console and controller comes with a Sixers logo on the top of the console and "Sixers" in Xbox-themed coloring on the front. It's a very cool design and it appears to have actually had a little bit of thought go into it. They easily could have just slapped a logo on a Fallout console and called it a day, but a decent amount of care went into this.
"Xbox is pleased to announce a partnership with publisher Bethesda Softworks and the Philadelphia 76ers during the month of November to celebrate the upcoming launch of Fallout 76 on Xbox One

…

Unique collaborations will be revealed over the next few days, starting with today's feature; the custom "Radioactive Edition" Xbox One X Console and Xbox One Controller. The design incorporates a radioactive Vault Boy, who's gone too long without his RadAway, and several elements from both 76 franchises."
The 76ers even had a Fallout 76 themed home game on November 3 to really dive into this partnership and honestly, it makes sense.
https://twitter.com/Fallout/status/1059484098744541184
There's even been a commercial with Markelle Fultz wearing Fallout-themed jerseys.
Sometimes a good branding exercise is as simple as the game has 76 in its title and the team is named the 76ers. Fallout is somewhat of a history based game and the 76ers are a history based team. The similarities are enough to make this a pretty easy partnership.
As for the console itself, is it worth getting? If you're a 76ers fan that doesn't have an Xbox One yet, then sure. It's an excuse to get one of the year's most anticipated games along with a new Xbox. If you already have one though there's no need to shell out the money. The design is cool, but it's not worth getting a brand new Xbox over.