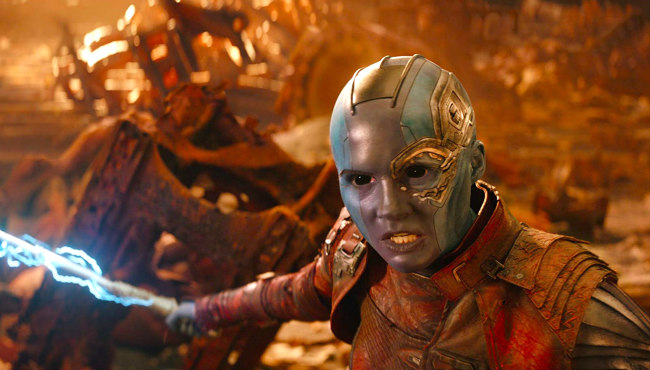 Marvel dominated the box office through the first seven months of the year with Black Panther (which was a financial success, and a potential Oscar nominee), Avengers: Infinity War, and Ant-Man and the Wasp. But the Marvel Cinematic Universe will be quiet until March 2019, when Captain Marvel comes out, followed by Avengers 4 in May and Spider-Man: Far From Home in July.
Not too quiet, though.
One of Marvel's most prominent behind-the-scenes faces, Guardians of the Galaxy writer and director James Gunn, was fired by Disney for making "offensive attitudes and statements" on his Twitter feed, and now production for the third volume of the space-set superhero film is "on hold." The delay could also have a major effect on Avengers 4, according to Dave Bautista.
"It's kind of a strange situation to be in now where we've lost our director for Guardians," the wrestler-turned-actor told Digital Spy. "Guardians 3 is really up in the air and I don't know what they're going to do with it. It's on permanent hold for now, and that may make a difference in what they do with our characters in Avengers 4. To be honest with you, right now I really don't know."
Bautista added that he's already shot "most" of Avengers 4, with two days of reshoots left, but "other than that, I have some really great scenes that I hope they use. But I guess that it remains to be seen what they'll do with the characters." The Bushwick star, who recently revealed that he unsuccessfully auditioned for Star Wars twice, didn't call working for Disney "nauseating" again, but he was probably thinking it.
Guardians of the Galaxy, Vol. 3 will be released in 2020 (probably).
(Via Digital Spy)