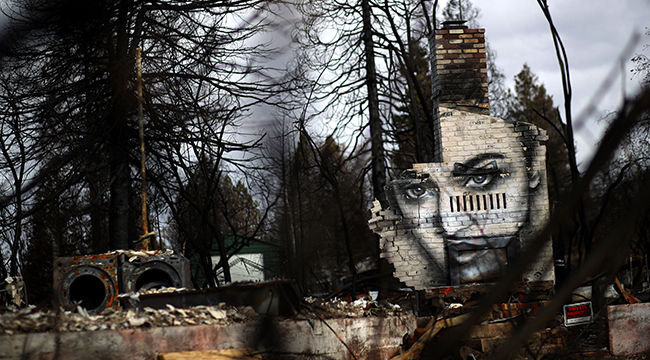 "I lost every one of the houses that I'd ever lived in, my school, and any job I'd ever worked at."
Those are the words of Paradise, California, artist Jessie Mercer. She continues, "19,000 of my friends, who I used to live with, are now living elsewhere."
This is the harrowing reality for nearly 20,000 Americans ten months after one of the U.S.'s deadliest and biggest wildfires, the Camp Fire Wildfire of November 2018. During that span, the story of what happened in Paradise, California, has faded from the media's gaze. The news cycle moved on a long time ago. Yet thousands of people are still, technically, refugees. Paradise residents are still scratching out an existence in hotels, tents in parking lots, and off the grid, camping on the charred land.
"19,000 people left the town in two hours and 56 minutes," Mercer says. "Somehow only 87 of us died."
This is a marvel when you think about it. 87 people of the nearly 20,000 evacuated. But that's not the end of this story. It continues to this day and while many moved on — seeking a fresh start and untarnished memories — some, like Mercer, stuck around to help rebuild and, perhaps more importantly, heal as the flames turned to ash.
Mercer had temporarily moved to nearby Chico when the fires swept through, destroying her Paradise home and studio space. Afterward, she found herself at loose ends.
"We're expected to kind of just rebuild," she says. "And I think it's more of a renavigation of life than to just rebuild it."
Longing to feel like she was part of Paradise's rebirth, Mercer began working with Butte County, Chico Art Center, and local businesses to help people heal through art. She received a van via donations and retro-fitted it to be a mobile art studio. She stocks it with supplies and drives to parking lots full of tents, hotels, trailers, and schools teaching classes and workshops.
"The people of Paradise are driving to school and to work right now and there are dump trucks and people in hazmat suits and warning signals," Mercer explains, a full ten months after the fire. "There are no signs, no streets, no buildings."
The scene she describes is surreal. But art has always been a way for people to reflect and improve their realities. Murals on local buildings and community spaces telegraph the fact that locals are striving to survive and move forward.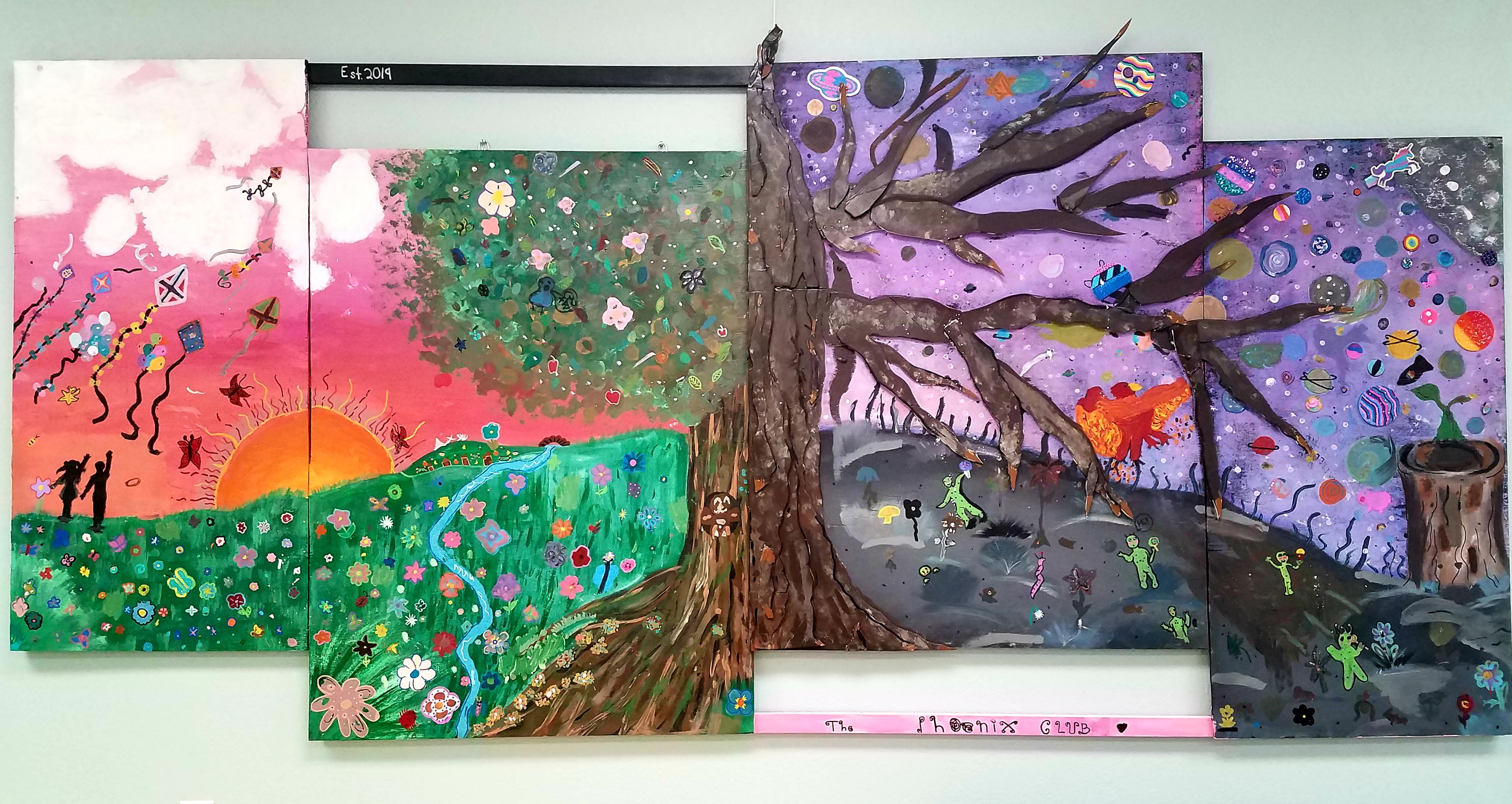 While Mercer's art interventions are certainly significant, they're only one piece of a much bigger equation. Broader efforts to rebuild have been slow at best.
"I go to Paradise every single day through my art projects," Mercer relays. "I feel like I see a lot of the truth that most people don't want to talk about."
Much of the rebuilding has fallen on the shoulders of the locals. Non-profit groups like Rebuilding Paradise and official government resources like Butte County Recovers offer those who have stayed on a chance to collect information, share stories, and even swap clothes or get a meal as debris is cleared from what's left of their town. Some of those people have spent months living in parking lots.
"FEMA trailers went up just two weeks ago in three different locations for families," Mercer notes. "That's the situation on the ground."
The issues even extend beyond FEMA's slow response. There's a massive shortage of houses and apartments in the Butte County and Chico area, compounding the issues facing survivors. Locals report that finding a place to live is nearly impossible now. Mercer herself notes that she'd likely be homeless as well, had she not moved to Chico temporarily right before the fires.
Facebook's Camp Fire Relocation group — a resource for people looking to move on with their lives someplace new — shows that refugees from Paradise have dissipated to every corner of America's West. As bleak as that sounds, this online community actually brims with hope. Survivors support one another wherever they land, offering food, clothes, supplies, health care, and sometimes just a friendly ear.
When asked if Paradise can be rebuilt, Mercer pauses for a long beat.
"I think that we're still navigating something we don't completely understand," she says. "I think right now, there's still just so much chaos. How do we have clean water at the schools for these kids? How do we incentivize the staff to drive 40 minutes from where they're now living to come and teach at these schools? How do we find law enforcement to protect the 2,000 people that are still living in the town?"
As with so many natural disasters in rural communities in an increasingly urban nation, there are no easy solutions. Time, investment on the personal, corporate, and national levels (FEMA has already distributed $85 million in aid and $375 million in disaster loans), and perseverance seem to be the only routes forward. For her part, Mercer refuses to give up on her town. She and a fair number of other Paradise residents have dug into the ash, determined to rise.
As with so many tales of the ravaged-but-not-destroyed, this Phoenix journey of rebirth may start with art. A single image, voice, or story, reaching out to say: "We are still here. See us."