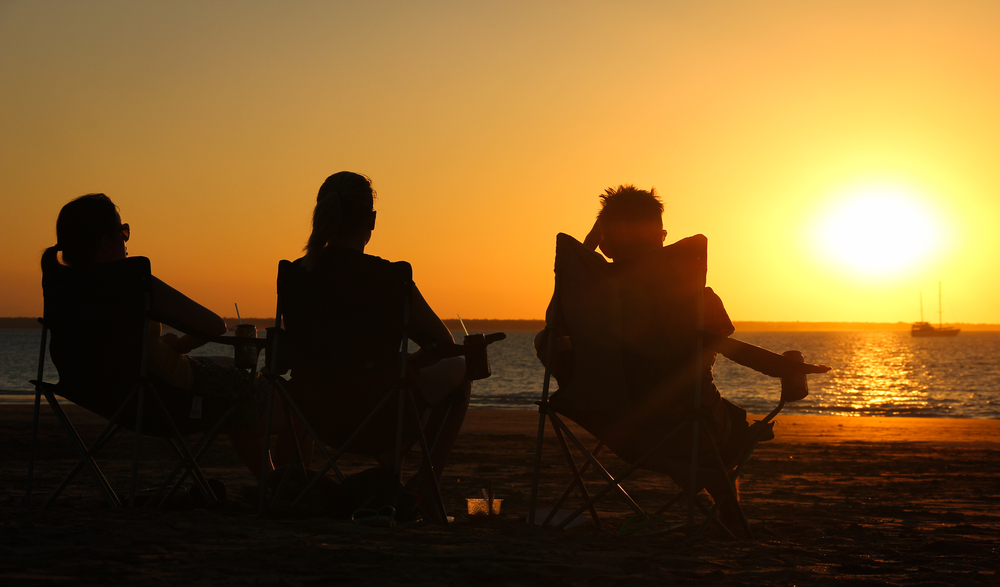 There are a lot of reasons to visit Australia — kangaroos, koalas, Uluru, Sydney Harbor, Melbourne's food scene, Tasmanian wine county, salmon fishing off Perth… we could go on. One of the best reasons to visit might be the wide open spaces where there's no WiFi, no phone signal, and a real sense of being unplugged can take hold. It's a country where you can still get some elbow room, with 20 million people spread across a nation the same size as our own.
Darwin, the largest city in Australia's vast Northern Territory, is a far cry from the colonial aesthetic that you'll quickly recognize in Australia's other big cities. It's more like a place you'd find on America's Gulf Coast — thriving during the tourist season, then going full ghost town in the off season, when the torrential rains wash the tourists back down south.
The city has a sense of being on the frontier. Cultures are still in the midst of melting into a collective whole. Everyone seems like an interloper. Surrounding this "Top End" outpost, you'll find millions of acres of the most dense tropical rainforest in all of Australia. It's a land of sharks, crocs, wallabies, swamps, and vast wilderness that reaches towards the horizon in every direction. It's the wild Australia you always dreamed about and you should definitely put it on your list.
FOOD & DRINK
There are decent options for every palate in Darwin. If you're more for the table service and high end atmosphere, places like Pee Wee's (often ranked among Australia's best restaurants) is a great place to dive into Australian cuisine. You'll find haute-cuisine versions of local delicacies like kangaroo carpaccio and crocodile wrapped in betel leaves. Darwin's Waterfront also has a row of higher end restaurants that feature the best food from the region.
A rung down the culinary ladder you'll find standard Aussie fare pretty much everywhere else — meat pies, fish and chips, full (English) breakfasts, colossal burgers, and so forth. Middle class Aussie food is truly where the English influence shines brightest, which means you can get a mean steak and chips pretty much anywhere.

Vegemite is a staple that you'll find damn near everywhere in Australia, particularly Darwin. Don't shy away from eating it on a nice piece of buttered toast for a quick brekkie or snack. The dark and deeply salty yeast extract is actually up-cycled brewer's yeast that otherwise would've been tossed. So you're doing your bit towards lowering waste from brewing beer by eating as much as you can! It's an acquired taste though, so give it a couple shots — spread razor-thin — before you dismiss it. And once you get a taste for the stuff, try it like the locals do and add a heap of avocado to your toast.
What really makes Darwin's food scene shine are the food trucks at Mindil Beach and the hawker stalls at Parap Village. Every morning Darwinians gather under the much needed shade of tents and trees to prep all forms of southeast Asian breakfast delights. You'll be welcomed by the smoke from a huge satay stand grilling up little sticks of chicken, beef, croc, and kangaroo. That's all accompanied by iced coffee and tea stalls. Fried rice is prepped in huge woks right in the parking lot. Vats of fried seafood bubble away in oil. And some of the best noodle soups money can buy simmer around every corner.
If you try one thing, let it be the breakfast laksa. It's a Malay soup made with that has become the city's #1 hangover food — and for good reason.
If you want to double down on street food, Mindil Beach also hosts a sunset market when food stalls and trucks line the beach. Plus, sand. Plus, booze. You can gorge yourself as the sun finally starts setting and the 100 degree heats starts to abate.
Pubs are the places to drink in downtown Darwin, which admittedly is one main drag of about five or six blocks. Bars like Shenanigans and Monsoon offer up a weird teleportation to the scene you'll find all over England and Ireland. Lagers and Guinness are on tap. Whiskey is poured into coke. It's decidedly working class and comes with all fun therein — you're as likely to see a fist fight break out as you are to hear Wonderwall on that open-mic. Beer is king. And it comes in many forms — from watery bottles of Great Northern (of which you can drink about twenty of over the course of the day and barely catch a buzz) to decent craft beers being brewed right on Darwin's main drag.

GETTING OUT OF TOWN / WHAT TO DO
Let's not mince words, Darwin is a pretty small town in the grand scheme of things. A long weekend and you've seen it. What Darwin best serves as is a launch pad for the wilder world of the Northern Territory. From Darwin you can easily take day tours into the outback and see wallabies hoping around and crocs splashing in the backwaters.
A good place to tee up this sort of adventure is in Darwin's Crocosaurus Cove right on Mitchel Street (across from Shenanigans no less). You'll be able to get up close and personal with monster crocs, which is a harrowing experience and the perfect amuse bouche for seeing them in the wild.
In the same building, you'll find Outback Floatplane Adventures. And if you're really into seeing some of what the outback has to offer up close and personal, you'll be able to book chopper rides, airboat rides (woo-hoo!), and floats down the Territory's backwaters. You'll be up close and personal with wild animals in some of the most remote back country on the planet — which according to Australia's own tourism numbers, less than 5 percent of Australians ever see. You'll be experiencing something wholly unique on planet earth from the safety of a (doorless) helicopter. It's like the BBC's Planet Earth in real life.
If flying around in choppers and blazing a path in the swamps in airboats isn't your thing, but you still want a slice of idyllic outback, then a visit to Kakadu National Park might be your jam. The park sits high above the swampy green plains of the Northern Territory and has full-on galleries of Aboriginal cave art. Nearby Litchfield National Park is blissfully croc-free and perfect for some cliff diving to escape the heat.
Australia has invested well in their national park system with campsites, new roads, and viewing platforms making access super easy for the day tripper or weekend warrior looking to unplug from the hubbub of day to day grinds. But be warned, there are insects and brown snakes that can bite and kill you so hike and swim with your wits about you.

If the prospect of a snake bite is too much to bear — but you still want a slice of nature — a fishing village might be more your speed. Bynoe Bay is famous for its fishing, remoteness, and hospitality. Places like Crab Claw Island offer the perfect escape into the outback paired with the comfort of still having your own cabin with a shower.
Local fisherman have their boats at the ready to take you out for a day on the water, snagging snapper and cod. Then you can head back, clean your fish, and have the in-house chef fry up your daily catch. It's a simple life, of simple means, and it's an ideal way to find a little smartphone-less zen.
Overall, the area around Darwin is a vast open space. It's green and full of rainforests, cattle stations, magical waterfalls, hopping wallabies, and wild crocs. After a rough year, it's the perfect place to get away from literally everything that makes the modern world a little too much to bear sometimes. You can be free out there in the wilds, and you can be closer to the greatness and exhilarating danger that is nature.