I love El Pollo Loco, it's one of the few fast food joints on the market making Mexican-inspired fast food that actually tastes like Mexican food. For that alone, I want them to win. Their fire-grilled chicken is the best in the fast food landscape, their beans are savory and delicious, and do I even need to talk about the avocado salsa? It's amazing.
But alas… I've been burned before. When El Pollo Loco rolled out its birria menu, I was sadly disappointed to see that a trend that has taken the US by storm was being done so poorly by one of my favorite chains. Now, whenever El Pollo Loco rolls out a new dish I'm struck with excitement tinged with some trepidation.
This brings us to the new El Pollo Loco Burrito Grillers.
The new burritos, which will join the menu nationwide from now until February 22nd, are inspired by the Northern Mexico State of Sonora, and feature meat (either grilled chicken or shredded beef) Monterey Jack cheese, cilantro, and onion all wrapped in a tortilla and then grilled. The burritos are served with a new savory side sauce that El-PL is calling "Loco Sauce." So… let's get crazy! Here is our review of the new Loco Burrito Grillers.
Loco Burrito Grillers (Beef and Chicken)
Tasting Notes:
Before I even bite into a burrito we need to talk about what El Pollo Loco means when they call these burritos "Sonoran-style." A typical Sonoran-style burrito consists of seasoned beef, refried beans (though not always refried), cheese, and salsa wrapped in a giant super thin, and stretchy flour tortilla and grilled, either on a skillet or straight on the fire.
The Burrito Grillers are not that.
First of all, these things are tiny, they don't have beans, and while they are grilled, they aren't grilled on a skillet or the fire. Instead, they're placed in some sort of burrito press which results in faint grill marks that don't add the sort of texture you'd expect from hearing the words "grilled burrito." Also, a Sonoran tortilla is a distinct thing that evokes certain qualities — made from just water, salt, fat, and flour. Generally, they're known for being huge. I don't know what El Pollo Loco's tortillas are made from for this burrito, but it's not what comes to mind when talking about the cuisine of Sonora.
Basically, this is Taco Bell-level shit and I expect more out of El Pollo Loco.
Having said all of that — these things taste f*cking great. Let's start with the chicken, it combines tender, fire-grilled charred chicken breast with the perfect medley of savory onions and cilantro with nutty and creamy cheese. Each bite is a perfect balance of fresh and citrusy notes with a prominent charred aftertaste. Dipping the burrito in the Loco Sauce adds some fatty and savory qualities and truly elevates the flavors of this burrito into something mouthwatering and special.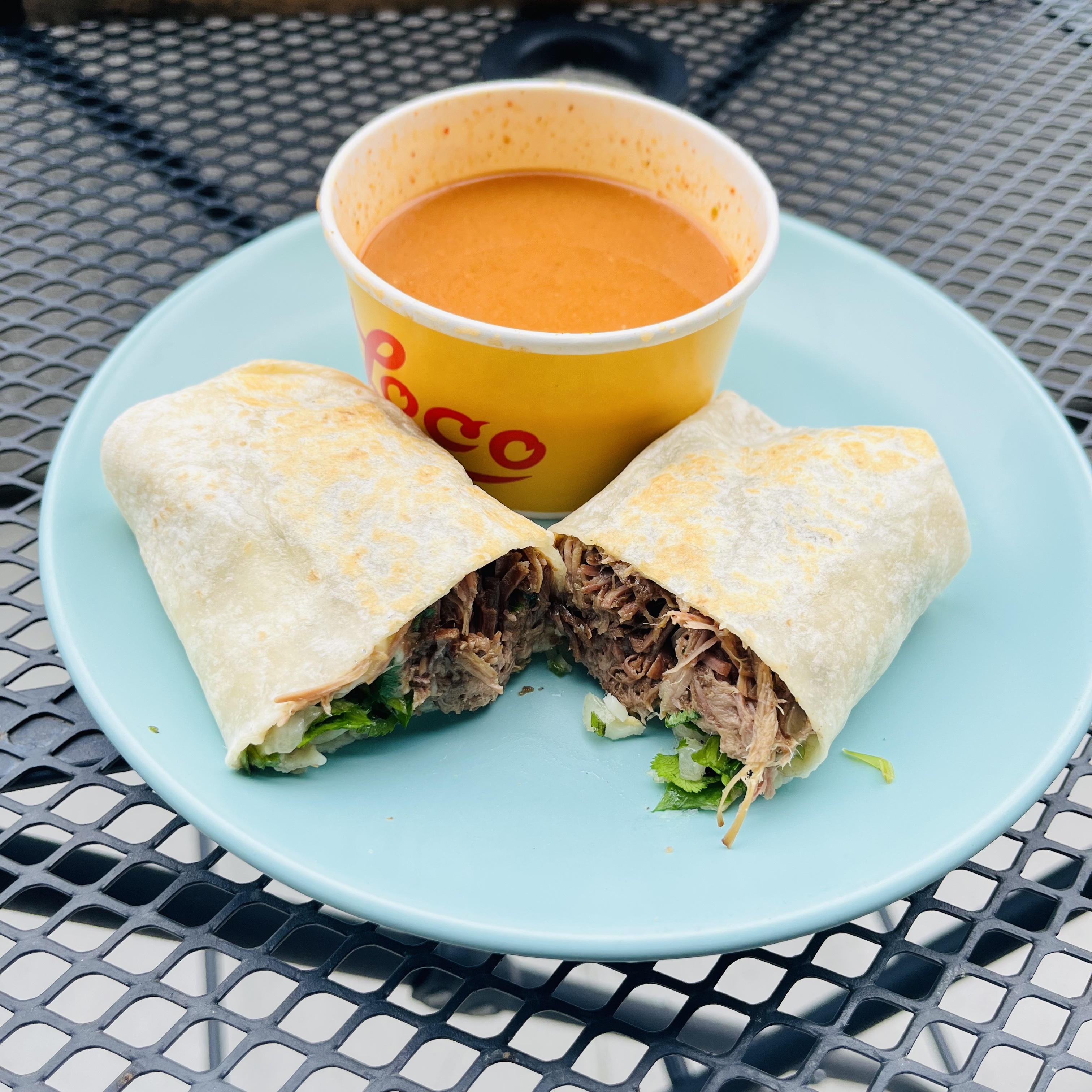 The shredded beef version might be even better, the amount of beef El Pollo Loco packs in this tiny burrito is kind of amazing, and with its beefy slightly sweet flavor and tender melt-in-the-mouth texture, it pairs even better with the Loco Sauce. I love these burritos.
The texture from the burrito press is kind of a joke, as I hinted at before. It doesn't add very much texture at all but this could be a result of the El Pollo Loco restaurant I visited. If the burrito spent a little more time in the press it might have a better texture, but for me, it was too faint to make a difference or even be noticeable.
The Bottom Line:
Issues with the concept aside, I think both the chicken and beef version of this burrito are fantastic. The only thing that holds this burrito back is El Pollo Loco's own conceptual branding, but in terms of flavor, this delivers on all fronts. The Burrito Grillers are great fast food burritos and if El Pollo Loco would put all of these same ingredients in a bigger tortilla with some beans and grilled it right on a cast iron skillet, it would dunk on Chipotle, easily.
Until then, it's a great snack-sized burrito that packs a lot of flavor in a tiny package.
Find your nearest El Pollo Loco here.