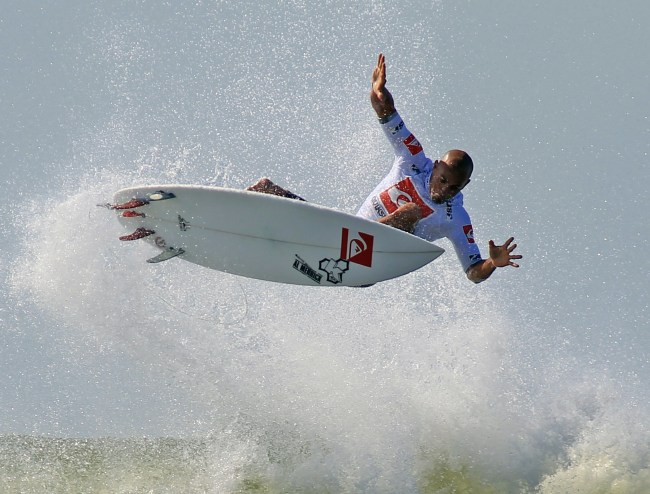 Kelly Slater is both the youngest and oldest person ever to hold surfing's world title, an honor he's won 11 times. His greatness — and the unbelievable consistency of that greatness — has transcended the boundaries of his sport. People all over the world know who Slater is. Which is either a testament to his incredible skill, or to the longevity of Baywatch's syndication deal.
Today is International Surfing Day — a perfect reminder to get out in the water. In the South, they longboard on tanker waves; in the Midwest, they surf Lake Michigan. Here in Southern California, we hit pause on our juice cleanses and hot yoga to battle crowds at our local breaks.
If you're away from the water today, the least you can do is treat yourself to some peak Slater. His April Fools' Day joke was a retirement announcement — one which people took seriously considering that the star's very real split from Quicksilver came on April 1, 2014. Retirement or no, he's definitely much closer to the end of his competitive career than the beginning and a few minutes spent admiring his mastery is well used time.
1. A very tranquil highlight reel of the 2013 Pipe Masters (shout out to whoever supplied the pan flute!).
2. Highlights from a perfect 2013 heat in Fiji.
3. Landing a 540 and then acting like it's no big thing.
4. Waxing philosophic about his relationship with the ocean.
5. Throwing a crazy air in at the 2011 Quicksilver Pro in Long Island.