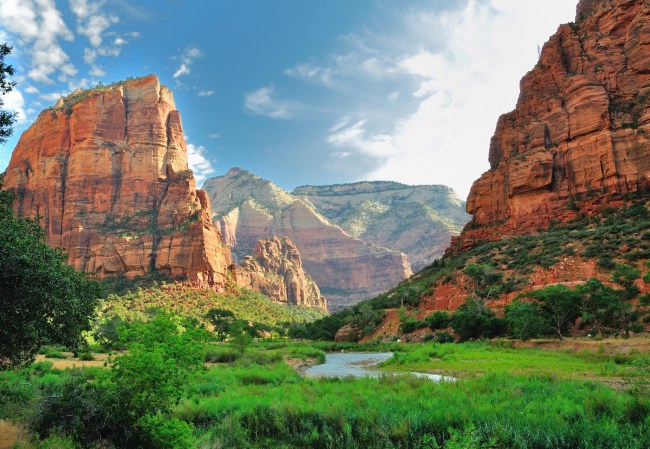 This summer, Uproxx has been all in on National Parks. We've encouraged you to run in them, to drink beer in them, and we've even begrudgingly accepted that you might hunt Pokemon in them. On August 25, the National Park Service is celebrating their 100th anniversary and we are hyped. If you're similarly excited, you might be planning a trip in order to use the day — hell, the whole weekend — to celebrate.
If so, here's a curated assortment of gear to get you started. The selections here skew towards car camping — for items ideally suited for backpacking (hiking to your campsite with everything you need on your back), check out our "Backpacking Gear Guide."
-Steve Bramucci, Uproxx Life Editor
PART I: Shelter & Sleeping Bags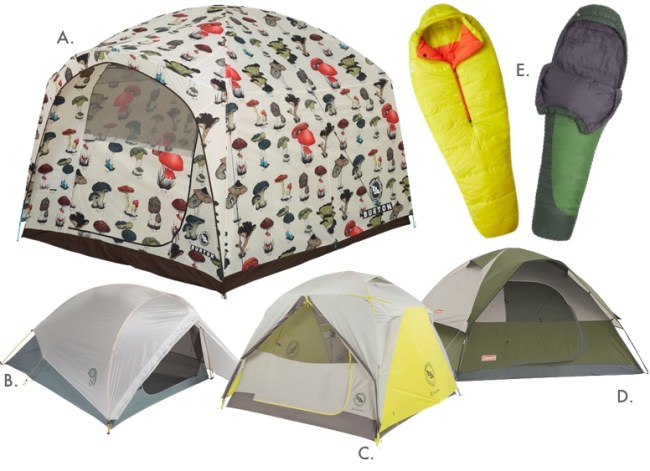 A) Burton x Big Agnes Stone Hut Tent – Welcome to the party tent! With six-and-a-half feet of standing room inside, and enough space to sleep six people, the Stone Hut is ideal for groups or couples looking to spread out. At night, it's the perfect place to hang out with your crew, and during the daytime the roomy interior makes it the easiest place to store gear and change clothes (no crouching down like in a regular tent). Plus, it's super easy to set up and packs down into a handy carrying bag.
B) Mountain Hardwear Ghost UL 2 – This entire tent weighs in at just over two pounds (the "UL" stands for Ultra Light). That means it's the ideal tent for backpackers looking to seriously lighten their load. For a little more room, try the three-person Ghost UL 3. Bring it to Glacier National Park where opportunities to go deep into the backcountry abound.
C) Big Agnes Red Canyon 4 mtnGLO with Goal Zero – If it's bells and whistles you're after, this is the tent for you. First, there's the mtnGLO LED lights integrated into the tent body that create an ambient interior light. Then, there's the integrated Goal Zero Solar Ready Technology, which includes a solar panel used to charge and run the included fan, lantern and battery pack (for charging your USB devices). In other words, it's basically an apartment.
D) Coleman Monterey 6-Person Dome Tent – While buying a high quality tent can be seen as an investment in your outdoor future, for those who don't plan to camp often or for casual campers who could care less about the weight and technical specifics of their tent, there's the Coleman Monterey. Super affordable and with enough room to house you and five friends, this tent will certainly do the trick for national park car campers on a budget.
E) Sleeping Bags – For gear-obsessed backpackers, check out the ultralight Mountain Hardwear Lamina Spark 35. And for car campers looking for a roomier fit and some handy features (like an interior stash pocket), go for the Marmot Trestles 30. Both are stuffed with synthetic material (as opposed to down feathers), meaning they'll continue to insulate and dry out quicker if they get wet.
PART II: Light Up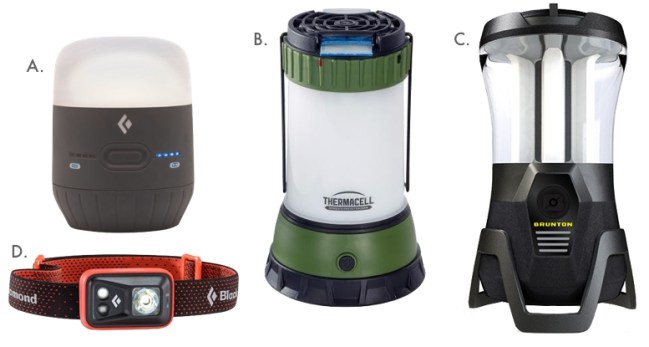 A) Black Diamond Moji Charging Station Lantern – This little lantern packs a big punch with its 250-lumen output (there's a dimmer for your lower-light needs). It's perfect for lighting up your whole campsite, illuminating the inside of your tent (there's a collapsible hanging hook on the bottom), or shedding the right amount of light on your camp dinner table. But where the Moji really shines is in its ability to charge devices like iPhones or GoPros via its built-in USB port.
B) Thermacell Scout Mosquito Repeller Camp Lantern – Another double duty lantern, the Scout will light up your campsite with 220-lumens of light and create a 15ft by 15ft mosquito-free zone (all without DEET, odors, open flames, or oily sprays). For those camping in wet or mosquito-prone areas, it's a must have.
C) Brunton Lightwave Amp – For car campers, the Brunton Lightwave Amp is a campsite party starter. There's a built in bluetooth speaker and two USB outlets for charging your devices, plus, using the Lightwave app, the lantern's LED lights can be set to a variety of colors and flash to the beat of your music. For a smaller lantern with similar features, try the Lightwave Camp Rocker.
D) Headlamps – Don't underestimate the need for a headlamp. Whether you're preparing dinner, heading to the bathroom at night or looking for something in your bag, having a light strapped to your forehead comes in very handy. For two quality and affordable headlamps, try Black Diamond's 200-lumen Spot Headlamp and LED Lenser's 100-lumen SEO 3. Or, if you're exploring caves — like at Mammoth Cave National Park — try the LED Lenser's XEO 19R, the most powerful headlamp we've ever tested.

PART III: Camp Cooking (And Drinking)
A) YETI Tundra 50 Cooler – All coolers are not created equal. Virtually indestructible, YETI coolers are built to stand the test of time and keep your food and drinks way colder for way longer (important because warm beer = unhappy campers). Plus, the bear-proof design, no-slip bottom pads and easy-carry handles solidify its place as the cooler to beat. And for solo campers looking for just enough room to keep their essentials cold, check out YETI's brand new, soft-sided Hopper Flip 12. YETI coolers aren't cheap (they're the Rolls Royce of the cooler word), but they are worth it. And don't forget the Yeti Ice.
For campers not ready to invest in a YETI, inexpensive coolers, like the Rubbermaid DuraChill Wheeled 5-Day Cooler should do the trick.
B) Drinkware – Keeping drinks cold is key to enjoying a comfortable camping trip. To bring 64 oz. of your favorite craft beer with you (enough to share with a few friends on a one-night camping trip) and to keep it cold for 40 hours, pick up a Klean Kanteen Insulated Growler. To keep your water cold while out on short hikes away from camp, take a Miir Vacuum Insulated Bottle. And for casually hanging around camp, keep your beer cold or your coffee hot in a Miir Insulated Pint Cup.
C) Cookware – There are plenty of options when it comes to camp cookware, but a good rule of thumb is to bring at least one pot, one pan and a spatula. For pots and pans, pick up the stainless steel Primus CampFire Cookset — it includes one pan and two pots with lids that double as colanders. And to start your camp cooking tool collection, pick up a Snowpeak Folding Spatula.
D) Camp Stoves – Cooking hearty meals is one of the best parts about camping. Therefore, you'll need a camp stove (many of the National Parks have open fire rules). If traveling to a grill-less campsite, try the BioLite Camp Stove Bundle. This innovative camp cooking setup burns twigs to create fire, over which attachments like a grill and kettle pot can be used. The heat generated by the fire also creates electricity to charge your devices via the built-in USB port. And for a light and compact gas-powered stove with a sleek design, try the Primus Onja Stove, which features two burners and a carrying strap for easy transport.
E) Leatherman Crater c33Lx – You'll find plenty of uses for a quality knife outside of the camp kitchen, but when it come to cooking, it'll come in handy for opening packages or slicing whatever needs to be sliced. Plus, the Crater c33Lx has a built-in bottle opener and as you can see, we support you drinking on this trip.
PART IV: Wearables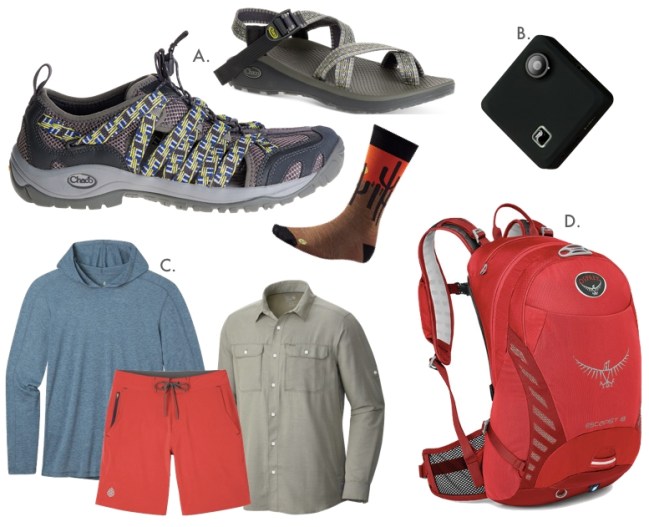 A) Footwear – To explore America's national parks, you'll need a pair of hiking boots — that's a given. It's other important pairs of shoes that people often forget. For two great additions to your pack, try the Chaco Outcross Pro Lace and the Chaco Z/Cloud 2. The comfortable and airy Outcross Pro Lace are great for tame hikes, or if you plan to cross rivers, hike in water (like at The Narrows at Zion National Park) or whitewater raft. And for a comfortable and sturdy sandal you won't slip out of, the Z/Cloud 2, with its grippy, rugged rubber outsole, can handle terrain most sandals can't. For socks, Smartwool is always the way to go — and to show your #NPS100 pride, pick up a pair of their Charley Harper National Park Poster Horizon Cactus Socks.
B) Compass Mini Camera – Like a Go Pro, the Compass is a way to record your experiences from a first person POV. But while the Go Pro is too big not to be noticed, you can literally stick the Compass to your jacket or shirt via magnet and forget about it. The image quality is excellent and the Compass App makes it easy to upload videos and images to social via your phone.
C) Quality Outdoor Clothing – You've likely got an idea of the clothes needed for a National Park summer camping trip. A good pair of hiking shorts, sunglasses, a hat, a sweatshirt for cool evenings around the campfire — you get the idea. But remember, in selecting the best outdoor clothing, opt for items with UPF sun protection. For covering up while hiking, kayaking or paddle boarding, pick up the UPF 15, soft, light and super quick-drying Stio Divide Hooded Pullover. And for a shirt that was engineered to look good while living life outside, check out the UPF 50, ultra breathable and wrinkle-resistant Mountain Hardwear Canyon Long Sleeve Shirt — it's ideal for hiking or just lounging around camp. And of course, should your National Park visit provide opportunities to get wet, remember to pack the right bathing suit, like the Stio CFS Board Short which was designed for adventures way beyond the backyard pool.
D) The Right Backpack – Choosing the right backpack depends on the type of national park adventure your plan on having. If it's a backcountry adventure you're after, check out our Uproxx Backpacking Gear Guide. But for easier hikes away from camp that require a small and comfortable pack to hold your essentials, go for the Osprey Escapist 18. For longer jaunts and little more room, go with the Osprey Manta AG 20 — it features Osprey's Anti-Gravity suspension system (the same system found in their larger, multi-day backpacking packs). And for even more space, enough for an easy overnight backpacking trip if you're packing light, the Osprey Kestrel 32 National Parks Service Pack and the REI National Parks Service Traverse 28 Pack have got everything you'll need (plus, a portion of the sales from each benefits the National Parks Service).
PART V: Odds and Ends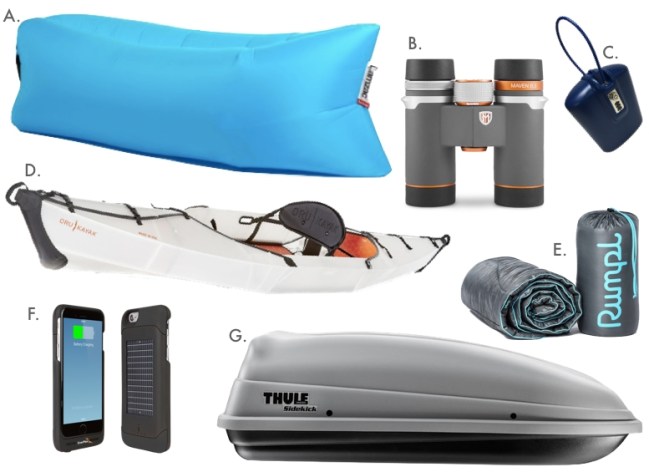 A) Lamzac the original, by Fatboy – Want to seriously step up the comfort level of your campsite? Bring a few Lamzac the originals. Just fill 'em up with air and get your lounge on (perfect for relaxing after a long hike or chilling by the campfire). You'll be the envy of the entire campground.
B) Maven B.3 Binoculars – America's national parks are full of amazing sights and wildlife to peep. To get a closer look, you'll want a pair of high quality, compact binoculars. Look no further than the Maven B.3s.
C. SafeG0 Portable Safe – To utilize this, you kind of need the right situation. It both advertises and protects your valuables at once. We used ours to lock phones, etc. onto a picnic table while everyone ran off to a watering hole. In this setting, without a car around, it's a win — but other uses are admittedly limited.
D. Oru Foldable Beach Kayak – This kayak folds down into a box which can be carried like a backpack. That's right…into a box. You won't want to trek with it for miles, but it'll sure make spontaneous kayak trips a whole lot easier. Plus, it'll take up a fraction of the room in or on top of your car as compared to a traditional kayak.
E. Rumpl Puffy Blanket – Rumpl makes blankets made for and inspired by the outdoors using the same technical materials found in premium sleeping bags and insulated jackets. You'll want one wrapped around you at night.
F. EnerPlex Surfr AMP iPhone Charing Case – You can't take amazing camping photos for social media with a dead cell phone. So to keep your phone charged, pick up the EnerPlex Surfr AMP. The rechargeable case will give you 160% extra battery life, and when that's drained, just flip the switch on the back and start drawing power from the sun via the built-in solar panel. For even more power, pick up the super slim and easy to pack EnerPlex Jumpr Slate 5K.
G. Thule Sidekick 682 – Now to fit all this stuff in your car. Won't fit? It's time to utilize the roof. For the extra space you need, look to Thule for the sleek Sidekick 682 rooftop cargo carrier. It's the car camper's best friend.
Need some inspiration for where to put this gear to good use? Check out a few pictures from some of our favorite National Parks

https://www.instagram.com/p/BJex6NHDPHN/
Olympic National Park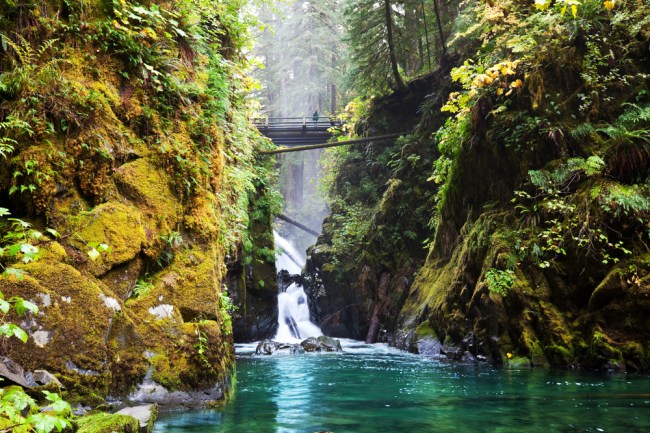 Glacier National Park
Zion National Park
Dry Tortugas National Park
Yosemite National Park