Monday morning, at 12:01am, Cuba and the United States re-opened their embassies in Washington D.C. and Havana, respectively. This marks the first time since 1961 that the United States has been welcomed to fly the stars and stripes in Cuba. This doesn't mean that there have been no foreign relations — each nation has maintained an "Interest Section" in the other country's capital — but this action re-establishes official, visible diplomatic ties. Next month, John Kerry will visit Havana and raise the U.S. flag himself, becoming the first U.S. Secretary of State to travel to Cuba since 1945.
That's definitely a big deal.
The first part of the headline — specifically the "Before It Becomes A Tourist Trap" part — makes a major assumption: Namely, that you aren't the type of traveler who enjoys (or even seeks out) tourist traps. If your dream vacation means bottomless Cokes, U.S.-style infrastructure, "All I got is this stupid t-shirt" t-shirts and unfailing WiFi that's fine. No need to rush to Cuba. In fact, at the present moment, Cuba probably isn't for you. But if you want that sense of exhilaration that comes from visiting a country which runs by a distinctly different set of rules, you need to make tracks for Cuba ASAP. The Cuba that travelers have mythologized as their favorite "forbidden fruit" will begin to morph into something new (not bad necessarily, but not "a land caught in time" either).
With interest in Cuba high amongst American travelers, large scale development projects are already in the works. The resorts will say the right things about honoring Cuba's history ("romanticized history" will surely be the country's brand), but there's a difference between riding in a 1950s Plymouth máquina from point A to point B versus just sitting in that Plymouth (restored and permanently parked in the hotel lobby) for a photo. The authenticity that has made Cuba into a beloved travel destination, due in large part to how dramatically different it is from the United States, won't last forever.
The most immediate danger to "authentic Cuba" is cruise ships. Once cruises departing from Florida make Cuba a port of call, the country's tourism will undoubtedly shift. That can't happen quite yet, but Carnival Cruise Lines has received permission to start sending trips to Cuba in May of 2016. Right now, many of the investors celebrating the re-establishment of a U.S. embassy in Havana are looking closely at the Herzfeld Caribbean Basin Fund. That fund's biggest hitters? Cruise, ferry and shipping lines. Next biggest, after the transport interests? Cement.
Translation: people are headed to Cuba and buildings will be constructed to accommodate them.
Point being, if you have interest in traveling to to the land of vintage cars and outlaw cigars before things start changing, it would behoove you to book your ticket sooner rather than later.
Here are some things to consider when planning your trip:
Get permission. You can't fly to Cuba from the U.S. without an official reason. There are currently 12 categories of travel that are approved. Tourism outfitters like Abercrombie & Kent have latched on to the "education opportunities" designation with high-end "people-to-people" tours. The way these state-approved trips are being tracked is also getting simplified. You are required to keep receipts and fill out entry forms, but you don't have to file paperwork. Right now, all flights are chartered, but just this morning, United and American made it clear that they are ready to launch scheduled service.
Or game the system. The old technique for getting to Cuba was to fly in from a foreign country (Mexico, Jamaica, Cayman Islands, etc.) and have them stamp a blank piece of paper inserted clandestinely into your passport. This has been the backpacker go-to move for decades. Current reports from people passing through customs are that agents are asking travelers whether or not they want their passports stamped. If you want to do whatever you want in Cuba, like lounge on the beach or wander unguided, this is the way you need to travel. If you do book a flight through a foreign country, you will have to go directly through the airline or on a non-U.S. version of a flight aggregator. Skyscanner.ca is a good option.
Support the local economy with a homestay or by renting a room at a B & B. Airbnb started booking rooms in Cuba in April. Their current inventory there spans the range between established hotel properties, stand alone houses and sublets. Cubaccomodation is another smart option and works like any booking engine for hotels and B & Bs. More intrepid types love staying in Casa Particulars which are rooms or apartments connected to private residences.
Carrying cash is still the way to go. ATMs are scarce and the credit card infrastructure isn't there yet. It's technically legal to use U.S. credit cards now, but it's not super easy.
What about cigars? Everyone wants to know about the cigars. Here's the scoop: Of the $400 worth of goods that you can "officially" bring through customs, $100 can be Cuban cigars. $100 buys LOTS of off-brand Cubans, or five legit Cohibas.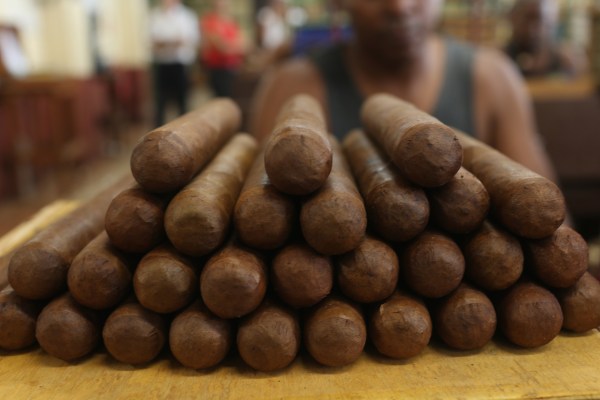 **For more information on traveling to Cuba, visit the country's official tourism website.**