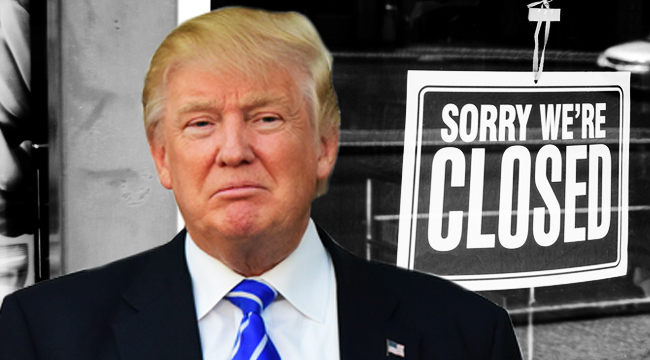 Political tempers seems to be at an all-time high. Tensions are raging, as people dig deeper into their political foxholes and heave salvos of left or right leaning rhetoric at one another. There's so much bickering that most of it often gets lost in the ether. We're betting that the owners of the Cup It Up American Grill in Tucson, Arizona, wish their political message ended up in that ether too.
Well, it didn't. And, now, their business is destroyed.
Restaurant's owners Christopher Smith and Jay Warren posted their political leanings on their establishment's Facebook page last Friday. It was a laundry list citing their support for Donald Trump, standing for national anthems, repealing Obamacare, and less government. The post continued by denouncing those who disrespect Trump, the belief in global warming, big government, and celebrities and late night hosts having political opinions. Here's the whole post:
There's really not anything in there we all haven't heard before at Thanksgiving tables, backyard barbecues, office parties, conservative media, and literally everywhere on social media. That didn't stop the swift reaction of people on Facebook calling out the owners of the Cup It Up American Grill for their tactical error. Within three hours the restaurant had so many complaints, they removed their post from Facebook. By the next day, the restaurant was receiving so many complaints they straight up deleted all their social media accounts and, amazingly, several employees quit due to the endless phone call complaints.
The people spoke and they were pissed. By the end of the day, head chef and partner Julian Alarcon also quit and, according to reports, is seeking legal recourse to remove himself from the actions of Smith and Warren.
Smith and Warren spoke to local news outlets on Saturday saying, "our decision to bring our personal political beliefs into a business forum is regretful, and for this we apologize to all." Smith continued, "It's hate feedback and it's for one reason only and it's that we showed our support for Donald Trump." Smith and Warren claimed "they never ever fathomed" the vitriol and intensity of the political backlash.
During Sunday, Cut It Up's Google and Yelp reviews took a massive dive. By Monday morning — with several of their employees already gone including their head chef — Smith and Warren cut bait and ran away. They posted a sign on their doors that read, "we have made a decision to close our doors indefinitely as of today, Monday, October 9, 2017. The safety of our employees, and our families is of great concern and is our #1 priority at this time." They then thanked the American military and first responders and that was it. It was over.
Over the course of 72 hours, a restaurant lost its public standing and employees and had to shut its doors. Whether they'll ever reopen is up for debate. But probably not. If you hear anything different, it's #FakeNews.
(Via Tucson.com)