With much of the United States experiencing extreme levels of cold, snow, ice, and general gloom in these first days of February – you may be dreaming of an island paradise. The United States Virgin Islands are just that. With crystal blue waters, soft sand beaches, and a laid-back atmosphere, it's the perfect place to warm up and disconnect.
The islands have a lot to offer – and travelers are taking note. According to an Airlines for America study, the islands in the Caribbean saw 14% more air travel in February of 2022 compared to the same time in 2019. After two devastating Category 5 hurricanes damaging much of the islands in 2017, and with tourism making up 60% of the GDP, this is great news for USVI.
I traveled to two of the three main US Virgin Islands – St. Thomas and St. John – last March and am already planning my return trip. Here are my recommendations!
GETTING THERE
Being in USVI certainly feels like you are in another country, but, of course, for US travelers, no passport is required. This, no doubt, has been part of the reason for the post-pandemic travel surge. Also, you can't discount that for most of the country it really isn't too hard to get to either. I flew in from Denver via Houston and then back through Fort Lauderdale. There are lots of daily flights into St. Thomas through several different airlines. It's even quicker from the East Coast.
It's also great for remote workers on the East Coast thanks to no time zone change.
GETTING AROUND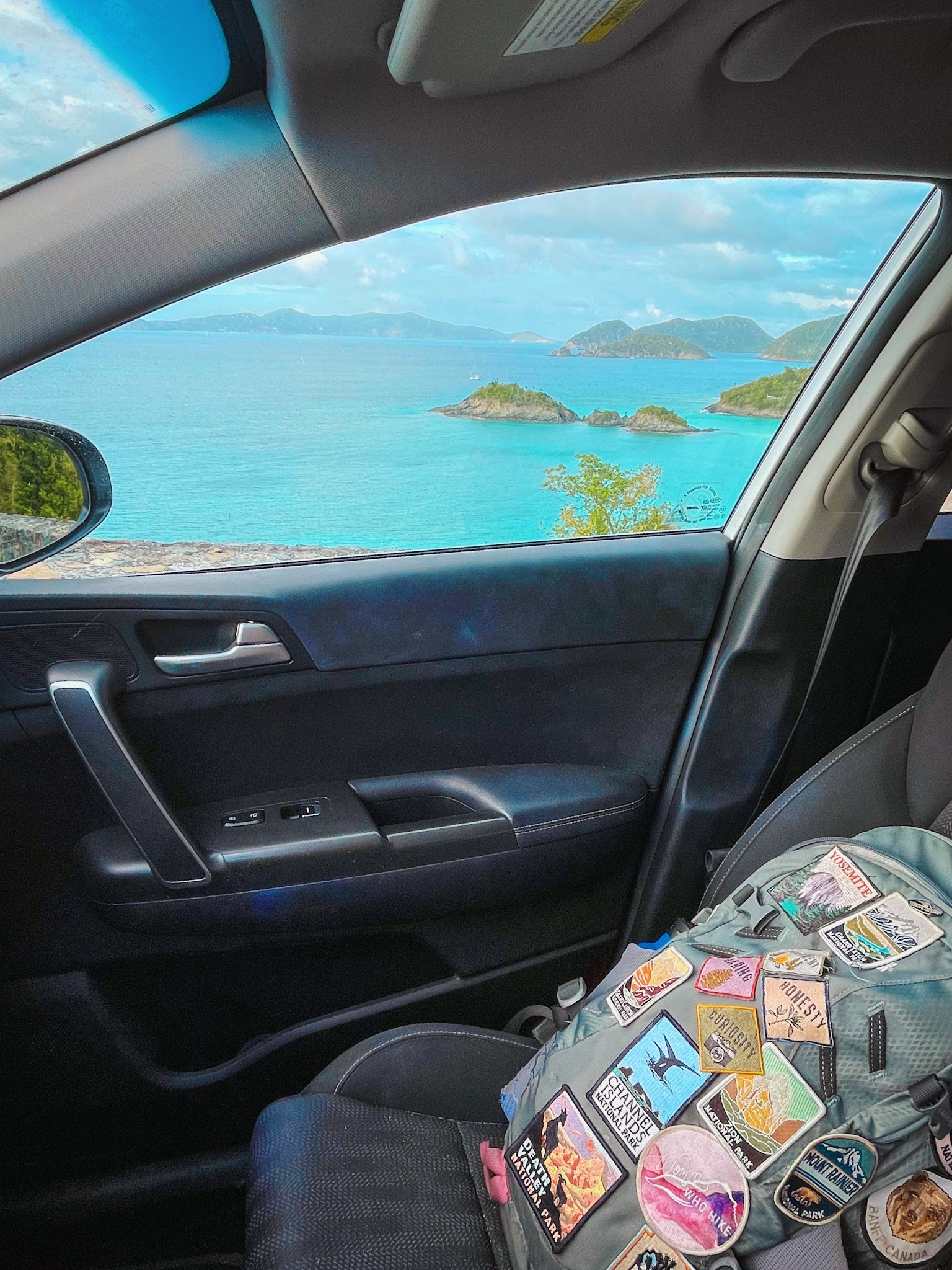 My main objective for traveling to the USVI was to visit Virgin Islands National Park. I also wanted to be able to do as much exploring as I could manage, so I chose to rent a car on St. Thomas. Many people use cabs primarily on the islands, and they are fairly straightforward, usually open air, and servicing multiple people at once for a flat fee. Think of them as minibusses really.
There is a passenger and car ferry from St. Thomas to St. John that is centrally located in Red Hook and easy to utilize. I took the car ferry to St. John (for a $65 cash-only fee) and had the freedom I wanted to explore both islands. Many people also rent a car (generally a Jeep) once they reach St. John. Be careful if you want to rent and drive on more than one island as not all rental companies allow this.
WHERE TO EAT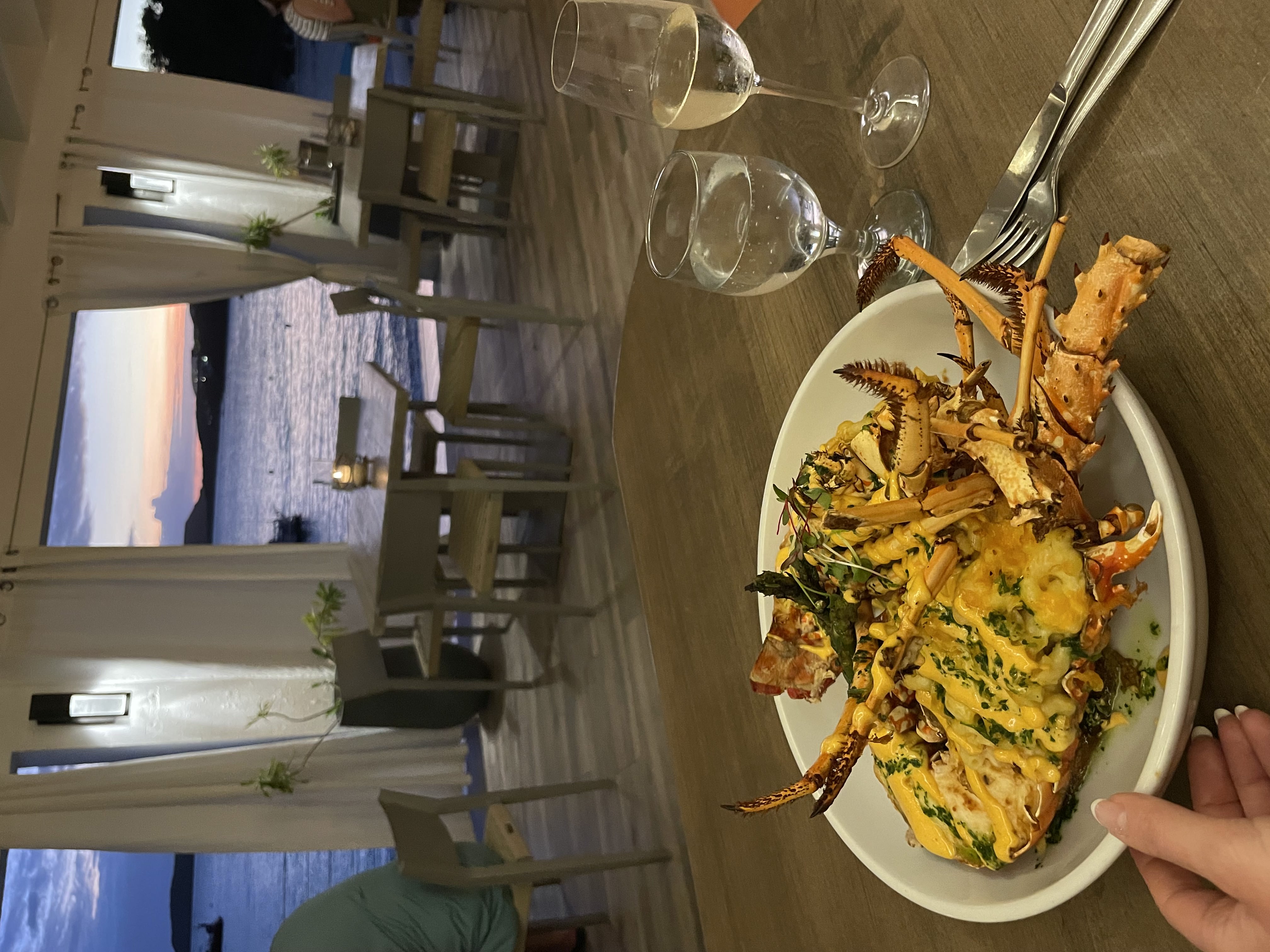 The United States bought the islands from Denmark back in 1917; and as such, the US Virgin Islands are decidedly diverse. The culture reflects the many groups who have inhabited the islands in the past, and the food reflects this diversity. I was excited about some fresh seafood and Caribbean flavors, and I wasn't disappointed. I can't say that I had one bad meal throughout the entire trip.
A standout — and fancier option — was Sunset Grille at Secret Harbour. The atmosphere was incredible while watching the sunset over the water and the food was just as good. It was pricey, but I found myself uttering aloud that this was "the best meal I had ever had" multiple times. I had the daily special, which was a lobster tail stuffed with truffle mac and cheese. Yes, really. I scraped every last morsel from the lobster tail, wondering how so much flavor could possibly be ensconced inside.
Look at the menu for Sunset Grille here. Reservations are recommended.
Another special occasion dining spot is Oceana on St. Thomas. The gorgeous restaurant overlooks the water in the Frenchtown district and has ambiance to spare. I had the cheese board, bouillabaisse, and of course some champagne. Reservations recommended.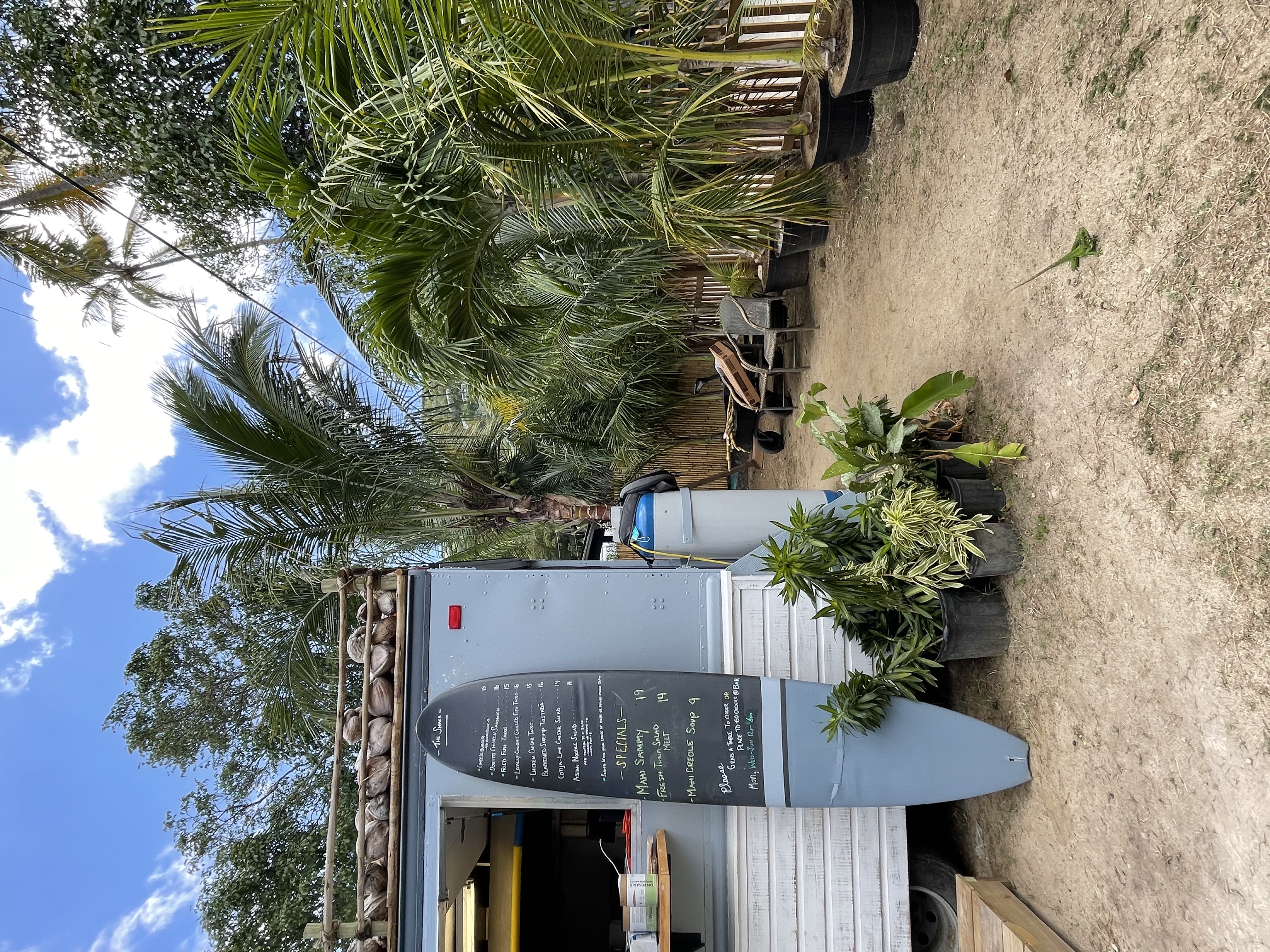 Hull Hideaway was one of my favorite finds. Aptly named, I drove down to a random beach, turned around, and unexpectedly found one of my favorite spots on the trip. Just reopened as part of the 5-star Hideaway at Hull Bay property, it had the location, food, and style that I was looking for. The fish tacos were fresh and the atmosphere was the beach bar of my dreams.
WHERE TO DRINK
Before visiting the US Virgin Islands, I only had a couple of musts on my list. Visit Virgin Islands National Park (more on that later) and visit "the Taco Boat" Limeout VI — a floating swim-up taco and cocktail bar that is a tourist attraction in its own right in Coral Harbor off St. John — was atop my list.
For Limeout VI, many people seemed to be visiting with a tour company since you have to have a boat to access it. Our tour got to Limeout VI about 20-30 minutes before they opened to be able to secure a spot on some of the limited floats that are available. At a designated time, all the boats around sent a swimmer down to grab a float until it was opening time.
After opening, Limeout VI quickly became a party-boat-slash-taco-boat? While the tacos were amazing (I recommend the shrimp and vegan options) the cocktails really shined. I had the Smokin Luca, made with mezcal, tamarind juice, and fresh lime juice. It was the perfect smoky treat.
Another favorite was the Shoreline Bar and Grille. Located right on the shore (duh) — the food was good and the drinks were just the tropical and sugary treat I envisioned. I visited on a Thursday and lucked out that it was Puerto Rican night, with a special (and delicious) Puerto Rican menu.
Other fun places to stop on St. Thomas are the Kinky Mermaid and The Beach Bar, and Joe's Rum Hut on St. John.
WHERE TO STAY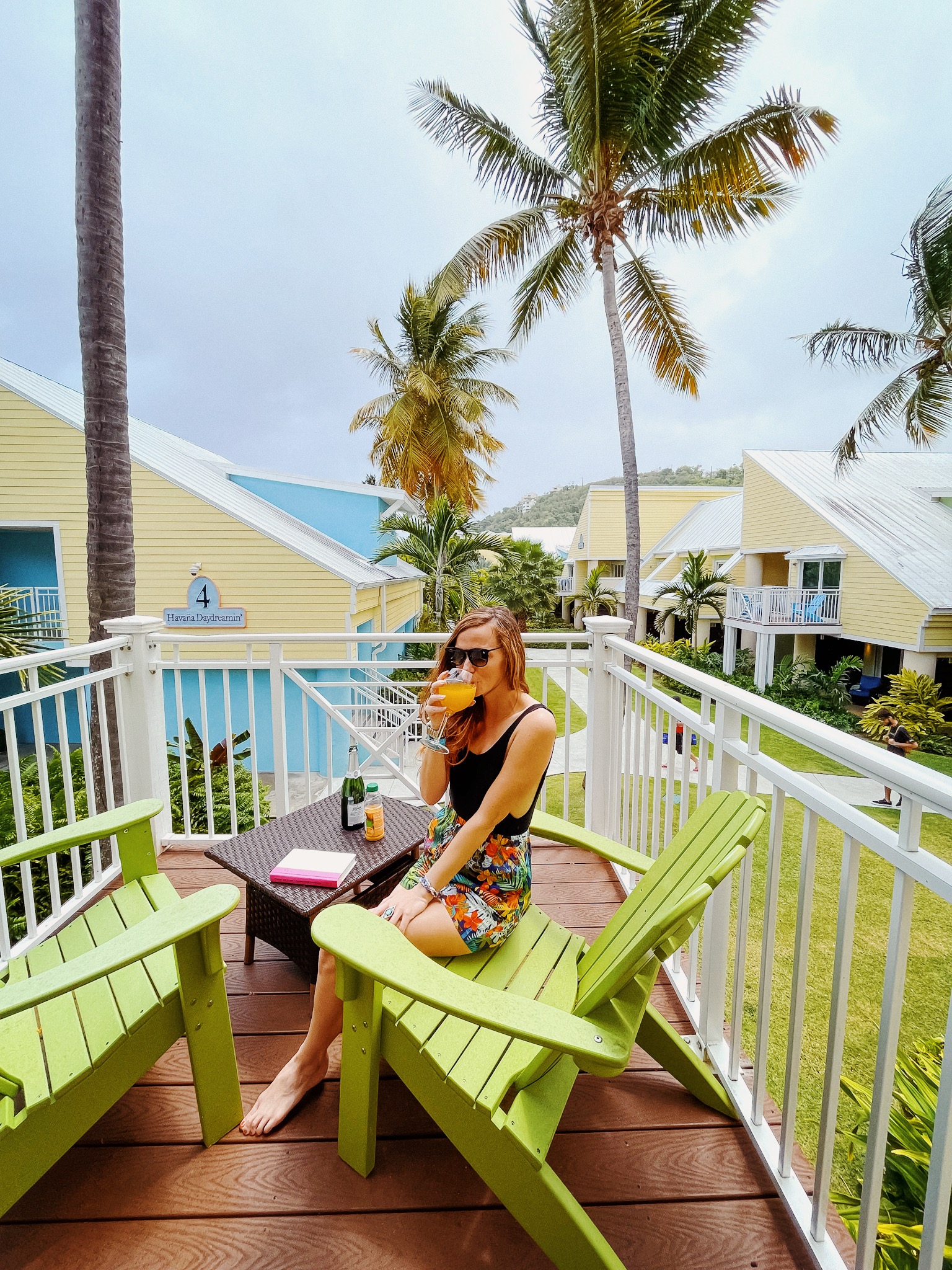 One of the tourism drivers in the US Virgin Islands has historically been docked cruise ships. The pandemic, of course, changed that dramatically. And while cruises are once again stopping in the islands, overnight lodging has now become a much larger focus.
There are tons of Airbnb options, along with hotels and resorts across the islands. There is a place for everyone at nearly every price point. I decided to stay at the Margaritaville mostly for convenience, although I was happy with the resort. I actually booked my room through Airbnb since it's a resort/timeshare vacation club and enjoyed the waterfront location, service, pools, and bar.
When I go back I'd love to stay at Secret Harbour. I visited the resort for dinner and loved the vibe.
I didn't stay on St. John this trip, but next time I'd love to try Wharfside Village Hotel, The Westin St. John Resort, or splurge on one of the six sustainable villas at Calichi.
WHERE TO EXPLORE
I visited the islands specifically to visit Virgin Islands National Park, my 56th solo US major National Park. The park makes up about 60% of St. John and it is unlike any other national park I have visited thus far. From white sandy beaches to forests to some of the best snorkeling in crystal clear blue water, the park is like entering into another world. You'd never guess there is no passport required to visit this Caribbean paradise.
I recommend stopping at Trunk Bay Beach and Cinnamon Bay Beach; hiking Reef Bay Trail, Salt Pond Bay, and Ram Head Trail; and snorkeling at Honeymoon Bay and Waterlemon Cay.
You can't visit St. John without getting out on the water. There are seemingly endless options for snorkel tours and on-the-water excursions. I booked a day-long trip with Stormy Pirates and it was fantastic. Open bar, tacos, and snorkeling with a fun crowd and an entertaining captain and crew.
As far as beaches in St. Thomas, Magens Bay is not to be missed. The sand is soft and white and the water is crystal clear and turquoise. It was crowded when I visited but still worth the trip.
Coki Beach was probably my favorite beach that I visited. It was just a short walk from my room at the resort and felt much less touristy. It was recommended by locals countless times for its incredible snorkeling and diving. I loved watching the sunset and the chicken roaming the beach with a margarita in hand. Altogether, it was trip I will remember forever and certainly a trip I find myself daydreaming about during these frigid winter days.