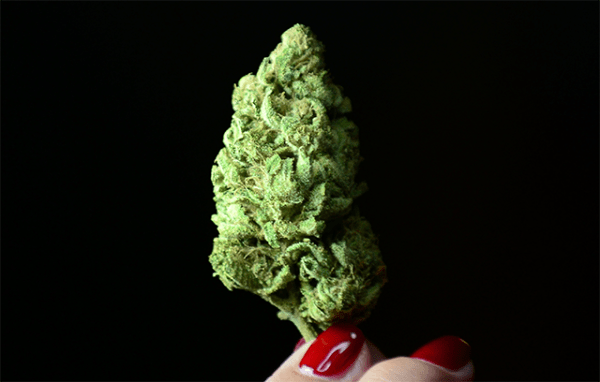 This was originally posted in November, we're re-sharing it today for obvious reasons. 
Fetishizing alcohol is mainstream. It's cool to obsess over wine, beer, and spirits. You can step into almost any bar and talk about "earthy notes" and "balanced flavor profiles" without getting laughed at. But weed is still stigmatized. It gets used a lot, sure, but does it get taken seriously? Does it even deserve to get taken seriously?
There is, of course, one publication who has treated weed the way that others treat wine for quite awhile: High Times. The magazine was launched in 1974 and counts Warhol, Bukowski, Burroughs, Capote, and Hunter S. Thompson among their past contributors. And yet… weed still gets stigmatized, over-simplified, and turned into an increasingly lazy-seeming punchline. Meanwhile, the art of interpreting other intoxicants is revered.
Curious about whether weed deserves to be taken seriously by the mainstream, we reached out to Danny Danko, High Times' senior cultivation editor. He's selected the magazine's "Top 10 Strains of the Year" since 2005 and is also the creator of the High Times Seed Bank Hall of Fame. He wrote the Official High Times Field Guide to Marijuana Strains and has judged more than 40 international and American Cannabis Cups.
In short, the guy knows weed.
As Danko prepared for the Rastafari Rootzfest™ and Jamaican World Cannabis Cup in Negril, Jamaica (Nov. 12-15), he shared five strains that he believes are ready for the "fine wine treatment" with Uproxx:
Ghost Train Haze
Green Man Cannabis, Denver, Colorado
1st place, Colorado Sativa Flower 2015 Cannabis Cup Denver
This amazing marijuana strain made High Times May 2012 cover as the "Strongest Strain on Earth" after testing at a whopping 25.49 percent THC level. The OG Ghost Train Haze packs an amazing and electric sativa-dominant punch that will have your heart racing and your head spinning. The amount of sugary trichome gland heads these plants produce is equally mind-boggling. The spicy flavor and hazy aroma from the female side is complemented by the potency of the Kush male, which together provide a connoisseur-quality experience that lasts.

Veganic Strawberry Cough
Buds & Roses, Los Angeles, California
2nd place, U.S. Sativa Flower 2015 Cannabis Cup Denver
Discovered by Kyle Kushman in Connecticut from an amateur breeder friend's random Strawberry Fields/Haze cross, Strawberry Cough has quickly attained legendary status among aficionados. Unique and delicious, The Cough leaves a pleasing incense-like smell behind. Those in the know recognize its hazy sweet scent immediately.
Colorado Bubba
MMJ America, Denver, Colorado
2nd place, Colorado Indica Flower 2015 Cannabis Cup Denver
Kush fans know all about the Bubba Kush, famous for bright green, tight little nuggets covered with frosty trichomes. But it was the very unique smell — fruity and tropical with the scent of mango and papaya — and sedative indica stone that took this special cut of Colorado Bubba over the top for its recent Cup win. MMJ has seven different locations nationwide where you can find this delectable marijuana variety.

Tangie
The Clinic, Denver, Colorado
1st place, Medical Sativa 2013 Colorado Cannabis Cup
Tangie is a sativa-dominant plant with a unique citrus scent and flavor. The smell of ripe tangerines overpowers any growroom filled with Tangie — particularly once the buds are harvested and drying. Concentrates made using Tangie, both solventless and using solvents, have dominated in every Cup they've been entered in due to the unique bouquet and potent high.
Cookies & Cream
Green Health Cooperative, Tacoma Cannabis Club
1st place, U.S. Hybrid 2014 Cannabis Cup Denver
With so many outstanding Cookie crosses to choose from lately, it can be hard to find the right one for you. If you're looking for a unique and powerful strain, look no further than Cookies & Cream, an award-winner with an amazing orange sherbet flavor and the scent of creamy vanilla cookie dough with subtle hints of nuts. Patients having trouble sleeping will marvel at this potent bedtime hybrid that's also been reported to work wonders for those who suffer from strong headaches.
Now Watch: Would You Eat At This South Korean Sheep Cafe?