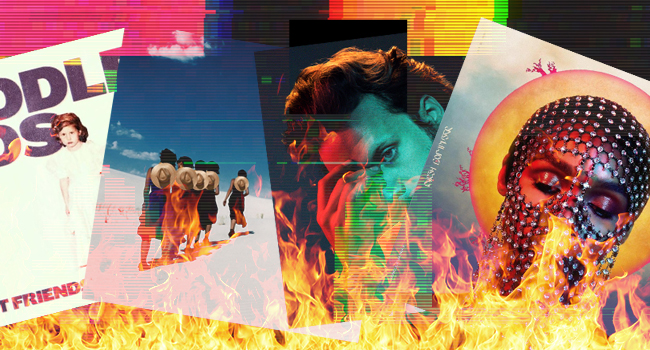 Every month Uproxx Cultural Critic Steven Hyden compiles a playlist of his favorite songs from new albums.
[protected-iframe id="b79b4f80f1fd7fbb607e729099f0f8a9-60970621-76566046″ info="https://open.spotify.com/embed/user/stevenhyden/playlist/3Ir40WbeNL5ZQs5nr3tFsb" width="300″ height="380″ frameborder="0″]
Middle Kids, "Mistake"
Lately, the Australian rockers that have made impressions on US audiences — Tame Impala, Courtney Barnett, Alex Lahey — have specialized in a kind of anthemic slackerdom, delivering big hooks with squinty eyes and cock-eyed smiles. But Middle Kids is more in the mode of fellow Aussies Gang Of Youths, positively bursting forth with an infectious energy that makes songs like the ineffable "Mistake," a highlight of the forthcoming Lost Kids (out May 4), feel like an adrenaline shot to the heart.
Father John Misty, "Dumb Enough To Try"
Josh Tillman apparently is going radio-silent in the lead up to God's Favorite Customer (out June 1), which is surely a reaction to the carnivalesque media sideshow that eventually overtook 2017's Pure Comedy. "Dumb Enough To Try" suggests another retrenchment, this time back to the heartfelt relationship songs of I Love You Honeybear. Is this maturation or a retreat? For now, the gutting "Dumb Enough To Try" makes a strong case for the former.
Wye Oak, "It Was Not Natural"
This canny duo's move from sharp indie-rock to ethereal electro-pop on its past few albums hasn't always seemed like an improvement. Jenn Wasner's songs are as cutting as ever, but holding back her potent guitar-playing felt like a fatal omission. However, the band's very good 2018 release The Louder I Call, The Faster It Runs thankfully sounds like the best parts of Wye Oak's "old" and "new" sounds, pushing the band into new sonic terrain without sacrificing primal power.
Janelle Monaé, "Pynk"
The single most hilarious music-related moment for me this month was realizing that the familiar melody of this gurgling funk-rock single from Monaé's latest opus Dirty Computer is lifted from a late-'90s Aerosmith jam. Monaé is daring in so many aspects of her music, but digging into Nine Lives is her boldest move yet.
Jim James, "Just A Fool"
When I interviewed Jim James in 2015, he hinted that My Morning Jacket would quickly follow-up The Waterfall with another new MMJ record. Since then, he's made three solo albums, including the forthcoming Uniform Distortion (out June 29), in lieu of any new MMJ music. What gives? After the gleeful cowbell-rockin' ripper "Just A Fool," perhaps it's more like, who cares? This is the loosest James has sounded since Z.
Melody's Echo Chamber, "Breathe In, Breathe Out"
Melody Prochet's enchanting 2012 self-titled debut was made in collaboration with Tame Impala's Kevin Parker, and together they crafted a collection of spellbinding psych-pop tunes that felt like a lovely companion to Tame Impala's own Lonerism. For the upcoming Bon Voyage (out June 15), Prochet teams up with another excellent psych band, Dungen, and dispenses several more doses of lysergic melodies.
Old Crow Medicine Show, "Child Of The Mississippi"
On last year's delightful 50 Years Of Blonde On Blonde, Old Crow Medicine Show gave the classic Dylan album a bluegrass makeover. On the new Volunteer, it appears that some of Blonde On Blonde's bluesy stomp has rubbed off on OCMS. Utilizing electric guitar for the first time in 14 years, these string-band traditionalists sound more like a rock and roll band than ever on the rampaging "Child Of The Mississippi."
Kevin Krauter, "Rollerskate"
On his strangely beautiful debut Toss Up (due June 15), this Indiana indie-rocker sounds like a kid who learned how to play classic Elliott Smith songs on a vintage synthesizer rather than an acoustic guitar. For anyone who obsesses over instrumental tones — those indelible sounds that certain instruments make that are as distinct as speaking voices — Toss Up will feel like a brain massage.
Gaz Coombes, "Walk The Walk"
Coombes is best known as the frontman for the beloved '90s Britpop band Supergrass, who are remembered by those of us who love them as human Muppets who bopped around on pogo-sticks and played furious pop-punk songs about being caught by the fuzz. But Coombes isn't that guy anymore — he's older and more refined, and his upcoming album World's Strongest Man (out Friday) boasts a casual sophistication evidenced by a skillful melding rock and electronic sounds.
Lord Huron, "Wait By The River"
The latest album by this successful (yet still under the radar) LA folk-rock band is the heaviest and most propulsive album in their catalogue. But some of my favorite tunes on the record are basically just straight-up makeout music, especially this smoldering ballad that sounds like Fleet Foxes covering Al Green.