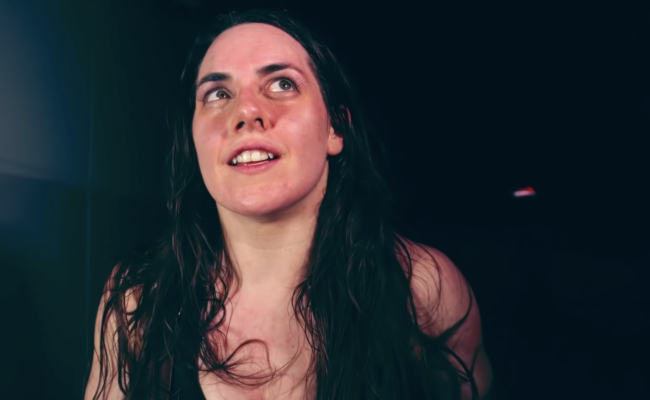 8 Great is our new, extremely original listicle series where we take a break from snark and negativity to focus on the positive and list eight of our favorite examples of something great from pro wrestling. Matches, performers, shows – whatever is helping us enjoy wrestling in a particular week, that's what this feature is all about.
Nikki Cross is probably my favorite wrestler, if I had to pick just one. I'm not saying she's objectively the best in the business, but the way she presents herself, the storytelling choices she makes, and the way she executes her move set just resonates with me on a deep and personal level. That was true when she was a vicious, cackling monster who was the MVP of Sanity in NXT, and it's still true now that she's Alexa Bliss's socially awkward best friend and tag team partner.
I see some people complaining that her current character doesn't relate to who she used to be, but I don't entirely agree. All Nikki ever seemed to want, at the end of the day, was a friend. Even when she was with Sanity, she was constantly reaching out to other women like Asuka and Ruby Riott, not because she was angry or wanted to fight them to prove something, but because she wanted someone to play with.
Even at her most violent, her violence was never angry. To Nikki, violence is fun, and she wants friends who will have fun with her. When you combine that with the series of series of soul-searching online promos she cut after being called up and quickly forgotten on the main roster — culminating in a decision to "step out of the dark" that leads directly into her storyline with Alexa — I think the transition makes plenty of sense for wrestling.
Still, that doesn't mean I don't get nostalgic for the kind of matches she used to have on a regular basis. In just over two years on NXT, Nikki was a part of some of the best women's matches in WWE. She never got to hold the NXT Women's Championship, but she was consistently in the title picture for much of her time there. For this edition of "8 Great," I've picked 8 Nikki Cross matches that demonstrate how special she is and how well she can work with a variety of opponents. In time, I'm hoping that the work she's doing with Alexa Bliss leads to a new singles push for Nikki on the Main Roster, but there's no reason to rush it.
If you want the full Nikki Cross Reality Tour, by the way, you should start with Sanity's Debut on NXT (October 12, 2016), in which everyone was surprised when the smallest member of the stable turned out to be a girl, and then surprised again when she was the scariest one. The next episode of NXT (October 19) featured Nikki's debut singles match against a brand new Vanessa Borne. It's a squash, which is exactly what Nikki needed to start with, but the best and most telling part is when Nikki won't stop fighting after the match is over, and the rest of Sanity has to literally hold her back. Nikki's original Main Roster debut is also worth a look. On November 6, 2018, a couple of months before she'd officially get called up, she answered an open challenge from Becky Lynch on the Smackdown UK Tour episode. The match is short, but it's at the height of Becky's Fall 2018 bluster, and watching Nikki grab the mic out of the Man's hand and demand "Play with Nikki!" is pretty great. It's a debut that really puts Nikki over more than her official Raw debut on January 14, 2019, really did.
But those are really just the runners up. Let's journey back to May 2017 for the first of 8 great Nikki Cross matches.

1. Nikki Cross vs. Ruby Riott vs. Asuka, Triple Threat Match for the NXT Women's Championship – NXT TakeOver: Chicago
During Asuka's long run as undefeated NXT Women's Champion, they ran a lot of multi-woman matches for the title, so interesting and new things could happen without Asuka having to lose. Nikki was almost always an element of these matches, because her chaotic nature was a wild card that kept things interesting. This is probably my favorite of those matches. Nikki was technically still a heel, but she was already a likable one. Asuka was solidly a tweener at this point, and Ruby Riott, as strange as it might seem after her main roster run with the Squad, was a pure babyface.
This was, unless I'm mistaken, the first time Nikki did the thing where she catches her opponent in the ring skirt and beats them silly, and it was a pretty smart move against Asuka. I'm also a big fan of the bit where Nikki has jumped on Ruby's back, and Asuka pried her off, gave Ruby a moment to kick Nikki in the belly, and then German suplexed her. It's gonzo combinations like that — and like Nikki hitting a splash on both her opponents just as Ruby was about to tap to the Asuka lock — that make matches like this so much fun.
2. Nikki Cross vs. Asuka, Last Woman Standing Match for the NXT Women's Championship – NXT (June 28, 2017)
If you go back and watch this full match on the NXT episode (which I recommend), there's also a vignette earlier in the episode that you don't want to miss. On the day of the Last Woman Standing Match, as Asuka was being driven to Full Sail, Nikki Cross jumped on the hood of the car and started pounding on the windshield, trying to get in so she could start fighting Asuka. She was never a woman of restraint.
The match itself is incredibly good, and takes up about half the episode. It's full of the kind of bananas hardcoare shit that makes Last Person Standing matches worthwhile. Asuka literally put Nikki Cross in a trash can, and then kicked that trash can until it was dented and Cross had even less idea what was going on than usual. At one point Asuka was trying to suplex Nikki out of the ring onto a pile of chairs on the floor, but Nikki slipped out of her grasp and between her legs to the floor, and then powerbombed Asuka onto the chairs instead. The match only ended when both women went through the announce desk from the top of a ladder, and Asuka barely managed to stand up. With all due respect to Bayley and Ember Moon, I don't think Asuka was ever pushed to her limit in NXT as much as she was in this match.

3. Nikki Cross and Ruby Riott vs. the IIconics – NXT (September 13, 2017)
This is an impeccable bit of storytelling, and sadly a chapter in a story that never paid off, because Ruby Riott got called up later that fall. Nikki and Ruby had already tried to violently kill each other by this point, but Nikki was in the process of turning face, along with the rest of Sanity. Ruby had been feuding with the IIconics, who were bullying her pretty intensely. She wanted a handicap match against them, but William Regal gave her a tag match instead, and told her to find a partner. Ruby didn't feel like she had any friends on the women's roster, so she showed up by herself and made it pretty much a handicap match anyway.
But then, as Peyton and Billie were getting the better of Ruby, Nikki Cross appeared. She slowly made her way to Ruby's corner, while Ruby looked as confused as anybody. She had no intention of tagging Nikki, but when a weary Ruby was pushed into the corner, Nikki grabbed the hot tag for herself and helped give the IIconics the beating they deserved. Ruby still didn't trust Nikki or want to be her friend, but it seemed she had an ally whether she wanted one or not.
They did this same match again on October 4, with Ruby again insisting that she could face the IIconics on her own and that Nikki Cross wasn't her friend. But this time when Nikki showed up in the corner, Ruby made the conscious choice to tag her in. Sadly, that was where it ended. I wanted to see the journey to Nikki and Ruby becoming best friends, but a few weeks later Ruby was on Smackdown being best friends with Sarah Logan and Liv Morgan instead. That's always the risk of NXT storytelling.
4. Nikki Cross vs. Shayna Baszler for the NXT Women's Championship – NXT TakeOver: Chicago II
Nikki was always called NXT's Twisted Sister, but in this feud she proved herself to be unapologeticly perverse on a level nobody saw coming. The subtext became text, and Nikki Cross became the literal embodiment of the horny fans who tweet "choke me daddy" at their favorite celebrities. Shayna Baszler had been NXT Women's Champion for a couple of months by this time, and her whole thing was sadistically causing her opponents as much pain as possible. She did her best to break her opponent's arms if she could, and generally loved to see them squirm and cry.
Nikki loved pain too, but she enjoyed receiving it as much as, if not more than, dealing it out. In the run-up to the match, Shayna and Nikki had a confrontation in the ring, and when Shayna threatened her, Nikki begged, "Do it, do it Shayna! Please do it!" while Baszler looked increasingly uncomfortable.
It's not that Nikki wouldn't have liked to finally win the NXT Women's Title. She put in a solid effort to do exactly that in the match But for Nikki it was always a win-win scenario. Either she'd be Champion, or Shayna would have to hurt her which would be almost as fun. So when Shayna caught Nikki in the Kirifuda Clutch, Nikki struggled for a bit, but then when she realized there was no escape, she started to smile. Daddy was indeed choking her, and she was into it. Gripped tightly in Baszler's strong arms, Nikki Cross went happily to sleep.

5. Nikki Cross vs. Mercedes Martinez – NXT (October 31, 2018)
Mercedes Martinez has never signed with NXT, but she's made occasional guest appearances that always result in amazing matches, because that's what you get when you hire Mercedes. This one came during the storyline where Nikki had witnessed Johnny Gargano sneak-attacking Aleister Black, and kept the secret while bragging about knowing until Aleister demanded the truth. That's why Candice LeRae showed up after Nikki defeated Mercedes to chide her for "messing with people's lives" or whatever.
But to get lost in all that would be unfair to this match itself. Even if it was just happening to give Nikki an opponent to beat before Candice comes out, they gave it enough time to be something. Specifically, it was one of the greatest women wrestlers on the independent scene giving her all against the most high-energy, aggressive woman in WWE and just barely coming up short. The pace of the match was really something else, and just watching Nikki and Mercedes scream wordlessly throughout it demonstrated how into it they both were. Go watch the whole thing if you haven't (or even if you have).
6. Nikki Cross vs. Candice LeRae – NXT (November 21, 2018)
This match, a dark match from WarGames that became part of the post-TakeOver episode in the usual NXT fashion, was the payoff to Candice being mad at Nikki for snitching on her husband to the devil himself. I don't love that setup, to be honest. It casts natural babyface Candice in a weird light, because Johnny really did attack Aleister, and what was Nikki supposed to do — not tell the scariest guy in the world who attacked him when he asked?
Still, all of that is easily forgotten once the match gets going, because it's a fast-paced 12 minutes of two amazing wrestlers giving it their all. You may not remember this detail, but Candice LeRae in this match was the first person ever to kick out of Nikki's finisher, the Purge. In a lot of ways, this losing effort against Cross feels like the beginning of an underdog Candice push that never really got going. I'm also a fan of Candice trying to powerbomb Nikki off the ropes, realizing it's not going to work, and backing up a bit before turning around and suplexing her instead. Sometimes wrestling is just a matter of knowing which side to grab people from.

7. Nikki Cross vs. Bianca Belair – NXT (January 9, 2019)
This was Nikki's final NXT match, after being announced for the Main Roster but before officially debuting. Bianca Belair was the perfect person to put over on her way out, because Nikki owed her one. This was their third match, and the first one with an ending. They first fought on September 12, 2018, and it got so brutal outside the ring that it ended in a double count-out. Then they fought again on October 17, but Aleister Black interrupted to demand answers from Nikki. Both of those matches are worth watching (and so is that Aleister segment — he and Nikki have a delightfully weird chemistry), but this is the delayed resolution.
No Aleister Black this time, and no match-ending shenanigans. Just a solid ten minutes for Nikki and Bianca to give it their all. These two make a great contrast with each other. Bianca is an intimidating opponent because she's cold, calculating, and mindblowingly muscular. At this time she was also undefeated. Nikki's intimidating because you never know what she's going to do and she doesn't care if she hurts herself doing it. My favorite moment of this match is when Nikki manages to hit the Purge, and Bianca immediately rolls out of the ring before she can be pinned, leaving a frustrated Nikki in her dust. It helps keep Nikki looking strong on her way to the Main Roster (not that it mattered for the next several months), but it also demonstrates what a smart opponent Bianca is, which works to her benefit as well. All things considered, this match is a great send-off for Nikki, after more than two years as a mainstay of NXT.
8. Nikki Cross vs. Bianca Belair vs. Toni Storm, Triple Threat Match for the NXT UK Women's Championship – WWE Worlds Collide (April 24, 2019)
The Worlds Collide specials that were shot at WrestleMania Axxess this year were kind of ignored and forgotten, which is a shame because there's some great stuff in there. This Triple Threat was the Main Event of the all-women episode, and it's a standout despite the fact that nobody really thought Toni Storm might lose her Title at Axxess. I do like the idea that Nikki might have a chance at that belt eventually (she is from the UK, after all, unlike the two Australians who've held the belt so far), but that's for down the road. This is just a great chance to see Nikki in the ring with two great opponents.
Longtime rivals Nikki and Bianca even kind of work together a little, or at least Bianca's willing to use Nikki as a weapon. She picks her up and plants her directly on Toni, then realizes her mistake when the Ref starts counting and pulls her back off. There's also a great moment when Bianca's about to pick up Toni, and Nikki jumps on her back like she loves to do. I was hoping we'd see Bianca lift both women at once, but it doesn't reach quite that level. What we do get is enough to make me want more of Toni Storm fighting either/both of these women, and honestly I wouldn't mind even more Nikki versus Bianca either.
So there you go, eight great Nikki Cross matches. And again, this isn't about hating on her current work with Alexa Bliss. I love seeing them as Tag Team Champions, and I hope they get a chance to fight some new opponents and finally build a proper women's tag division. But when Nikki eventually goes solo again, I'm not going to be sad about that either. If there are any more Nikki Cross moments or matches that you love, let me know in the comments.