AEW Full Gear, the first pay-per-view event of the Dynamite era from All Elite Wrestling, airs this Saturday, November 9. The show features an unsanctioned "lights out" match, Cody Rhodes challenging Chris Jericho for the AEW Championship, a real dentist, and more. Make sure you're here all weekend for our ongoing coverage, including an open discussion thread, results, and more.
AEW Full Gear Card:
1. AEW World Championship Match: Chris Jericho (c) vs. Cody. If Cody loses, he'll never challenge for the AEW Championship again
2. AEW Women's Championship Match: Riho (c) vs. Emi Sakura
3. AEW Tag Team Championship Match: SCU (c) vs. Lucha Bros. vs. Private Party
4. The Young Bucks vs. Santana and Ortiz
5. PAC vs. Hangman Adam Page
6. Lights Out Unsanctioned Match: Kenny Omega vs. Jon Moxley
7. Joey Janela vs. Shawn Spears
8. Buy In Match: Dr. Britt Baker DMD vs. Bea Priestley
As always, we've got your complete rundown of the card and analysis below, featuring predictions for all eight matches. This time around we're including one of our soon-to-be returning writers, Scott Heisel, and one of our new voices, Marcus Gilmer.
How To Watch
AEW Full Gear starts at 8pm ET with the one-hour Buy-In pre-show starting at 7. The Buy-In is available to stream for free on YouTube, FiteTV and ITV4. In the U.S., you can watch Full Gear on Bleacher Report Live, or via traditional pay-per-view carried by all major satellite providers. Remember that? Fans in the UK follow a similar path, and can buy the show for £14.95 via ITV Box Office, Virgin TV or FiteTV.
Buy In Match: Dr. Britt Baker DMD vs. Bea Priestley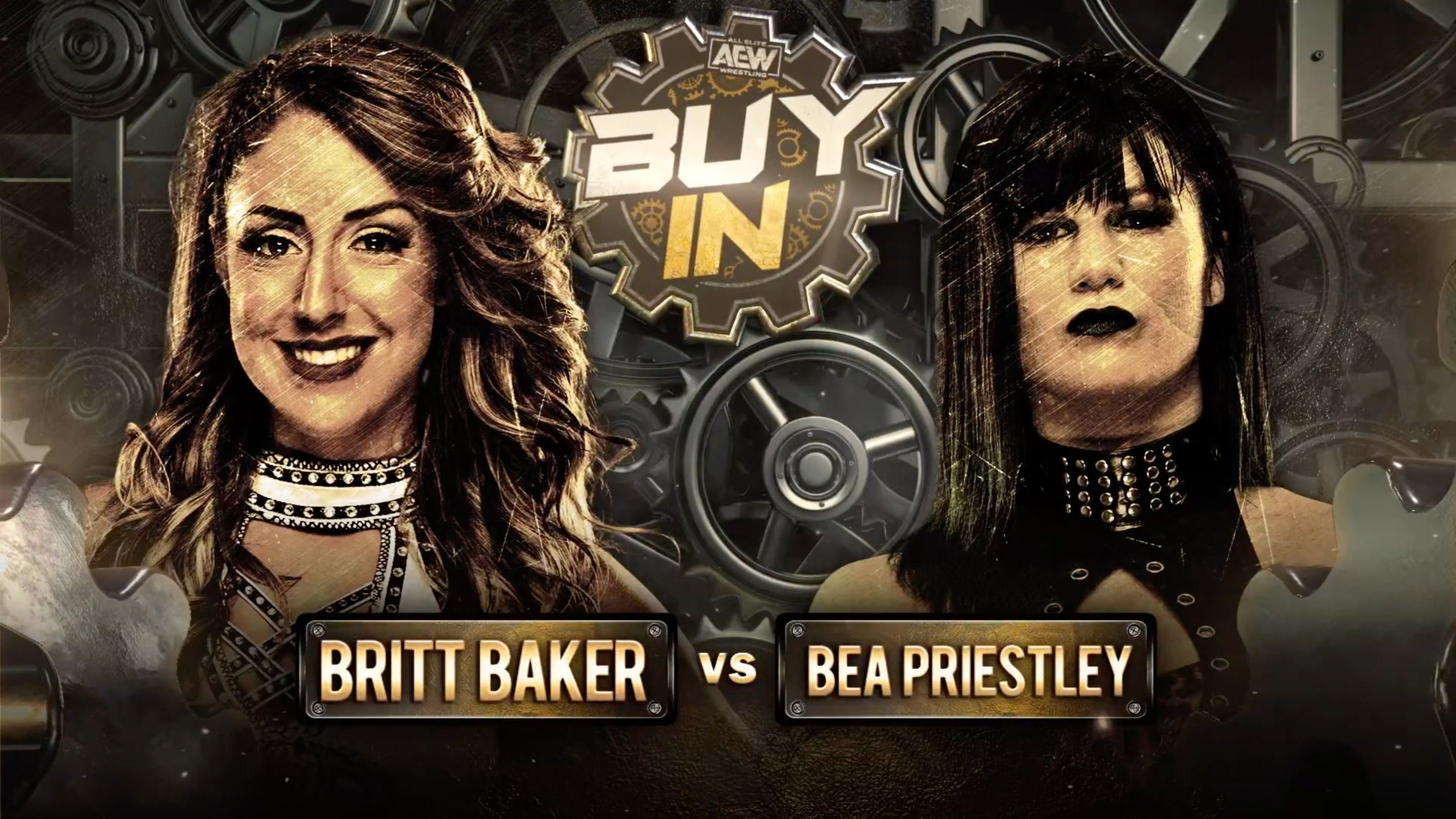 What You Need To Know: Britt Baker is a dentist. No, like an actual dentist in real life. Not a wrestling dentist. Well, she's a "wrestling dentist," but not a wrestling dentist. She does dentistry, basically. She's finally getting to square off against Bea Priestley, one of AEW's surprising number of goth wrestlers who seems to viciously and for-real hurt Britt every time they're in the ring together. Either Britt Baker's going to get a measure of revenge, or Bea Priestley's going to put Britt in a body bag.
What Will Happen: Bea Priestley has Baphomet on her side, but Britt Baker (who is a dentist) has a finishing move where she puts her entire hand in your mouth and it kills you instantly. It's like John Cena's Lightning Fist, but internal. Baker rolls, and hopefully Bea runs into Jamie Hayter backstage and they decide to go into goth tag team business for themselves.
Staff Picks
Emily Pratt – Based on their past work together, I am not looking forward to this match, but maybe their past concussion incidents will lead to Baker and Priestly being extra motivated to go hard and kill it here. That's what I hope happens. For the result, I guess it would be ideal if Priestly won this match and got powered up as a heel because she's a better and more popular wrestler than Baker right now.
Marcus Gilmer – Ah, the classic revenge match wherein one competitor gets the chance to avenge an injury suffered at the hands of their opponent. I think Britt gets the win here to get back at Bea for that concussion.
Elle Collins – It's a real shame they didn't replay Britt's promo about this match from Dark on Dynamite (or just put it on Dynamite in the first place) because it was great, and sold me on her more than just about anything has so far. The Doctor is definitely winning this match, possibly by putting her hand all the way down Bea's throat.
Scott Heisel – As a proud Clevelander, I legally have to root against anyone from Pittsburgh. Sorry, Dr. Baker. Besides: Bea, aggressive!
Joey Janela vs. Shawn Spears
What You Need To Know: Shawn Spears' AEW career to date has been defined by the one time he hit Cody Rhodes in the head with a chair and almost made his brains leak out of the side of his head. Joey Janela is a crazy guy who jumps off of high things onto sharp things and almost got killed with a Cracker Barrel barrel. All signs point to Janela catching a nasty chair shot, presumably behind the referee's back when the ref is like, "oh, wow, is that TULLY BLANCHARD at ringside?"
What Will Happen: This is a tough one to predict, but I like all the different "levels" of the card being represented in matches. This could be a positive step forward for either guy. Having said that, I think Spears needs it more, as he can't just show up next Wednesday and do a crazy stunt and be just as popular as he was before. If Spears is ever going to seriously matter, he's going to have to start winning matches, especially against guys like Janela. Don't start taking losses until you're up to, like, Adam Page.
Staff Picks
Emily Pratt – I don't care about this or any Shawn Spears match! Sorry! But Janela's great and seems like he should start winning more so he can get more significant opportunities in AEW (under how I think their win-loss record system works? But I guess we'll see?), so I'm rooting for and predicting a Janela win.
Marcus Gilmer – Everybody loves Janela, yeah. But Spears and his chair (and, uh, Tully Blanchard!) feel like they'll take the win and get the build coming out of this.
Elle Collins – This is a hard match to predict, because who knows what plans they have for either of these guys? In the absence of strong evidence I'm picking Janela, just because i Think he's more interesting and he's who I want to win.
Scott Heisel – Can Joey Janela successfully work an interesting match with no stipulation? Stay tuned to find out! I mean, I guess you can, if you want. I'll take this opportunity to season my vegan chili in the crock pot.
Lights Out Unsanctioned Match: Kenny Omega vs. Jon Moxley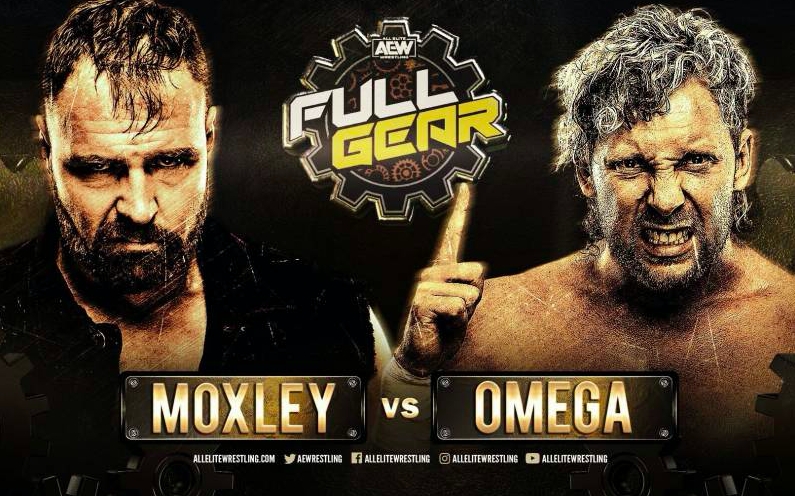 What You Need To Know: Jon Moxley is an already enraged, crazy man driven to the brink of nihilistic madness by a decade spent under the WWE system. He wants to arbitrarily kick everyone's ass, but keeps finding himself stuck in these "unsanctioned" matches where the results ultimately don't "count" toward win-loss records. Which is the entire point of being a wrestler. So now he wants to make an example out of his opponent, and threaten management into giving him his due. His opponent: a guy who loves video games and putting on great wrestling matches equally, who is still probably not taking this match as seriously as he should.
What Will Happen: All I know is that after weeks of teasing, if Moxley and Omega don't sword fight with barbed wire weapons, it's going to be a disappointment. I expect this to tear the roof of the building, perhaps literally, and for Moxley to come out on top again. Him being put into unsanctioned matches that don't count and being mad about it only really works and moves forward if he wins them, and can complain that he'd be way higher up in the standings if they didn't keep segregating his specific version of wrestling violence while rewarding guys like Janela, Darby Allin, and Jimmy Havoc. Plus, I just kinda want to see K.O. go through another glass table.
Staff Picks
Emily Pratt – There are two charismatic and very different wrestlers and I'm interested to see how they work together. I'm also interested to see how far they go with the barbed wire stuff. I don't speak Undertale, but from what I think Kenny is doing with his character, it seems like he will/should lose here.
Marcus Gilmer – This one feels like it could go either way but since its unsanctioned, Omega has protection from another loss on his record so Moxley will get the victory in the next chapter of this blood feud. But just barely.
Elle Collins – Moxley's winning this match for sure. Kenny merely adopted the barbed wire. Mox was born in it, molded by it. Jon Moxley didn't have non-hardcore matches until he was already a man, by then it was nothing to him but a gimmick he wanted to escape from.
Scott Heisel – Kenny Omega and his 15 different entrance themes (seriously, am I the only one who is driven crazy by this? I swear the dude has never walked out to the same intro twice, and it's confusing as hell) has been reduced to just another guy since AEW started. He certainly seems like he needs this win more. But I'd much rather see Mox murk him to give Omega some sort of deeper story, that maybe he really is "just another guy" when it comes to competing in the big(ish) leagues of American wrestling on cable TV. So give Mox the duke, then have him go after Jericho, please and thank you.
PAC vs. Hangman Adam Page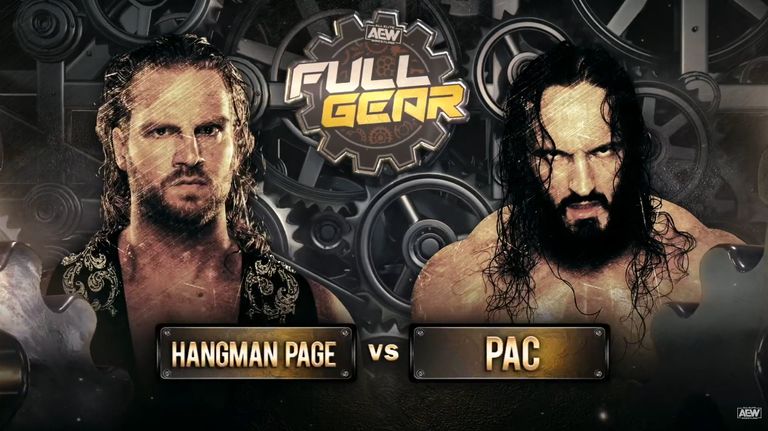 What You Need To Know: Adam Page is a cowboy, and has threatened to do some "cowboy shit" at Full Gear. He's gonna … ride horses and wear jeans! I don't know what cowboys do these days. Lose football games? Regardless, he's going up against PAC, a little British guy who understands how AEW works and is so mad about it. They have a long, entwined history, and this is poised to be the match they've been waiting to have for a long, long time.
What Will Happen: Unless "cowboy shit" involves him literally hanging PAC to death with a lasso, Page is in trouble. PAC is the shit, and I don't like the idea of him losing to ANYONE, especially someone who fans seem to be largely on the (cowboy) fence about. Page needs to win, but should he? I'm probably going to pick PAC in every match. PAC is truth. You could run PAC vs. Satan himself and I'd be like, "well, it's PAC, so." The only thing tripping that up is that Page is wrestling on a pay-per-view named after one of his running jokes/catchphrases.
Staff Picks
Emily Pratt – This match should be pretty good. It feels like Hangman might need some time before he's a possible top guy and PAC already feels like someone who could do top guy things right now, so I'm guessing PAC wins, keeping up his momentum.
Marcus Gilmer – This is the only match on the card I have no clue how to pick. So for the sake of having a pick, I'll say Page gets the win as revenge for PAC's dirty finish from that first Dynamite match and to keep this PPV from feeling to heel-heavy.
Elle Collins – I think it has to be PAC. I don't know where either of this guys go next, but as a handsome babyface Page can take a loss and go into his next feud looking like a bit more of an underdog. PAC needs to be dominant, because what else does he have? I mean yes, immense heel charisma and vast in-ring skill, but being dominant helps keep that stuff in focus. PAC wins.
Scott Heisel – PAC forever, Hangman never.
The Young Bucks vs. Santana and Ortiz
What You Need To Know: Two of the best tag teams in the world — specifically, the best tag team in AEW that didn't get to be in the Tag Team Championship tournament because of when they debuted, and the best tag team in AEW to take a surprising loss in round one — are gonna have a match. It started as "we want to prove we're better than you," but now it's turned into Elite vs. Inner Circle faction warfare on the lonely grave of Ricky Morton, who, presumably, is still stuck somewhere under the Dynamite set.
What Will Happen: It feels like the Bucks are more important cogs in The Elite than "Proud 'n' Powerful" are in The Inner Circle, so maybe the Bucks take it? It's a hard match to call, which is great. I imagine they'll save Jake Hager-ference for the main event, so with Adam Page staring down PAC, Omega likely getting beaten to death by barbed wire, and Cody Rhodes facing the insurmountable threat of MMA GOLEM, this is where you can give The Elite a win.
Staff Picks
Emily Pratt – This match should be sick and full of people doing insane things! It's definitely one of the Full Gear matches I'm most looking forward too. I've never wanted to see The Young Bucks win anything in my life and I rarely want to see Santana and Ortiz lose, so my allegiance here is clear. I also think my desired result might be what we end up seeing in order to set up a longer Bucks-PNP feud, with the Bucks trying to get their win back and/or PNP maybe going into the tag title picture.
Marcus Gilmer – Another loss won't hurt the Bucks' reputation and given what I think will go down in the Jericho/Cody match, this seems like the perfect chance to set up for a big night for the Inner Circle. Pick: Santana and Ortiz.
Elle Collins – Santana and Ortiz should really win this match. Not everybody watches Impact (and during the Pursuit era, nobody watched Impact), and one jobber squash on Dynamite isn't enough to establish the former LAX as a force to be reckoned with. This match should do that. I don't always trust the Young Bucks not to put themselves over, but I'm going to be optimistic this time and predict Santana and Ortiz to win.
Scott Heisel – If you want the Inner Circle to feel like a threat, and to add to the suspense of the main event, Santana and Ortiz have to win this match, likely through nefarious ways (and a healthy amount of interference from Sammy Guevara and Jake Hager). The Bucks could lose 100 matches in a row and it wouldn't have an effect on their popularity.
AEW Tag Team Championship Match: SCU (c) vs. Lucha Bros. vs. Private Party
What You Need To Know: It's a triple threat for the AEW Tag Team Championship, featuring (1) a cagey veteran team with a confusingly insulting catchphrase who won a tag title tournament and became the company's first tag champs, (2) a pissed-off ninja skeleton and his immortal gymnast brother, who seriously should've won the tag tournament, and (3) the Cinderella team of the tournament everyone wanted to win because they were having the best match of every card they were on.
What Will Happen: Give it to the Lucha Bros. Right that wrong. If you need to, have them pin Private Party to win the match and the championship to set up Lucha Bros. vs. SCU two-on-two on Dynamite, or at your next pay-per-view. But seriously, Pentagon and Fenix are next level guys and you're tripping if you don't immediately start promoting them as such. Honestly, I'd be happy if either the Lucha Bros. or Private Party win, as SCU minus Christopher Daniels is a bridge too far.
Staff Picks
Emily Pratt – AEW has made good on all their tag team wrestling promises so far, and I'm most hyped for the tag matches on this card. The only way it makes sense to me if SCU retains if it's part of them continuing to build up Scorpio Sky, so I think that's a real possibility. However, Lucha Bros winning the titles would definitely be a crowd-pleaser. Really, the tag division is so strong I'm just looking forward to seeing how things play out.
Marcus Gilmer – Technically, we're ALL winners just for getting to see this match. It's going to be a tornado of awesome and I am so hyped to embrace such sweet, sweet chaos. The only downside? Just as with the women's title, it feels too soon to take the belts off the champs. The upside? This match is gonna so ridonkulous, no one will care.
Elle Collins – I mean, obviously SCU retains the titles here. They just won them! This is going to be a banger of a match, and somehow the Luchas and Private Party will cancel each other out and SCU will get the pin.
Scott Heisel – It's boring when every champion retains on a PPV, right? Might as well right the wrong that was the tag team championship finals and have the Lucha Bros take what is rightfully theirs. Have them pin Private Party, too, so SCU has a valid claim for a rematch down the road
AEW Women's Championship Match: Riho (c) vs. Emi Sakura
What You Need To Know: AEW has a 95-pound women's champion who will kick your ass. Her name is Riho, and she dances on the sand. She's going up against one of the women who helped train her, Japanese women's wrestling legend and Freddie Mercury cosplayer (not a joke) Emi Sakura. This is going to be good old fashioned Joshi pathos.
What Will Happen: I don't imagine Riho's dropping the Women's Championship until she hands it over to Brandi "The Blair Witch Project" Rhodes and Awesome Kong. It's gonna be super funny when Kong's holding that teeny-tiny women's championship. But yeah, Sakura feels like the person who could have the best match with Riho and not be hurt taking a loss, especially since she showed she could pin the champ in a tag match on Wednesday.
Staff Picks
Marcus Gilmer – It feels like it's too soon to take the title off of Riho so expect a solid match with Riho retaining and maybe an interference (or two) as AEW continues building the women's division.
Elle Collins – Like everyone else, I would have liked to see more of a storyline going into this match. Also, some promos would have been great. Even if they were in untranslated Japanese, I just want to hear these women talk. But anyway, I definitely think Riho's winning. She's really won me over as champ, whereas all I know about Emi is that she's a veteran and she loves Queen.
Scott Heisel – Someone leaves a door open backstage and a stiff breeze comes in off the Inner Harbor, knocking over Riho and giving Sakura an easy pin.
Emily Pratt – Riho and Emi Sakura should be a really good match! But also, AEW hasn't given viewers much reason to care about it besides that Riho's cool and it should be a good match. Two have a student-teacher relationship spanning over a decade and so much story potential, yet their match got announced on Twitter and the whole build was Sakura pinning Riho in a tag match. It's an example of AEW's women's division clearly being the company's last priority. It gets the least screen time, the least story or character development, and the women don't even show up on Being The Elite. Plus, Sakura doesn't even make sense as the next challenger under the whole win-loss system AEW came up with. What gives? I would say "what happened to 'AEW is for everyone?'" but they dropped that slogan a while ago.
Anyway, I hope Riho retains and goes into a feud with Brandi (meaning, goes into a feud where she wrestles Actual Famous Person Awesome Kong) so the spooky Brandi vignettes pay off sooner rather than later and hopefully the women's division gets some more airtime and exposure.
AEW World Championship Match: Chris Jericho (c) vs. Cody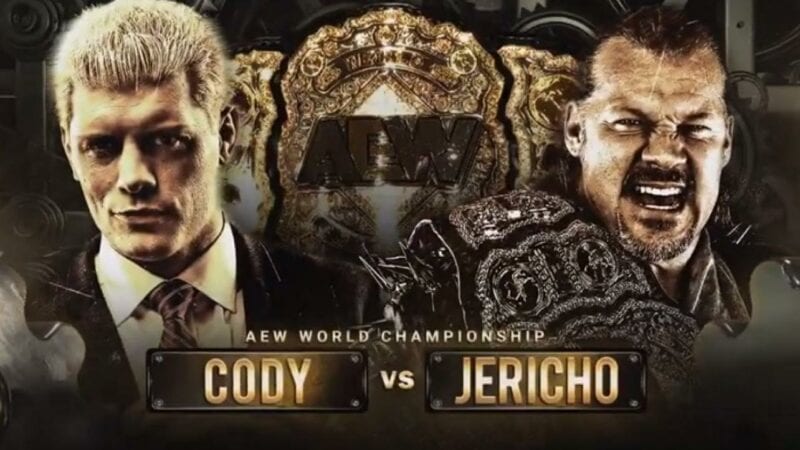 What You Need To Know: Watch this incredible promo. It'll tell you everything you need to know. About the match, about life, whatever. This promo is so good it can teach you algebra.
What Will Happen: There's absolutely no way this ends without The Elite and The Inner Circle doing battle in some way, shape, or form. Cody's AEW matches have been about dramatic storytelling, and the way Dynamite's been running, it feels more like we're building to faction vs. faction in "The Match Beyond" than this one, specific match. That said, I do love the Clash of the Champions drama of establishing a 60-minute time limit and a panel of judges to decide a winner should it go to a draw. If the match ends in a DQ it'll feel really terrible, but would at least give Cody a reason to challenge for the AEW Championship again despite promising never doing so again if he loses. I hate being so beaten down by traditional wrestling storytelling that I'm like, "I hope we see a DQ!" To clarify, I hope Cody kicks Jericho's ass and wins the championship, but evil TNT Chris Jericho as champion still has legs. We've only scratched the surface. Sorry, Cody.
Staff Picks
Emily Pratt – With the panel of judges and Cody saying he won't challenge for the world title again if he loses, it sure seems like Cody should win, but also like things might get weird with this match. Given that Cody vs. Jericho is destined to be a less impressive athletic contest than others on the card and how invested they've gotten fans in their feud, that's probably not a bad thing.
Marcus Gilmer – On the one hand, there's no way Jericho loses the title already, right? On the other hand, there's no way Cody will find himself in a position in which he can never challenge for the title again, right? After the build, though, I expect a –wait for it– dynamite match, though some Inner Circle omfoolery should be expected and I think Jericho retains.
Elle Collins – This could kind of go either way, depending on what plans Jericho has involving Fozzy and NJPW, but I feel like there's a lot for him to do as Champion, so I'm picking Le Champion to retain. Anyway, when he does drop the belt it should be to an exciting new star who can use the rub, not Cody. And when Cody eventually does challenge for the AEW Championship, it will probably be as a heel, so it won't matter what promises he might have made.
Scott Heisel – I'm not sure how I was gonna watch Full Gear before Tuesday, but after Cody's promo and Chris Jericho's video package, I am fully ready to spend $50 to order it on pay-per-view. Given Cody's one-sided stipulation he put on the match himself (in classic dumb-babyface fashion), it certainly seems like Jericho will take the dub. His run as champ has been so entertaining that it seems mind-boggling to stop it now. Of course, the other stipulation, and one that hasn't been talked about a ton on TV, is the one-hour time limit with three judges scoring the fight in case it goes the distance. Will AEW really put a 60-minute broadway on their first major PPV since their primetime TV show started? I mean, Cody is Dusty's son, so… Okay, so final prediction, Jericho retains. I certainly hope it doesn't take an hour to get there, though.
There you have it. That's what we think will go down at AEW's first pay-per-view.
But what do you think? This is a give and take relationship, people. Drop down into our comments section and let us know your picks for the various matches, and make sure you're here this Saturday — again, Saturday, not Sunday — for Full Gear. We'll have an open thread, breakouts, results, an Ins and Outs column followup, and more. Which bubbly Chris Jericho chose for his post-match celebration: low calorie, or better taste? Be here on Saturday to find out!