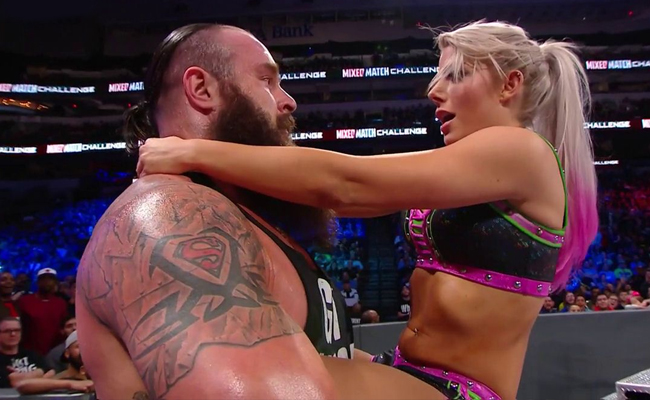 Tonight after SmackDown Live is the Season 2 premiere of WWE's Mixed Match challenge! If you watched the first one back at the beginning of this year, you know that one of the most charming parts of the mixed tag tournament was the tentative flirtation between Braun Strowman and Alexa Bliss, who called themselves Team LittleBig. So it was exciting to hear that this new season's opening match was going to feature a reunited Team LittleBig facing off against two surly Canadians, Kevin Owens and Natalya.
Unfortunately, WWE announced this morning that Alexa Bliss isn't medically cleared to compete due to a lingering arm injury from her match with Ronda Rousey at Hell in a Cell. According to WWE's official video, she'll be replaced by Ember Moon.
It's a little weird, because the idea that Alexa got hurt against Rousey and we're not hearing about it until today absolutely sounds like a storyline rather than a legit injury. But WWE knew all along that the Mixed Match Challenge was starting this week, and that Team LittleBig was a fan favorite the first time around. Surely if this is all storyline, they could have found a way to do it without getting in their own way. Of course, it could just be that the people making creative decisions about Monday Night Raw don't care much about how it effects the Mixed Match Challenge.
On the other hand, it's always great to see Ember Moon get a spotlight, and the possibility of an Eclipse off of Braun Strowman's shoulders would make it all worthwhile. In any case, as of now there's no reason to believe Alexa Bliss will miss any more than the first match of the tournament, so she may well be reunited with Braun in the weeks to come.