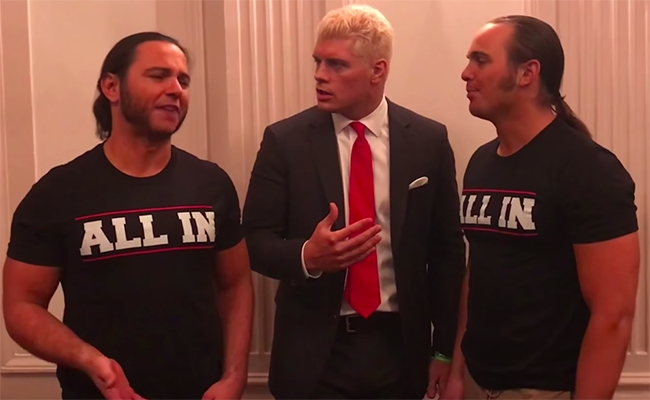 For a while now, we've known that Cody Rhodes (or just Cody, if you're legally advertising him for a pro wrestling show) and the Young Bucks have been planning an absolute whopper of an indie wrestling show. It's their goal to fill a 10,000-seat arena without official backing from any established company. And you know what? They just might pull it off.
They're not completely alone, of course. They'll have access to a whole host of international talent who work in Ring of Honor and New Japan, like Bullet Club buddies Marty Scurll and possibly the hottest wrestler in the world, Kenny Omega.
We know a handful of the people who will be involved, we know that the Bullet Club presence will be significant, and we know the date (September 1, which sadly doesn't land after when Daniel Bryan's WWE contract is reported to be up). But until now, we haven't known the venue or the host city, although most rumors had tapped Chicago.

Late on Monday night, Cody and the Bucks made the big announcement in the latest episode of "Being the Elite" (beginning at about 13:18 in the below video) and on Twitter.
The host city is indeed Chicago, and the venue is the Sears Centre Arena. The multi-purpose arena is the home to the Chicago Bulls' G League Affiliate the Windy City Bulls, and the Major Arena Soccer League team the Chicago Mustangs. As promised, this is a 10,000-seat arena; it actually has a capacity of 11,218 — although that tends to vary based on whatever setup and stage situation the All In boys have planned for us.
Yes, it's in Chicago on September 1. Let the CM Punk rumors be fruitful and multiply.