Previously on NJPW: The reality of Will Ospreay: Giant Killer set in, two-thirds of Apollo 555 showed they still have the goods, and Iizuka rampaged his way into retirement.
You can watch New Japan Pro Wrestling shows on their streaming service, NJPW World, which costs 999 yen (about 9 USD.) They feature a different free match on the site every week and you can do a free trial month, so it's a pretty easy service to test drive. You can also watch certain NJPW shows on AXS TV.
You can keep up with With Spandex on Twitter and Facebook, follow our home site Uproxx on Twitter, and even follow me on Twitter @emilyofpratt. And don't forget to share this column on Facebook, Twitter, or whatever social media you use! Also, leave a comment with your thoughts on the show and/or article! All feedback is appreciated and will help us keep up the NJPW coverage.
And now, the best and worst of the NJPW/ROH Honor Rising shows from February 22-23, 2019, at Korakuen Hall, which were sure about six hours of television that I watched.
Best: Candy From Babies
This is the most New Japan hipster take, but arguably the best bouts of these shows were the Young Lion matches! Those of us who looked at the cards beforehand and saw Marty Scurll vs. Ren Narita and Zack Sabre Jr. vs. Shota Umino opening February 22 knew exactly what we were getting and we ended up getting the best versions of those things. Pitting Narita against another technical junior like Marty makes the most sense, and I enjoyed the delay of the Chicken Wing finish a lot.
Sabre vs. Umino is even more of an on-paper mismatch. After a special Honor Rising English-version of his usual hype man promo from Taka Michinoku, we settle in to watch Red Shoes Jr. show fighting spirit until death by body horror – right after he kicks the bejesus out of Michinoku, making him an immediate huge hero. ZSJ ending a test of strength by stepping on one of Umino's hands is a perfect ZSJ move, Umino suplexing his way out of a Guillotine is perfect for what we know of him so far, and Sabre's offended promo about wrestling "that disgusting Young Boy" is icing on the cake.
The weird thing about these matches to me was that Scurll wasn't doing something more important with his time back in NJPW. I know these were ROH crossover shows that were supposed to give the Japanese audience an ROH live experience, but it was still weird to see Scurll return to Korakeun and yell "I'm Mr. Ring of Honor, who are you?" when he has such a strong history in NJPW, albeit mostly alongside guys who aren't there anymore. The dude's accomplished so much in the Junior Heavyweight Division, but he's like, "RESPECT ME FOR THINGS I'VE ONLY SORT OF DONE SOMEWHERE ELSE." When his post-match promo didn't mention Best of the Super Juniors at all I thought he must be jumping to AEW when he contract is up before then, but he addressed New Japan on the second, so I think we'll see him around.
Mostly Best: The Year Of The Octopus
For most of this short tour, like Fantastic Mania, New Japan angles were put on hold, but there was one, the Junior Heavyweight Championship feud, that got one big development that also managed to involve a guy who I have to believe will be in BOSJ this year if there is even one iota of justice in this world, Jonathan Gresham.
Both of Gresham's matches at Honor Rising seem designed to be New Japan auditions for him with the best possible conditions. First he tags with Jushin Thunder Liger against Taiji Ishimori and Robbie Eagles, the latter of whom should also definitely be in BOSJ. Gresham and Eagles, who have worked together before, including in a good match I saw at PWG a little while ago, get do just do their thing. Gresham wins over the crowd and his legendary tag partner so much that he gets a huge endorsement backstage.
Someone link Liger to the ZSJ-Gresham Beyond matches! And speaking of those, and also a future/current ROH rivalry judging from their Final Battle match, Gresham gets another layup opportunity to make an impression in NJPW when he and Henare team up against Sabre and Michinoku on the 23rd. Ultimately, this tag match isn't even as memorable as his first, but the audience gets into Sabre and Gresham mat wrestling the bejesus out of each other. It's cool to see Taka dust off his Actual Great Wrestling Skills against the new opponent too before Gresham submits him with an Octopus Hold.
Oh, and the other thing that happened in the first tag match with Liger tagging in to almost immediately ROLL UP ISHIMORI, caused Ishimori to LOSE HIS ENTIRE MIND in such a completely out-of-nowhere ending for a New Japan match is a great moment. Now we've seen there's a physical way Liger can hang with the Bone Soldier and he's severely psyched him out for good measure. Their Anniversary Show match result is feeling less certain all the time.
Mostly Best: The Real Dream Team
Last year's Honor Rising included Delirious, Cheeseburger, and Liger challenging G.o.D. and Fale for the NEVER Openweight 6-Man Tag Team Championship. This year, Delirious, Cheeseburger, and the New Japan-debuting Colt Cabana challenge Taguchi, Yano, and Makabe for the same titles. Cabana's such a quintessentially Midwestern wrestler that if you haven't seen him wrestle outside of the U.S., you might think his gimmick wouldn't get over internationally. But just kidding, this dude is great at what he does and, having worked in Japan a bunch, most recently for DDT, knows exactly how to stay true to his gimmick while adjusting slightly for the Korakuen crowd.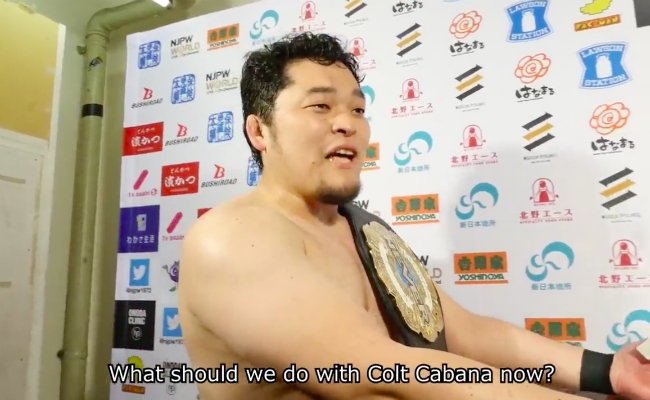 The trios title match ends up being a match that happens but crucially leads to the god-tier comedy wrestling alliance of Yano and Cabana for the following night because the curry producer doesn't know what else to do with this guy after a Low Blow Misunderstanding. Cabana and Yano go full clown shoes in their tag match, and the very silly slapstick provides some variety on the otherwise serious card. Yano's severe distress at Delirious doing Delirious things is great, and Cabana ends up getting even more over than Tokyo's beloved Cheeseburger, over enough that his inclusion in this year's New Japan Cup isn't too much of a head-scratcher.
Also On Honor Rising
We have now reached the part of the article where I have to explain why I don't spend some of my limited wrestling subscription service money on Honor Club and also why a lot of this article has the tone of "… sure!"
Since this is The Best and Worst of NJPW, this was always going to be a more NJPW-centric review of the dual-branded show. But also, very little ROH is doing creatively interests me at all. A lot of good wrestlers work there – the post-Elite roster additions of Rush, Bandido, PCO, Tracy Williams, and Brody King excited me for a while, and I'll probably tune in to see what they're up to on the Anniversary Show. There are good matches in ROH, but overall the programming reminds me of how a lot of episodes of Raw have a hell hour of solid matches that are somehow presented in the least engaging way possible.
ROH brings that same energy to Korakuen Hall for Honor Rising – possibly not helped by none of their new guys being able to get visas in time – and it doesn't end up being a good ad for their promotion for viewers outside of maybe the live audience. Fantastica Mania 2019 got me to up my CMLL viewing, Honor Rising 2019 will not. So with that in mind, here are some other things that happened on these shows.
On February 22, we see Will Ospreay defeat Dalton Castle to retain the NEVER Openweight Championship in match with the secret stipulation of No Fun Allowed. We don't want any personality from you, Mr. Castle, after your entrance!
Backstage, Ospreay adds insult to Stormbreaker by saying, "I wish I came up with that character. Good character." And now that, thank goodness, we've established that Castle is fake and/or wrestling is fake, it's time for the unfiltered realness of the Aerial Assassin ripping a Bullet Club t-shirt for visual aid against Jay White. Great stuff.
Up next, Jeff Cobb defeats Hirooki Goto to retain the ROH World Television Championship, the title I thought was most likely to change hands on these shows. (An Ishii-in-2016-esque TV title run seemed as likely for Goto in 2019 as anything else right now.) These two go pretty hard and the crowd is respectably into it and meanwhile, it feels like the English announce team is recording a podcast about the match rather than reacting to most of it. I went into this match like "Okay, one hour left to go! One more whole hour! I can do this!" and the mildest, least engaged of all commentary teams sure didn't help me not almost fall asleep by the finish.
Jay Lethal, Hiroshi Tanahashi, and Kazuchika Okada turn out to be charming as heck in the ring together and not at all shabby at the tag teamwork either. Okada and Tanahashi support their new friend in his battle against anti-vaxxers but for wrestling championships, the Kingdom, who torture Tanahashi's nipples in an attack Kelly calls "utterly distasteful" and to which I'm certain at least one person jerked off.
The following night, Marty Scurll defeats Robbie Eagles in a singles match we might see again in BOSJ. Will Ospreay and Hirooki Goto defeat Dalton Castle and Jeff Cobb. Ospreay pinning Cobb feels like a personal attack, but at least Castle has a little more pep in his step. Tetsuya Naito and former ROH tag champion Shingo Takagi defeat Matt Taven and the man who sells this shirt on Pro Wrestling Tees and maybe this will someday tie in with Taven's rivalry with Rush. All these matches seem technically sound.
The saddest nothing match of them all is Jay Lethal beating TK O'Ryan for the ROH World Championship. Lethal's scheduled to defend against Taven on ROH's 17th Anniversary Show, so, of course, he's defending against one of his henchmen first, and this is the match that wins him the record for most defenses of any ROH World Champion. The crowd was into Lethal the previous night but has extremely mild reactions to everything here. Maybe O'Ryan will become a big thing in the future, but this was even less of a great look for him than the champ.
Worst: LIFEBLOOD PUMPING HOT
The actual worst part of Honor Rising, though, has to be Juice Robinson, David Finlay, Tomoaki Honma, and Toa Henare vs. G.o.D. and the Briscoes. Robinson and Finlay have been over in ROH for a while this year and have formed a stable called LifeBlood, which is about bringing honor back to Ring of Honor. The guy who won his first championship by illegally hitting a guy with his cast is now very committed to handshakes! He and everyone else in the stable have just started working for ROH except for Tenille Dashwood, in contrast to their main enemies, people who have worked there way longer.
Despite being very committed to honor and having had all the fun sucked out of his entrance gear, Juice is thankfully still a goofball and fun to watch wrestle. What's not fun to watch is the infighting between G.o.D. with the formerly Chaos-aligned Briscoes. "They're both against Lifeblood and they're both on the wrong side of the law," commentary explains, so I guess maybe they thought they could be friends now, but they were wrong! Also, I would like a man-on-the-street-type video in which all of the Bullet Club are asked to give their views on LifeBlood with no hints as to what it is!
The gist of this unmemorable eight-man this turns out to be that Juice rolls up a Briscoe for the win after Jado accidentally hits him in the head with a kendo stick. The ROH vet goes after Jado and the just-returned Hikuleo and G.o.D. beat him up, because Bullet Club is about FAMILY now, and Jado is an extremely beloved relative who must be protected at all costs! After watching the final segment of February 23, it's clear they're really setting up a thing here, but at this point it all seems like nonsense and sweary yelling.
Here's A Thing We Already Care About!
The next part of said thing is the IWGP Heavyweight Tag Team Championship match between champs Evil and Sanada and challengers Tama Tonga and Tanga Loa. That ROH World Championship match had just happened and when this match graphic hit I was like, "Yay, I care about this! This will wake me up! Also, I didn't notice the new G.o.D. entrance video starts with a shot of a helicopter until just now!"
The crowd, who generally sounded like they had a better time watching these shows than me, is into this match throughout. Our goth heroes keep getting beat up by the heels enough to get the crowd invested, then shine just long enough to excite them, but not enough to really change the momentum of the match. All these guys work well together, and by the time Evil and Sanada escape the Super Powerbomb and pose it feels like they're about to make one of their signature winning comebacks.
The race to the finish has a lot of moving parts and some exciting counters of finishers, but a Super Powerbomb with Jado holding back Evil outside the ring to make it super dirty while Sanada gets pinned makes the Guerrillas five-time tag champs. They just wrestled a good match, but in the greater NJPW scope of things, it's a result that immediately makes you think, "Why?" and "Again? Right now?" Evil and Sanada are such a hot tag team that it seems odd to take the titles off of them so soon. It also seems odd to put the belts back on G.o.D. only around a month after their Wrestle Kingdom loss – did they just lose there to bump up their stats with their next win, or to create that feel-good L.I.J. All Belts aspect of WK 13, or both?
The idea that this could lead to more singles opportunities for Evil and Sanada, running with their popularity in a different way, is an exciting one though. I'd be very surprised to see either of them win the New Japan Cup, but a singles victory for Evil over ZSJ could lead to a RevPro title match for him. Nothing in Sanada's bracket path gives him a title shot unless he and Naito both make it through the first two rounds to face each other on March 21, but it definitely feels like Ibushi's knocking Naito out in the first round, probably leading to an IC title match at Dontaku or maybe Dominion.
A Main Event Tag Title Match!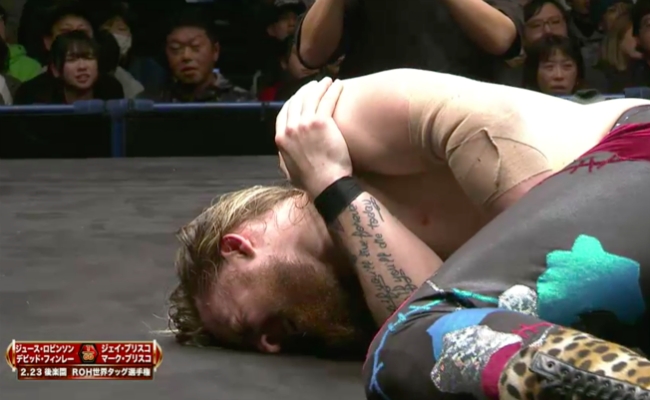 Appropriately, the main event of the last night of Honor Rising is an ROH title match – no, not the ROH title, but ones that people might think could actually change hands. Briscoes vs. FinJuice for the ROH World Tag Team Championship is also hilariously when commentary decides to talk about "so many different cultures… the ultimate melting pot of the professional wrestling" (insert "the two genders" meme but it's "the two cultures" of redneck kung fu and goofy white New Japan dojo grads.)
After a long stretch of Briscoe dominance, FinJuice show that they've developed a lot as a tag team while over in ROH with those rad stereo running cannonballs off the apron, then into the barricades outside. The crowd gets into the higher impact, higher risk finishers and various kickouts and it feels like the teams are working hard to deliver, physically and structurally, a main event match. If you saw this live at an indie show you would pop pretty hard for a bunch of this stuff.
Unfortunately, the finish of the match looks like it's altered at the last minute because, even more unfortunately, David Finlay dislocates his problem shoulder. It looks like it happens as FinJuice do their version of the Briscoes' Doomsday Device, and you can see Finlay be very careful not to take the Froggy Bow that ends the match anywhere near that part of his body. He's still in the New Japan Cup though, so hopefully, he's not messed up too badly.
This match is followed by the champ vs. champ tag challenge that if you read this article about the match announcements for this show, you know I thought was going to happen. G.o.D. accept the match and both teams tough guy it up, with Tama Tonga even threatening to beat up Chris Carlton and his kids at his house if he talks shit about him on social media anymore on his way out. The Guerrillas and the Briscoes YELL REAL LOUD and swear about their upcoming match backstage. These teams last wrestled in 2016 and the IWGP tag champs have developed a lot since then, so I'm sure they're going to work hard to deliver with this at MSG. But is it a money match at all? Probably not!
G1 Speculation For The G1 Supercard
With a little over a month left until April 6, there are only two matches announced for MSG – Jay White vs. [mystery] and G.o.D. vs. Briscoes – er, the winners of the ROH anniversary show tag title match. WrestleMania also only has one match announced, sure, but the G1 Supercard situation feels even weirder because fans don't have a clear idea of what they're getting beforehand. The optimistic possibility is that both companies are waiting until after their respective Anniversary Shows to announce more matches.
The pessimistic one is that NJPW hasn't been able to get visas for the vast majority of their big stars, which doesn't seem too unlikely considering not only the New Beginning in USA situation, but Evil not being able to appear on a Pro Wrestling Force show in Chicago recently and Henare responding to a fan who hoped to see him wrestle for ROH at some point with "hell yeah man I hope so, but looks like uncle trump is making it harder for me and my japanese pals to get in," and also AEW saying they couldn't get visas for Aja Kong and Yuka Sakazaki to show up to the Double or Nothing ticket announcement party.
If none of the Japanese NJPW guys can make it to this, it's going to be a colossal shit show. I know people who have had their lives really messed up by visa issues as they've become harder to obtain over the past few years, but these are wrestling companies backed by a U.S. media giant and a huge Japanese video game company, so it seems like they should be able to get around these issues if anyone can. If not, people still don't really have empathy for corporations. Obviously, if Okada, Naito, and Tanahashi aren't on this thing, people are going to feel cheated and faith in the brand in the U.S. is going to be very low going into the G1 opener in Dallas. Yeah, the show sold out and I'm sure both companies will continue to say it sold out no matter how many people show up, but there are many resale tickets available right now starting at about $60, and that's just after the Elite ditched, and possibly some people rage-sold due to IWGP Heavyweight Champion Jay White.
So that was Honor Rising, and that's my worst-case scenario for the G1 Supercard and New Japan's American dreams! I'll see you back here next month to talk about the Anniversary Show!