Previously on NJPW: Hiromu made new inanimate friends, Naito lost that title he fortunately didn't care about, and Kenny won at life, love, and wrestling.
You can watch New Japan Pro Wrestling shows on their streaming service, NJPW World, which costs 999 yen (about $9.) The show schedule is on their homepage! They also feature a different free match on the site every week and you can do a free trial month, so it's a pretty easy service to test drive. You can also watch certain NJPW shows with commentary by Jim Ross and Josh Barnett on AXS.
You can keep up with With Spandex on Twitter and Facebook, follow our home site Uproxx on Twitter, and even follow me on Twitter @emilyofpratt. And don't forget to share this column on Facebook, Twitter, or whatever social media you use. Also, leave a comment with your thoughts on the show and/or article! All feedback is appreciated and will help us keep up the NJPW coverage.
And now, the Best and Worst of Kizuna Road 2018.
Best: Humans Become Machines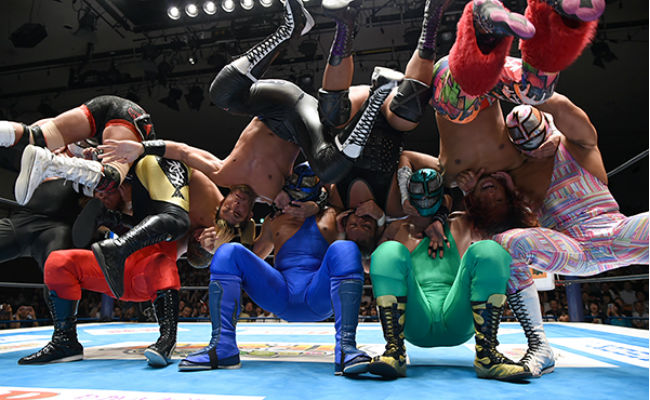 I'll start this review talking about how the televised part of the Kizuna Road tour ends: the retirement ceremony for Super Strong Machine. I wasn't very familiar with Super Strong Machine before this, and so far the only match of his I've seen was the one from 1985 with Fujinami that New Japan put on YouTube for free last week.
Still, the "commemorative invitational" ten man tag of the Machines (Super Strong Machines Don, Justice, Buffalo, Ace, and No. 69 — who are these masked men?) against Los Ingobernables de Japon was fun. We got to see L.I.J in full sullen, disrespectful punk heel mode, trying to unmask all the Machines at once. And we got Taguchi … er, No. 69 coaching, but as a robot. And we got all five Machines suplexing all of L.I.J. at the same time. And we got an important message about the future of pro wrestling: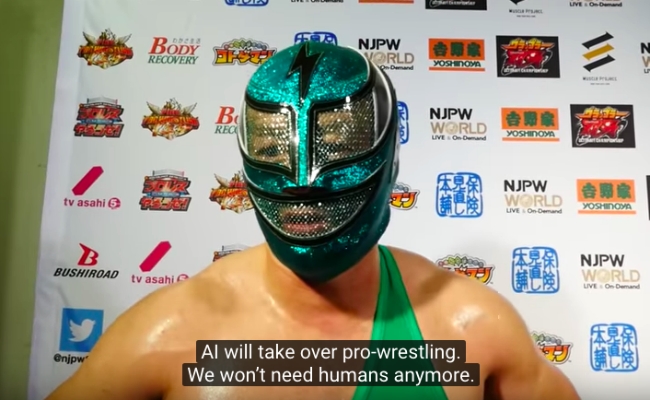 If you can't go out like Ric Flair at WrestleMania 24 (his last ever match; TNA was our collective fever dream), watching other wrestlers honor your legacy and getting in one last lariat (and to Naito!) seems like a good way to go.
After a video retrospective of Super Strong Machine's career (which unfortunately didn't look like one of the things they put subtitles on later, but I hope I'm wrong about this), his former coworkers and trainees gave him flowers in the ring. Super Strong Machine then took the mic and made an emotional speech. He entered the dojo 40 years ago, his "intention was to keep wrestling until I died," but age and injuries prevented this, and he became a trainer. After the ten bell salute, he grabbed the mic again and said he had "one more thing I didn't tell fans or the press." He wants to thank the person most important to him, his wife, Masami, who passed away earlier in the year from cancer. Super Strong Machine, now clearly crying under the mask, and yelled, "Masami, thank you!" up to the sky. Somehow even when wrestlers go out the best way they can, they always go out tragically.
In a match from an untelevised show later put up on New Japan World, Honma made his in-ring NJPW return. As summarized in a moving mini-doc, Honma was paralyzed over a year ago after a neck injury, but recovered and got back in ring shape to the point of having abs again. He, his Great Bash Heel partner Togi Makabe, Tanahashi, Taguchi, and Henare defeat L.I.J. in a ten man tag match. Again, Los Ingos make good special occasion heels because: 1) They are disrespectful punks, so it makes sense for them as characters to be jerks about the special occasion and, 2) They're the most over group in the company, so them being there makes everyone even more hyped for the match.
Honma pushes the rest of his team away so he can make sure to wrestle first, and spends a lot more time in the ring than people usually do in ten man tags. He also spends a lot of time on the ground and getting beat up. It's extremely New Japan and extremely Honma for him to not get to be a big conquering hero in his first match back from being SHOOT PARALYZED. He doesn't even get the pin; Makabe does after a classic GBH finish: the veteran tag team sandwich lariats Bushi, Honma hits him with his Kokeshi diving headbutt, and Makabe takes it home with the King Kong knee drop.
Makabe urges Honma to speak to the people, and the returning wrestler looks close to tears (and remains close to tears for the rest of the show). "I'm home," he tells the crowd, and thanks the fans who have supported his return, because "Since my neck injury, I was losing faith in life, but now I'm here again…" After apologizing if he's getting too personal, he thanks his new wife, Chie, who he says "worked the hardest" during his injury, and is standing in the back and fully crying. At this point, I was also borderline crying. WRESTLING IS EMOTIONAL. LIFE IS EMOTIONAL.

Worst: But How Are The Young Lions Doing?
But wrestling isn't all crying and speechifying and people publicly appreciating their wives. Kizuna Road is a transitional tour between Dominion and the G1, so stakes for most of the many tag matches are lower than usual, and we see a lot of the Young Lions. The best Young Lion matches usually fall into the "surprisingly engaging technical wrestling" category or the "Tiger Mask kicks a kid so hard in the face he starts bleeding from the mouth, and the match had already been over for a minute!" category, and we didn't get either of these on Kizuna Road.
The babiest of the NJPW babies, Tsuji and Uemura, wrestled to two 10-minute time limit draws. I feel like trainers watching from the back probably nodded in approval as Tsuji played up his size against his smaller opponent, Uemora sold pretty well, and they used everything they had to sell their rivalry. We also saw the Nagata vs. Umino and Nakanishi vs. Oka Looper rivalries continue, and man, these were all just lukewarm matches for which the crowd was lukewarm. And how weird is it that the RevPro crossover Strong Style Evolved UK is getting Umino vs. Nagata and Umino vs. Mystery Opponent? British readers, is there some sort of Uminomania going on over there of which Americans such as myself are unaware?
Best: Boner Soldiers
The best thing to emerge from the Kizuna Road Young Lions matches was the new Bullet Club tag team of Yujiro Takahashi and Taiji Ishimori, aka Team Boner Soldiers, and no, I will never stop calling them that. They defeat Narita and Tenzan in their first outing as a tag team, and they're freaking delightful. They're bully heels in a way that's fun to watch, and they have good chemistry in the ring and in backstage promos. The old Bone Soldier gets buried so deep in those that I think he made it to that place in the earth that Bo Dallas believes in where the lizard people have secret pages from the Bible.
Ishimori also reminds us not to write him off as a Chase Owens type now that he's doing Biz Cliz undercard tag matches. This guy doesn't keep his torso Dorito-shaped NOT to be Junior Heavyweight Champion, and he gets offended when Hiromu doesn't choose him as his next challenger. But Hiromu's catnip drew a bunch of other boys to the yard first, so Ishimori has to wait until after the G1 Special in San Francisco. (No part-timers are winning belts at that; let's be real. But I'm excited to watch them try!)
And if Ishimori wins, or maybe in some side-feud even if he doesn't, he's all set up to face KUSHIDA. YES, GOOD. These dudes have only had one (1) singles match ever, when Kushida defeated Taiji via submission on the first night of the Super J Cup in 2016, which he went on to win because he was 2016 Kushida and also New Japan hosted that tournament. Now Ishimori's evil and it's not the Kushida Era of the division anymore, so I think their impending match could be even better.

Best: Roppongi 3K Is Fine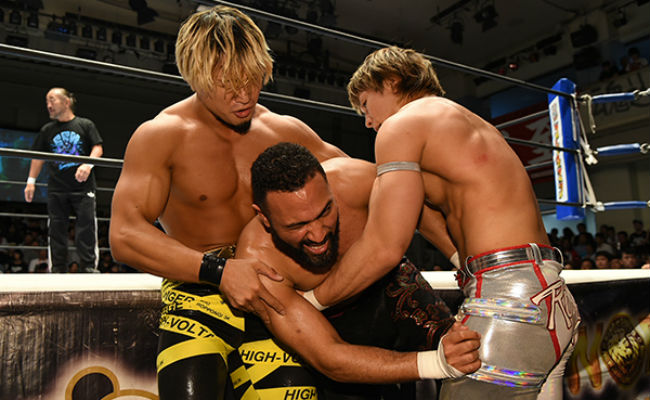 It looked like things might change dramatically for Sho and Yoh based on their performances and development as individual characters during Best of the Super Juniors. But they've returned to their feud with Suzukigun and they still can't beat these cheaters and it's demoralizing as heck. Roppongi 3K feels like they're at a dead end, but one that's being acknowledged in storyline. Is Rocky the reason they can't win? Will Sho snap again and smash Kanemaru in the head with his whiskey bottle or something? It's clear the characters know that something has to change, but what, they don't know.
While they try to figure it out, I'll keep enjoying their tag matches if we keep getting moments like Sho spearing El Desperado after dodging Kanemaru, or Yoh delivering dragon screws to three Suzukigun members in a row before that extremely hot tag to Rocky.
Best: 205 Live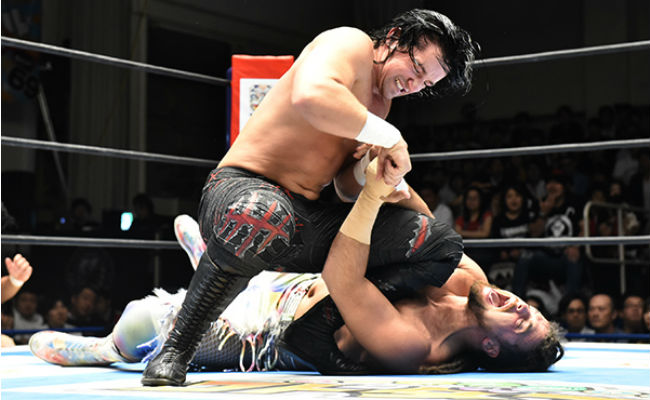 In other Chaos news, Jay White broke Juice Robinson's hand! Or, to put it in a business-exposing way, Juice shoot broke his hand punching a chair after Jay kayfabe tried to break his hand with said chair. That really sucks for him going into a big title match and the G1, but it took this feud to the next level. Exhibit A, the "all heart and nuts" promo that wrestling twitter and Kevin Owens loved so much.
Jay amps up the melodrama with his taunts and promos too, doing Juice's "One more time!" before attempting a second post-match chair attack, yelling "You fail at every step!" at his rival, calling America a "godforsaken hellhole" (okay, that's fair), and doing Juice's signature punches when Juice is unable.
The tag matches on June 17-18 earn Juice sympathy, and one on the 19th tells us he's still a contender. He's prevented from using his dominant hand because his cast counts as a weapon, and he's stumped and dejected backstage after Jay pins him clean with the Blade Runner. Basically, he's in a great place to make a comeback and get the underdog babyface win in San Francisco to become the first American IWGP U.S. Champion.
These Taguchi Japan vs. Chaos tags also include Okada wrestling not as IWGP Heavyweight Champion for the first time in almost two years, and it is WEIRD. Chaos enters to Switchblade's theme, and Okada looks sad and lost, opening his coat up for a second to show off the belt before realizing he doesn't have it anymore. He looks less confident than freakin' Yoshi-Hashi, and his wrestling seems kind of unmotivated. Still, he goes right after Tanahashi on June 18, and finally revs up and just goes HAM on Finlay and gets big cheers during the June 19 match. His G1 performance is going to be really engaging this year.

Best: World Cobb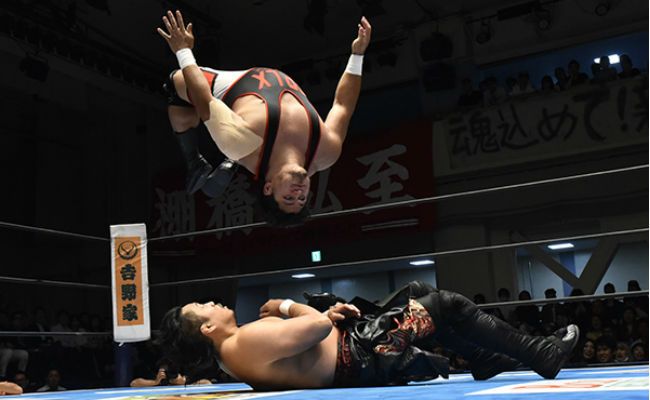 The Taguchi Japan vs. Chaos tags that comprise the NEVER Openweight Championship scene on this tour are more light-hearted, with highlights like a Kushida vs. Sho BOSJ rematch moment, Roppongi 3K making Taguchi run the ropes until he collapses, a clothesline train on Yoshi-Hashi that includes Kushida riding Jeff Cobb, and Makabe and Taguchi doing each other's signature moves together. Yoh also wants Taguchi to join Roppongi 3K after their confrontation and make them Roppongi 4K. I support this 100 percent although/because it would destroy the entire faction ecosystem of New Japan Pro Wrestling.
Most importantly, JEFF COBB IS HERE. Jeff Cobb is the best! From the neck down, Cobb sure looks a lot like a certain monster on a certain subterranean lucha show that Brandon writes about, and I once saw him wrestle Luchasaurus (half dinosaur, half luchador, catchphrase: "Life finds a way") at Bar Wrestling and it made my entire life.
Rocky Romero puts Cobb over wonderfully on June 17. The junior heavyweight's chops are completely ineffective on the Powerhouse of the Pacific (TM Henare; Henare is more excited that Jeff Cobb is here than Jeff Cobb is), his Tour of the Islands reverse-spin scoop powerslam finisher is super cool, and the crowd loves his standing moonsault. And it soon — VERY soon — turns out that this rapid push was for an exciting reason!
Worst: Eight Days A Weak NEVER Openweight Champion
NEVER Openweight Champion Michael Elgin and challenger Hirooki Goto find themselves in the unfortunate position of having the first New Japan main event title match after Okada vs. Omega IV blew everyone's minds. The VTR doesn't even make their feud look exciting, and the New Japan VTR department could probably make a trip to the DMV look like an epic struggle.
Elgin vs. Goto is a solid fight between two solidly-built dudes, and the crowd is reasonably into it. There are a few cool spots, like Elgin's fisherman buster (from the mat) to Goto (on the apron), and Goto's sunset flip powerbomb off the turnbuckle. The end of the match also includes a power out of a sleeper hold by Elgin that was so goofy it completely took me out of the action for a second. Like in the NEVER Openweight triple threat at Dominion, the most fun part is Taichi interfering to attack both men with the mic stand for not inviting him to their party. We hear the crowd react to Taichi full seconds before we see him. Jeff Cobb rescues his fellow big boy babyfaces and challenges for the belt after the match. THAT match is going to be rad; Goto and Cobb really light each other up in the preview tags.
I still don't understand why the NEVER Openweight Championship is the hoss championship though. Shouldn't this be the opportunity for the heavyweights and junior heavyweights to fight each other in singles matches? I wasn't crazy about a lot of Suzuki's 2017 reign with this title, but at least all the gimmicky death matches set this title scene apart in a more memorable way.

Best: Visual Kei Waluigi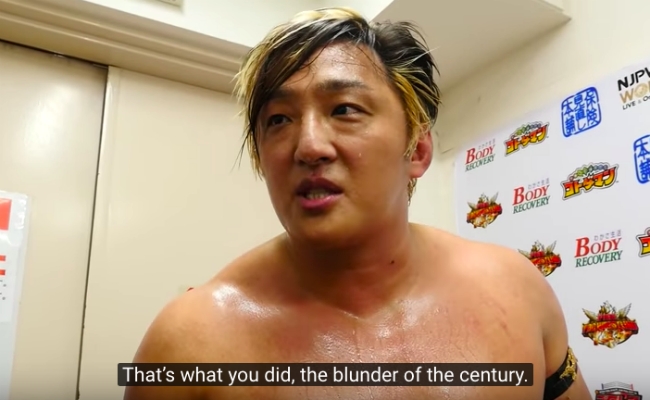 Besides having a tantrum about not being the NEVER Openweight Championship rematch, Taichi has also been having a tantrum about not being in the G1. On June 17 he declares, "I will crash everything," and I hope so much that he continues to do it. Heavyweight Taichi is basically NJPW's new John Cena, if we judge John Cena-ness by the ability to generate dueling "Let's go, Taichi!"/"Go home, Taichi!" chants. Yano and Ishii vs. Taichi and Iizuka (muzzled at the beginning, which I'm pretty sure is elder abuse) contains borderline no actual wrestling, but when Ishii and Taichi have their tough-guy-off it is super entertaining. Maybe he'll challenge for the RevPro title if his boss doesn't win it; he'll be at SSE UK.
Taichi also keeps subtweeting/vaguely threatening Yoshi-Hashi, the G1 Climax 28 pick who got the most backlash. He points out that fans were legitimately upset that he, the Holy Emperor, was not in the G1, and that fans "already said they don't want to see [HEAVILY IMPLIED TO BE YOSHI-HASHI.]" I know NJPW keeps things pretty kayfabe, but when Taichi accused the company of "playing favorites," I'm pretty sure he was referring to Yoshi-Hashi being in the booker's faction. I don't know. But I know that Yoshi-Hashi really needs to crush it in the G1 this year, or lose repeatedly in very entertaining fashion. Also, Yoshi-Hashi should wrestle Roman Reigns. (Also, Taichi should wrestle Roman Reigns.)
Best: Los InG1nables
Kizuna Road sees L.I.J. face Suzukigun in punks vs. dads tag matches yet again, but the power dynamics in NJPW and the Suzukigun team combos are different enough from on the Road to Dontaku to keep these from feeling too stale. Taichi vs. Naito is fun again, and Sanada looks the best he has in a while against multiple opponents. We also see more of Underrated Comedy Wrestler Sanada (who showed up to ROH War of the Worlds too) when Iizuka bites him while in a fireman's carry, and Sanada puts him down and bites back.
Future B Block opponents (!!!) Naito and Sanada eye each other after one of these matches, and Sanada rejects a fist bump of faction solidarity with his punk dad. Kids! They grow up so fast! Naito, of course, spins in a circle with his fist up in the air like he meant to this whole time, but I'm pretty sure he cried about this later.

Kenny Omega Is Not Here To Make Friends And Also Is Not Here
Of all the fun things L.I.J. does on Kizuna Road, the most fun might be this promo where Naito and Evil just completely dunk on Kenny Omega. Omega mocked Naito right after winning the IWGP Heavyweight Championship, called Japanese wrestlers lazy in the post-Dominion press conference, and doubled down on this in the pre-G1 Special In San Francisco press conference. And he doesn't have a leg to stand on about this at all besides that three Canadians won titles at Dominion … and one of those dudes already lost his back to Mr. Japanese Pride.
Internet discourse about Omega's recent promos got pretty heated at one point, so let me clarify that I am talking about FICTIONAL CHARACTER Kenny Omega here before I continue.
Kenny Omega's first IWGP Heavyweight Championship run is off to a bad start. Naito points out that he called Japanese wrestlers lazy because they don't travel as far for work (in the same promo, Kenny reminded us that he lives in Japan now), but he is not wrestling on the Kizuna Road tour. Instead, his first appearances as champ are at video game conventions, although he is wrestling [L.I.J. guys!] at one of them. Meanwhile, the two Japanese Bullet Club members (one of whom just killed it in BOSJ and has yet to be acknowledged by his "faction leader" or Cody) are holding it down for the team.
According to Cagematch, at the time I'm writing this, Kenny Omega has wrestled 20 matches in 2018, most of them in NJPW, which is way less than the rest of New Japan's big four. Okada has wrestled 67, Naito 78, and Tanahashi, who has had a reduced schedule because he took time off for injury recovery, has wrestled 48. Heck, even 50-year-old freelancer and leader of the other invading heel stable Suzuki has wrestled 65 matches in NJPW this year. Omega took New Japan Cup off to deal with Bullet Club issues, which were not resolved during that time, to put it mildly. And in his most recent press conference, he said he doesn't need to be at house shows as champ to promote the New Japan brand due to the quality of the roster right now. This is probably true, but Okada did all those preview tags and house shows while elevating the IWGP Heavyweight Championship to nigh-untouchable heights. It takes two to have those six and seven star matches, and one of those has been a workrate guy this year and one of those hasn't!
In conclusion…
Like 75 percent of WWE's anti-Brock Lesnar promo content also works on IWGP Heavyweight Champion Kenny Omega, and I think he's going to pay for it sooner rather than later.
Best: Boys Before Flowers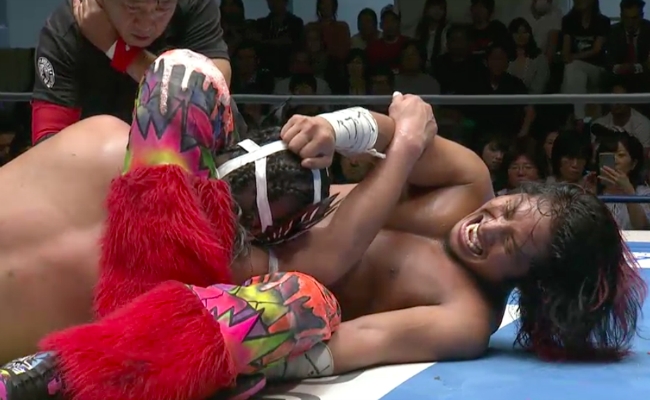 The best match of Kizuna Road was between our [workrate] IWGP Junior Heavyweight Champion and the masked man whose love for him he was devastated to confirm via He Loves Me; He Loves Me Not flower petal game. On June 17th, Hiromu tells El Desperado he'll have a surprise present for him at their title match, which drives Desperado to freak out and attack him. The present turns out to be a bouquet of flowers carried to the ring in a guitar case, which calls back to when Desperado came back from excursion a few years ago to challenge Ibushi. El Desperado again does not appreciate the mixed signals and attacks Hiromu with the flowers, and we're off.
This match isn't quite as insane as their BOSJ main event, but it has moments that get close. Hiromu again takes Desperado upstairs and teases the coast to coast John Woo, but Desperado counters by just nailing him with the guitar case. Red Shoes sends both men back to the ring, and Desperado of course takes every opportunity to attack Hiromu with chairs on the way there.
In the ring, the match continues with an effective mix of foreign object/faction interference, cool wrestling moves, and a strong style strike exchange. It's an exceptionally passionate strike exchange too, with the wrestlers face to face as they rise from knees to feet while really slugging each other. There's a lot of chest-beating and eye contact. Each has things to prove to the crowd, to each other, and, at least in El Desperado's case, to himself. The match's finish ties the whole feud together, with Hiromu using the turnbuckle Desperado uncovered earlier, a D spot, and ultimately the Time Bomb for the win.
After the match, Hiromu says he's proved that he's stronger than El Desperado now, and "Let's make love again, somewhere." Backstage, he yells in the general direction of Mexico for Dragon Lee to come and be his next challenger. And it worked! As for Desperado, he was totally unfazed by being fully unmasked in this match, and it'll be interesting to see what the future holds for him besides being a tag team champion. I'm still wondering where his mask vs. mask match with Lee, the logical next step in this weird relationship triangle after the G1 Special in San Francisco, will go down.
Overall, Kizuna Road was a mixed bag that set the stage for multiple different bags of more consistent quality. I'll see you back here to talk about them, using imagery that will also be of better quality, over the next few weeks!