Previously on the Best and Worst of WWE NXT: Pete Dunne and Kyle O'Reilly tore down the house, Bianca Belair clean and jerked a lady, and the War Raiders almost killed a guy.
If you missed this event (what's wrong with you), you can watch it here. If you'd like to read previous installments of the Best and Worst of NXT, click right here. Follow With Spandex on Twitter and Facebook. You can also follow me on Twitter, where everything is terrible.
And now, the Best and Worst of NXT TakeOver: Chicago II for June 17, 2018.
Best: Undisputed Champions, Or The Unexpected Virtue Of Loney
Before we attempt to wade through Money in the Bank, let's settle into the warm bath that is NXT TakeOver; a show purposefully designed to be an oasis in the endless desert that is, "trying to sell a McDonald's-ass palatable interpretation of pro wrestling to everyone in the world."
It's the kind of show you go into with relatively high expectations for everything on the card, so when something manages to exceed them — which happens more than you'd expect, but as much as you've come to realize — it feels special. That's how I'd describe the opening Tag Team Championship match from TakeOver Chicago II, and then I'd have to type a chaser explaining how yeah, no, it's not even the second best match from the night. That's insane.
If you missed it for some unknown reason and decided to just read about it on an echo chamber wrestling blog, Kyle O'Reilly and Roderick Strong used their unbelievable lack of likability as human beings to defeat Oney Lorcan and Danny Burch, aka Oney and Twoey. It's about as good of a utility tag team match as I've ever seen in NXT, because it avoided a lot of the bigger dramatic tentpoles of DIY and The Revival and accomplished the very old school goal of making championship challengers who might not necessarily be ready for a championship challenge look like the most exciting team in the world. This is EXACTLY the kind of match you have guys like Roderick Strong around for. They can work their asses off, so you put them in a workhorse heel role where yeah, they come out on top in the end — fairly, even! — and by doing so, their opponents look even better than they would've in victory by hanging with the (pardon my lack of better phrasing) top guys.
This was such an important opener. The pace is established early, and an NXT crowd that maybe sat through the hour-long "followup" taping pre-show that they should expect good wrestling with cogent psychology delivered very quickly, or at least at the pace the performers have decided. NXT's always in control of how their show looks and plays, and it's what makes TakeOvers so special. Everyone there gets it, and is along for the ride. There's no need for even the smarkiest smarks that ever smarked to "hijack" the show, because we have a built-in and inherent but also deeply earned trust that the people running the show want it to be great for wrestling fans to watch. A lot of italics in this one, folks. It's two days later and I still can't believe the best wrestling product in the world is a side vanity project from WWE.
Great roles for everyone here. O'Reilly and Strong looks exceptional for being social turd-burglars who are really good at their job. Adam Cole (bay bay) looks like an omnipresent creep, with his "who has one thumb and says 'boom,' THIS guy" thumb entrance and general moral malaise. Undisputed Era look like jerks, but jerks who are having fun, which empowers them. Lorcan and Burch weren't ready to win the straps, but they got the "stick around so we can give you a standing ovation" post-match curtain call. They deserved it. A-plus, on a scale that includes more pluses than is mathematically recommended.
Best: What About Her? What About Raven?
We'll get to Velveteen Dream and Ricochet in a second, but I want to point out how much I liked the NXT Women's Championship match as a "cool down" match, because it cooled down the crowd with a focus on pace and character development instead of just turning down the importance or relevancy. It's not that we don't care about the match, it's that it's a feud based on personalities clashing, and the social stories that develop from that. It's more of a "change of pace" than a cooldown. Does that make sense? I don't think NXT does cooldowns anymore.
But anyway, the story they tell is the one you'd expect. Nikki Cross isn't affected by Shayna Baszler's bully intimidation tactics, and seems like she WANTS Shayna to hurt her. That's where the early "sit on your butt and celebrate" reaction to pain comes from. It's a good way to use your physicality to explain your lack of fear, instead of just saying you aren't afraid over and over. But then Cross starts to figure out that yeah bro, Queen of Spaces is gonna straight knee you in the nostrils over and over until you pass out if you don't tap to something, and the fight gains some urgency. By the time we reach the finish, we get what's amazingly not even the best homage of the night: WCW Souled Out 1998.
For weeks, Raven had been cutting promos about how nobody could understand or "feel" his pain, and he used his gang of grunge also-rans to pick fights with everyone on the undercard. He ran afoul of Chris Benoit, a guy who hurts people so often they call him the "crippler," and challenges him to hurt him. When they finally have their blowoff, Raven ends up in the Crippler Crossface, and instead of tapping or simply passing out, he smiles, then passes out. Because he didn't "lose," he won. He got the pain he'd been looking for.
See also: Nikki Cross.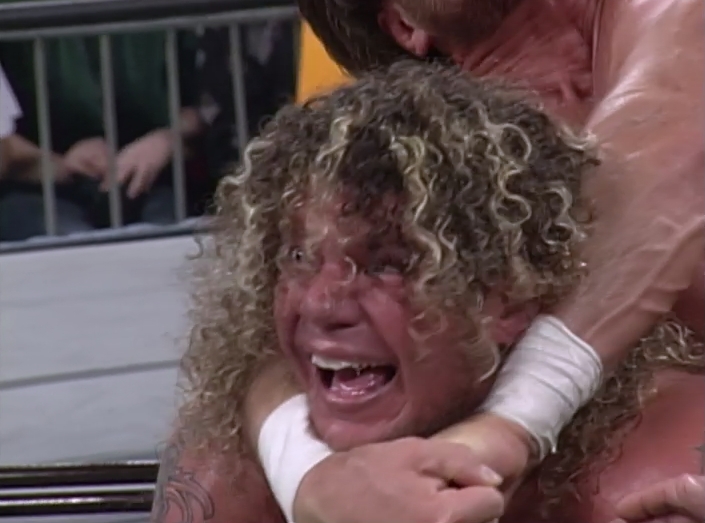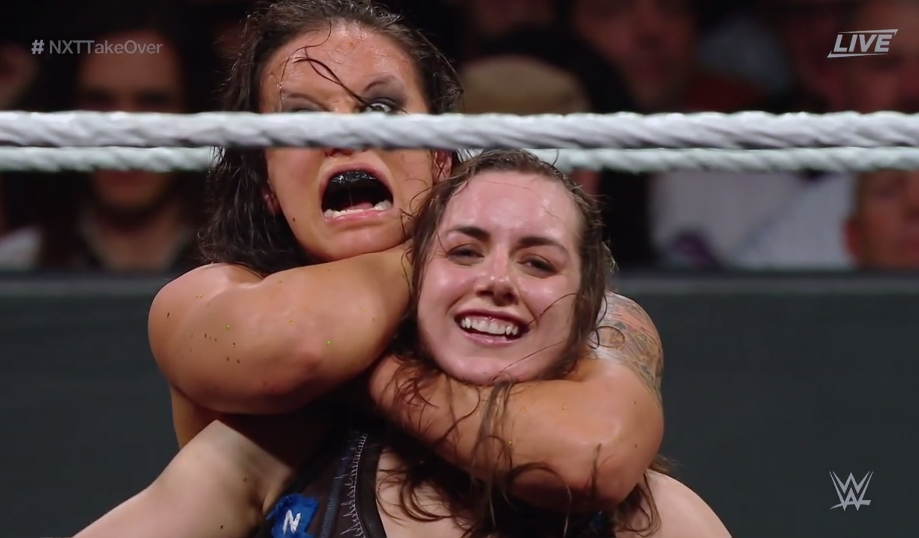 Speaking homage, let's get right to it.
Best: Dream's Still Over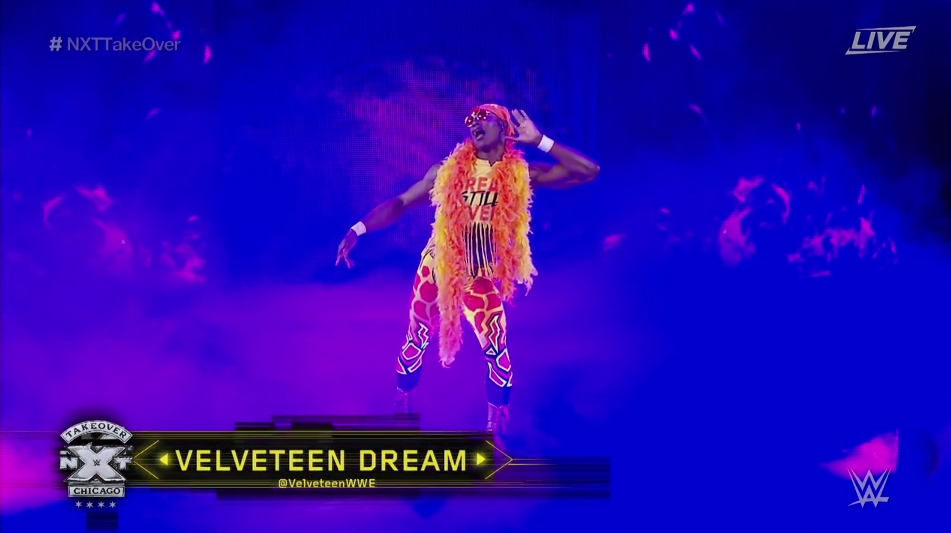 Here we have three of the best things that can happen on a wrestling show:
I'm still not totally sure why these things all came together like they did, but I'm glad I got to see it. We talk about it in more detail in the Money in the Bank edition of McMahonsplaining dropping on Wednesday, but it feels like Patrick Clark maybe understands ring psychology on a level few others do, and managed to connect the dots between (1) Ricochet's past in Lucha, (2) Ricochet referencing that past with bootletg Prince Puma tights at PWG, (3) Dream's believe that being home grown means more than getting indie street cred, which one might gain in Lucha Underground or in PWG, (4) the very real animosity still lingering around Hulk Hogan, (5) an understated comment on Hogan's inevitable return to the company, (6) a line between the Dream/Ricochet rivalry and Hogan/Rock at WrestleMania, which is the WWE established line of good and important crowd reactions, and (7) the assertion that while Dream can be as good as Ricochet, Ricochet can never be the "king" of a sport featuring names like Hulk Hogan, who are synonymous with "wrestling" period to most of the country. Plus, it's Dream's way to saying, "you aren't a legend, and those legends aren't as good as me."
*mwah*
I can't overstate how great this match was to me. It's without a doubt my favorite match of the year, so far. Like Dream's interpretation of a Hollywood Hogan entrance, the match took on an embarrassment of layers, from the illustration of the story that "anything Ricochet can do, the Dream can do better," to the surprising gameplan of Dream abandoning mind games almost completely to take out Ricochet with athleticism. Which is like trying to beat a fish in a fight by drowning it in the lake.
The brilliant bit of psychology here is that the underlying suggestion of "anything you can do, I can do better," is that Dream's not only attempting to prove that to the audience, he's proving it to himself. So he pushes himself to places he wouldn't normally go, and his 100% commitment to a character idea — the defining characteristic of being the Velveteen Dream –pushes his research and effort all the way. Meaning that not only does he have to one-up Ricochet, he's BECOME Ricochet. The tights, the moves, the attitude. There's no back and forth heat segments here, it's literally back and forth MOVES. The ENTIRE MATCH. Nobody gains an advantage until someone straight-up wins. And Dream's forced to go to Ricochet's crazy extremes in the game of one-upsmanship, going so far as to copy Ricochet's MISTAKES. Ric misses a big dive from way too far out, so instead of just capitalizing, Dream has to go up and miss a BIGGER dive from FARTHER away. It's the same amazing and psycho competition vibe from Dream/Black, with more of a focus on the body than the mind. It's incredible. Absolute master work.
Ricochet is a star, but Dream is the shit, man. I'm actively afraid of how good that guy's going to be, and how good he already is. I know they did the Hogan/Rock staredown gag at the beginning of the match for a character goof, but they also probably did it so they can have an NXT section of the big Dream/Ricochet video package before their SummerSlam main event or whatever in three years.
I don't do star ratings, but this one gets five.
Worst: Oh Noooo
Sometimes a badly-timed botch can take the wind out of a match's sails. That was this Black Mass for me, which misses by an entire Sasha Banks but still results in a leg slap and a delayed sell, like Lars had been KO'd in No Mercy. It was the Brock Lesnar WrestleMania shooting star press botch on a much smaller scale. They'd done SUCH a good job building momentum in a match that for all intents and purposes was the least interesting on the card, featuring a fuck-off wrestling Shrek who'd never really had a marquee singles match before. But Lars puts in work and looks exceptional, and Black looks great for not only fighting him toe-to-toe but elevating him … and then he slaps his leg on a kick that misses by a mile and Lars sells it. Brutal. Shit happens, and I'm not sure which one of them the timing is on — Black, I think, since he was in control and Lars had his back turned — but I wish it hadn't.
But yeah, the biggest complaint I have about this entire night of pro wrestling is that one (1) move in one (1) match didn't go as planned. That's an incredible compliment for NXT as a brand and a product, and whoever agents these shows for how well they put the pieces together. It's still a very good match you should watch, and I think if Lars doesn't get one of those random Authors of Pain throwaway call-ups and sticks around in NXT for another year or two, he'll be really special. Also, his valet should be a talking donkey.
Best: Surprise, Gargano Vs. Ciampa Is Really Good
I could go on forever about this match. Tommaso Ciampa and Johnny Gargano are building a weird thesis statement with this feud, illustrating point by point how good a modern pro wrestling rivalry can be. This thing ties back into the Cruiserweight Classic, for God's sake. Not to mention the Dusty Rhodes Tag Team Classic, or their individual attempts at runs in NXT, or their history as a scrappy underdog babyface tag team, and all the physical mannerisms and memorable moments caused by all of it. And of course there are overt references to the breakup, from Ciampa dragging Gargano up the ramp specifically to "turn on him" and toss him into the LED boards again, to Ciampa pulling Gargano up on a ridiculously unrealistic pile of production garbage so he can create the same image of dominance from the turn. The first one worked out better than the second for him.
The thing I loved most here was the misdirect of Candice LeRae. With her doing a "kick his ass" cameo before it started and WWE's suspicious pan around her as Gargano was leaving, I thought for sure there'd be some extraneous marriage drama nonsense. They've conditioned me to expect it. I didn't know if Candice was gonna show up and be a damsel in distress like she's been for too much of the angle, or if maybe she was gonna show up and swerve Johnny, or get physically involved with Ciampa. Instead, despite the tease, she did none of these things, allowing the match to tell its story on its own merits and re-contextualizing Candice as someone who yeah, has wrestled a match or two and maybe won't pass out if her husband falls off the apron and grazes her on the way down.
Aside from the callbacks and the understanding of who these characters are and how they should be reacting to things, the best part of the match is how Ciampa has blatantly gotten into Gargano's head and turned him into the Ciampa of the feud. So the entire thing has been Ciampa trying to make Johnny someone he's not. Someone like him, who has to worry and obsess and suffer. He couldn't do it in New Orleans — Gargano not only won, but offered Ciampa a moment of redemption in the finish, underlining the fact that he was still consciously "above" Ciampa's games — but now he's got Gargano flipping out, interrupting people's matches, being weird to his wife, and so on. He's "not the same person" he was at the beginning of the feud. Here, when Gargano triumphs again and starts feeling badly about having hurt his former friend, he's allowed a moment to slowly realize this dude TOOK OFF HIS WEDDING RING, SPIT ON IT, AND THREW IT AWAY. That's so much worse than mentioning somebody's kids in a promo, right? So Gargano FLIPS THE HELL OUT and goes HAM on him, handcuffing him and superkicking him so many times it started reaching Rock/Mankind Royal Rumble levels of uncomfortable. Ciampa is dead in the water and people are trying to pull Johnny away and let him know he won, FFS, but it's not enough. Hubris and rage drive him back into the ring one too many times, and Ciampa opportunistically grabs him by the head, DDTs him onto some wood, and pins him with his arms still bound.
Ciampa didn't just win, he won. Gargano is just as broken as him now, at least for the time being, and he proved it. He did it. He drove a wedge between this guy he simultaneously loves and wants to murder, and for the first time since before the crowd chanting "Johnny Wrestling" and expected someone to "replace" Ciampa in DIY, Tommaso feels like they're on the same level. I'd honestly love to see Gargano continue his descent into madness until he and Ciampa are stuck together again, a couple of jerks in a tag team, destined to do this forever like the yellow ropes versions of Kevin Owens and Sami Zayn. Ciampa showed up in army fatigues, and Gargano dressed himself like Captain America. They double-turned without either of them turning.
A lovely match. A lovely everything, mixing brutality with pathos and pulling it off with mad brilliance. And so it goes.
Best: Top 10 Comments Of The Night
Aerial Jesus
This was all really good, but just you wait until Jinder/Reigns tomorrow.
cyniclone
The pre-show FBI warning should have been to let us know we would be criminally liable for watching a snuff film.
Southern
i've had to go to the bathroom for the last 20 minutes i still dont know if i can go yet
The Real Birdman
Typical Captain America letting his best friend die
Must be hard on Nikki Cross losing her sanity twice
Beige Lunatics, King of String Style
Man, this is like vintage ECW. Lots of hardcore spots, a well-written feud, and Paul Heyman won't be paying anyone after the show.
PatsShredShack
Handcuffs, Belt Whippings… This match should have been called 50 Shades of LeRae
The Queen of Spades. Not to be confused with Triple H's shovel: The Spade of Kings.
Designated Piledriver
Shayna's striking strategy is one Tiger Uppercut away from being Sagat from Street Fighter.
Former IC Champion Pdragon
Gargano: "This isn't going well, but don't worry Johnny, just imagine him naked"
*Ciampa takes shirt off*
Gargano: "Oh no he's hot!"
Best: Oh, And One More Best For The Road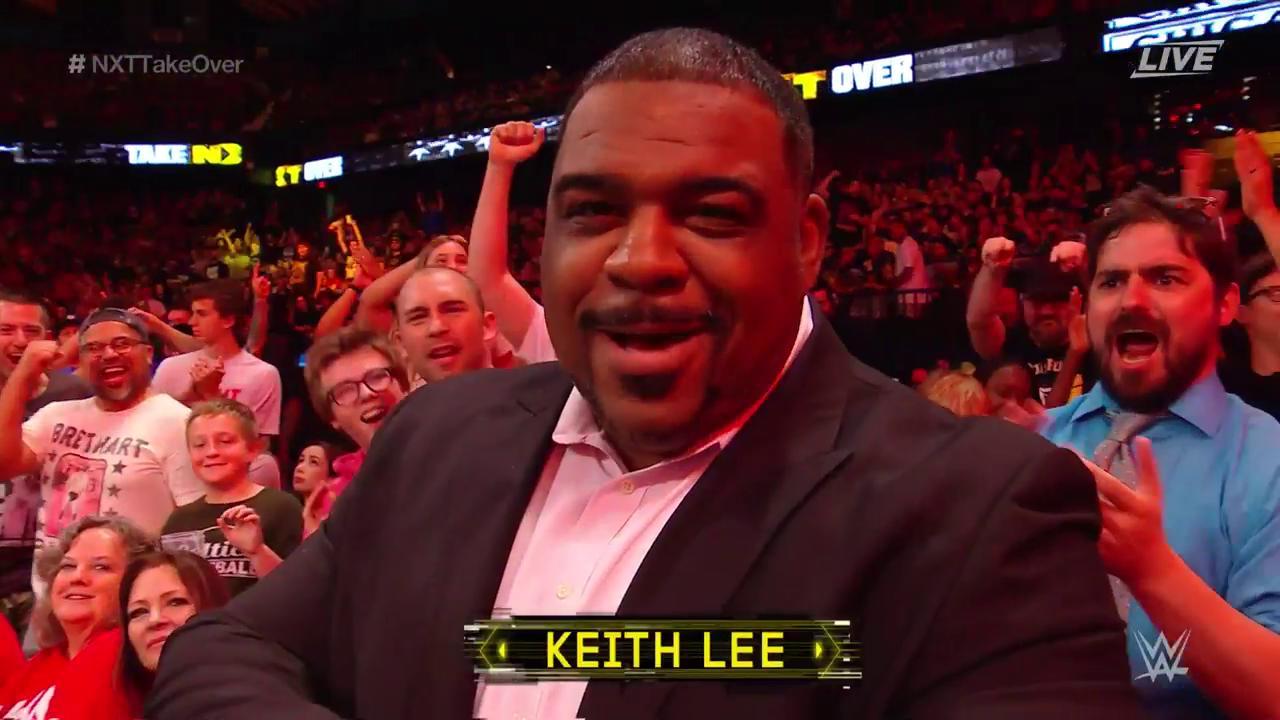 KEITH LEE. THE MAN OF THE HOUR. If you've never seen him before, you're in for a treat. Imagine that Big E had Mike Awesome's moveset and was also a pro wrestling Luther Vandross. Who's into Pokémon. He's great as shit, and I can't wait to see him pluck Ricochet out of the air in the middle of a dive like he's completely weightless.
That's it for the Best and Worst of TakeOver Chicago II. I should just start typing "Takeover was good" and hitting publish. Drop us a comment to let us know what you liked about the show, and hey, if you enjoyed reading this, consider giving it a social media share. We could use that for NXT. See you in a couple of hours for a Money in the Bank report that's just as positive, probably!