WrestleMania 34 is only a few weeks away and promises — nay, insists — to be one of the biggest WrestleManias ever. That got us thinking, so this week we decided to put together a list of the 10 biggest shows in the event's 34 year history. You can probably guess the top two biggest WrestleMania events, but can you guess #3? #4?
As a point of clarification, we're going by WWE's announced attendance numbers for this list. We understand that those are less about the number of paid fans in the arena and usually includes the crew and everyone MAKING the show, but those are the numbers that go into the history books, so just work with us here.
Here are the bottom five if you're curious, ranked from the lowest announced attendance up, assuming we cram together attendance numbers from the various locations for multi-city WrestleManias like WrestleMania 2.
1. WrestleMania VII (1991) – 16,158
2. WrestleMania XI (1995) – 16,305
3. WrestleMania IX (1993) – 16,891
4. WrestleMania 22 (2006) – 17,159
5. WrestleMania XX (2004) – 18,000
And now, the top ten.
10. WrestleMania XXV
Up first on our list is WWE's second trip to Houston: 2009's WrestleMania XXV at Reliant Stadium. The "25th anniversary of WrestleMania" filled the building with an announced 72,744 in attendance, topping the first Houston Mania — 2001's WrestleMania X-Seven, arguably the best WrestleMania ever — and its announced number of 67,925.
WrestleMania XXV is remembered mostly for the first big showdown between Shawn Michaels and the Undertaker, a bout considered the match of the year by most outlets, including WWE's own Slammy Awards. 25 also featured Mickey Rourke punching out Chris Jericho, Santino Marella winning a Miss WrestleMania battle royal, and a Triple H vs. Randy Orton main event. Man, talk about a one-match show.
9. WrestleMania XXIV
Before she was culturally ubiquitous, Paris Hilton's friend Kim Kardashian announced WrestleMania XXIV's attendance at 74,635, making this (as you'll see) the third most attended WrestleMania in Florida. This one, featuring Ric Flair's retirement match, CM Punk winning his first Money in the Bank contract and an Edge vs. Undertaker main event, happened in 2008 at the Florida Citrus Bowl in Orlando and hey, was the first WrestleMania I attended live. You haven't lived until you've decided Kane vs. Chavo Guerrero is your snack break only for it to last 11 seconds.
WrestleMania XXIV is also notable for being the WWE debut of the lifetime 1-0 Floyd 'Money' Mayweather, who used his entire entourage and a pair of brass knuckles to KO the Big Show. Oh, and they airbrushed out everyone's nipples for the event shirts and billboards, which was weird.
8. WrestleMania XXX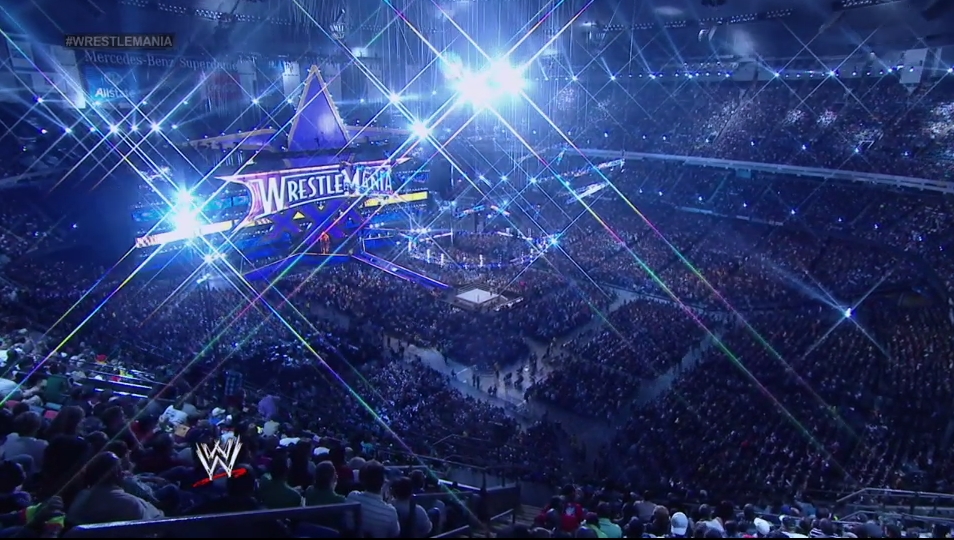 THE SILVERDOME, BROTHER! 2014's event at the Mercedes-Benz Superdome in New Orleans, Louisiana, comes in at number eight with an announced 75,167 in attendance. Fans in the crowd were treated to nightmare scenarios like The Undertaker's streak ending, Bray Wyatt entering to a live band, and Hulk Hogan opening the show with a promo despite having no idea where he was.
Also, you know, Daniel Bryan having the best one-night performance for a WWE Superstar in the history of the company, pinning Triple H clean in the opener and moving on to defeat Randy Orton AND Dave Batista in the main event to win both the WWE and World Heavyweight Championships. Cesaro hossed Big Show out of the ring to win the Andre the Giant Memorial Battle Royal, and The Shield put the fear of God into Kane and the New Age Outlaws. Still one of my favorite WrestleManias ever. Will Mania 34 top 30's pull?
7. WrestleMania 33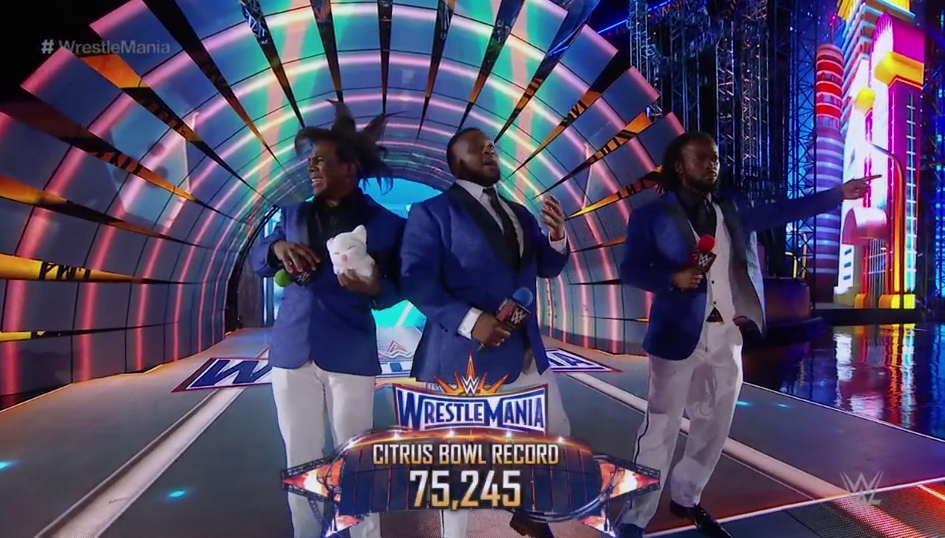 75,245 filed into Camping World Stadium in Orlando, Florida, last year for WrestleMania 33, aka WrestleMania Sun. The show was main-evented by what we're assuming (shrug) is the Undertaker's last match and included a cameo from Rob Gronkowski. Not to mention the WWE return of the Hardy Boyz and Bray Wyatt trying to retain the WWE Championship with a spooky A.V. club project.
WrestleMania 33 set a good pace for this year's event, as it set numerous gate and box office records for Florida and WWE, not to mention social media, merchandise, and other records. And New Day as Final Fantasy guys! Maybe this year they can dress up Elias and Bayley like Joel and Ellie from The Last Of Us.
6. WrestleMania 31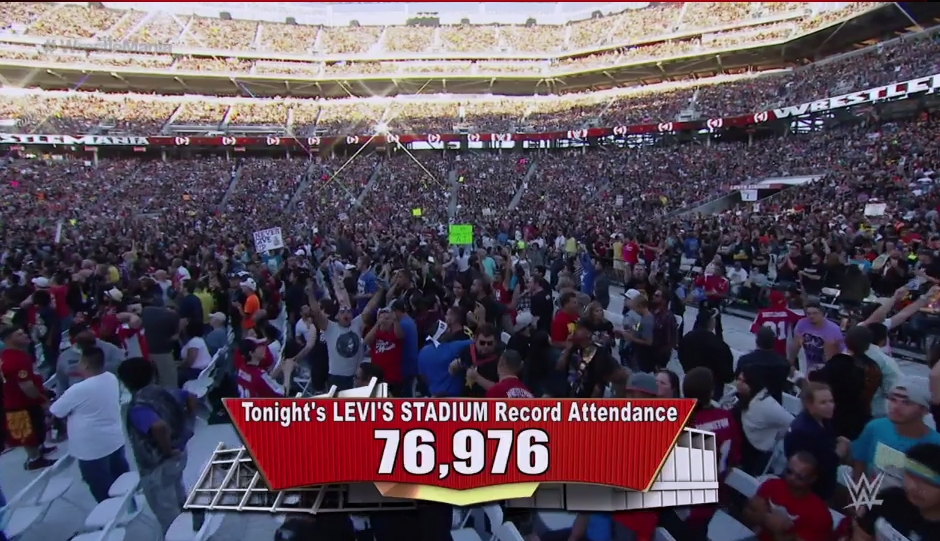 The one where Rusev rides a tank to the ring brought in an announced 76,976 to Levi's Stadium in Santa Clara, California, in 2015. This has become the "Pinkerton" WrestleMania, as it didn't get the passionate critical acclaim of its predecessor, WrestleMania XXX, or the huge box office numbers of its followup, WrestleMania 32. Aside from the nWo showing up to help Sting for some reason, it's a "best Mania ever" dark horse.
Think about it, the show gave us Ronda Rousey's first in-ring WWE appearance, the undisputed greatest RKO of all time, the creation of "Suplex City", and Seth Rollins cashing in the Money in the Bank briefcase in the main event. And Rusev on a damn tank.
5. WrestleMania XXVIII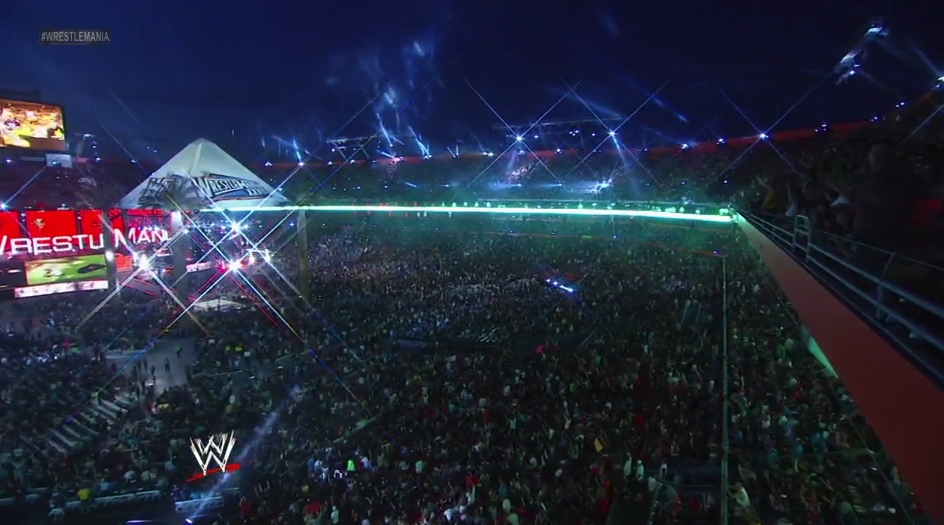 The Florida WrestleMania trilogy tops out at 2012's WrestleMania XXVIII at Sun Life Stadium in Miami Gardens, Florida. WWE's second of three Floridian WrestleManias brought in an announced number of 78,363, edging ever closer to the 80K mark.
All you need to know about WrestleMania XXVIII is that it's ONCE IN A LIFETIME, a match that could never happen again except in the same spot next year, between The Rock and John Cena. It's also the WrestleMania with the big palm trees in the corners that promised you wouldn't be able to see what was happening unless you were on the X or Y axis. Mania 28 is the one with the 18 second Daniel Bryan match — still seething about that six years later — and, in arguably the most important moment in the history of American pro sports, Team Johnny defeating Team Teddy for management control of both Raw and Smackdown. You'll be telling your grandkids where you were for that one!
4. WrestleMania 23
We're officially over 80K for WrestleMania 23, which filled Ford Field in Detroit with 80,103 bodies. Why such a big crowd for this one? It's the BATTLE OF THE BILLIONAIRES, pitting Bobby Lashley against Umaga to settle the score between fussy billionaire wrestling impresario Vince McMahon and fussy future President of the United States Donald Trump. Unless WrestleMania 34 throws Bill Clinton into the Andre the Giant Memorial Battle Royal like it's a round of NBA Jam, this is probably the only time a President of the United States clotheslines a guy on a wrestling pay-per-view and then shaves the guy's head.
The show also featured The Great Khali defeating Kane (woof), Mr. Kennedy winning the Money in the Bank briefcase (WOOF), and a semi main event of Melina vs. Ashley Massaro while Ric Flair wrestles on the pre-show. How much time do you have for all the woofing I need to do here?
3. WrestleMania 29
Did you love Once in a Lifetime? You'll love it even more when we do it twice!
80,676 showed up at MetLife Stadium in East Rutherford, New Jersey (or New York, if you're Puff Daddy) partially for the rematch between John Cena and The Rock, but mostly because of Vince McMahon's hilarious set reveal. IT'S THE EMPIRE STATE BUILDING! IT'S THE BROOKLYN BRIDGE! It's CM Punk vs. The Undertaker!
2. WrestleMania III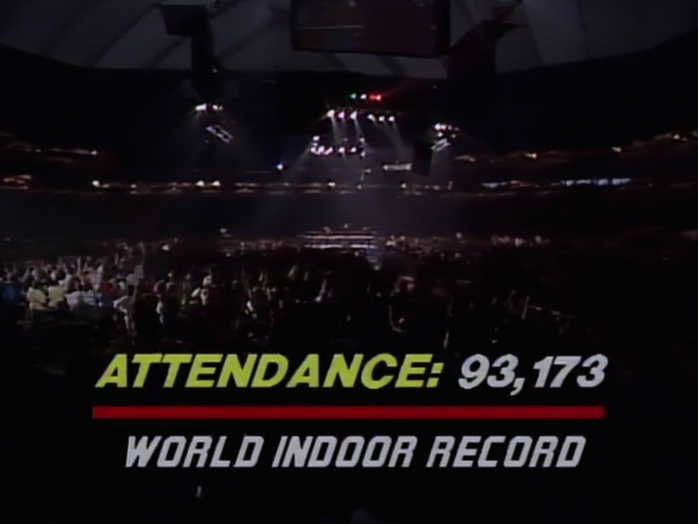 If you clicked on this list, you probably knew the answers to #1 and #2.
Coming in at #2 is the most famous WrestleMania ever, the granddaddy of the granddaddies of them all, 1987's WrestleMania III from the Pontiac Silverdome in Pontiac, Michigan. The Superdome, brother! While the real attendance figures come in somewhere around 78,000, WWE's announced number for the event was a staggering 93,173. All there, presumably, to see Hulk Hogan kill Andre the Giant with a body slam, disrupting the fault lines and possibly drowning Donald Trump and his family. Or was that WrestleMania IV?
WrestleMania III features an absolute embarrassment of historical wrestling riches, from the best/worst match ever between Hogan and Andre to the best/best match ever between Macho Man Randy Savage and Ricky 'The Dragon' Steamboat. This is everything you ever wanted to know about 1980s WWF in a single card, from the grandiose pomp and circumstance to King Kong Bundy dropping a big fuckin' elbow on a little person.
1. WrestleMania 32
The biggest WrestleMania ever — whether you believe WWE's announced "total amount of people in the building" number of 101,763 or Dave Meltzer's estimation of 97,769 — goes to 2016's WrestleMania 32, aka "WrestleMania Star," at AT&T Stadium in Arlington, Texas.