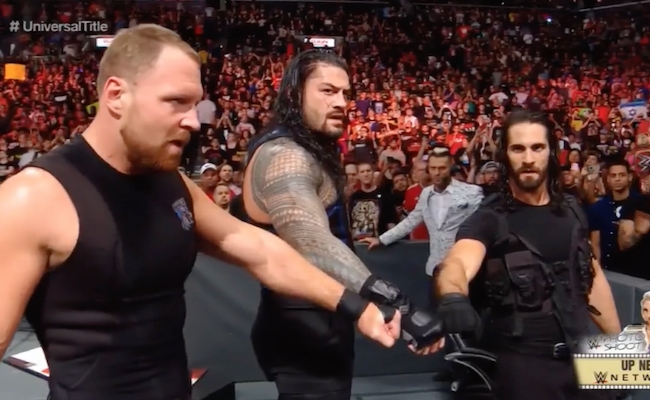 Last night at SummerSlam, many of us were disappointed when Brock Lesnar thwarted Braun Strowman's planned Money in the Bank cash-in. Tonight on Monday Night Raw, however, the Monster Among Men finally got a chance to cash in his contract, but things still didn't go his way, thanks to a surprise reunion of the Shield. Whatever disappointment the crowd might have felt at the fan-favorite monster's defeat was more than mitigated by the return of the incredibly popular trio.
Roman was facing Finn Bálor in a main event title match, which he offered Finn in his promo at the beginning of Raw, and although Constable Baron Corbin (who was thoroughly humiliated by the Demon Finn at SummerSlam) tried to put a stop to it, GM Kurt Angle shut Corbin down and made it Raw's main event. The match went back and forth with Bálor often looking like he had a real shot. Roman only managed to pin him, in fact, after Braun came out with the briefcase.
Once Braun handed over that briefcase and JoJo announced the cash-in, the Shield's music hit and out came Seth Rollins and the newly-returned Dean Ambrose in familiar black gear. Braun hesitated for a moment and then attacked Roman anyway. Unfortunately for Braun, even a monster his size stood no chance against the Shield.
They powerbombed him through the announce table, and that was pretty much that. The reunited trio struck their classic fistbump pose to loud cheers as Monday Night Raw ended.